A few days back we decided to try some new Pubs and bars in Mumbai, along with some of our friends. We wanted to go somewhere where the ambience will be ideal to hang around with friends. We visited the Great Punjab lounge which is situated just opposite to the Powai Lake. The location and ambience is quite cool. Situated on the ever busy JVLR Road in Powai, this food joint faces the lake. There are sitting arrangements both indoors and on the terrace top.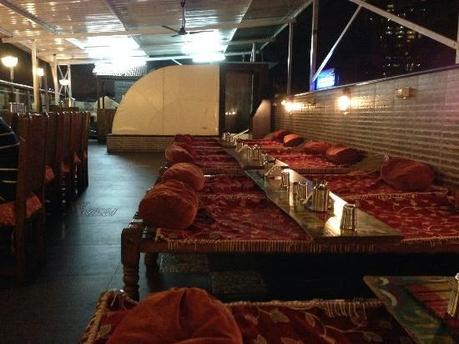 As the sitting arrangement of the indoors was too formal for our taste, we selected the Roof Top.The Roof top was done in a real road side Dhaba like décor. There was sitting arrangements on both normal wooden chair-table as well as on Dhaba like Cots or Charpai. It is quite unique and really comfortable when you are with friends to sit on a Charpai, talk your heart out and eat spicy food.
The starters along with the Roasted Masala Papad was mostly yummy. The Paneer Tikka Tandoori was quite soft and was coated with the right amount of spice, neither too hot, nor too bland. The Sweet Corn soup was a bit too sweet, perhaps they had added sugar. Some of the wine lovers ordered in for alcoholic beverages, and were quite happy. I was looking for some mocktails but as no one else was not interested ended up not ordering.
The main Course was a mix of some very good to average items. The Gobi Achari Masala was quite tasty, a bit tangy and a bit hot. However, the Paneer Kadhai could not match up to our expectations. The Breads served were the best one can expect for-there were Kulcha, Butter nun and Lasooni naan. The Jeera Rice was very average.
Dessert was Kulfi, there was option for Jalebi Rabdi and Gulaab jamun.But we were too full to try more. Overall the Food was quite decent, barring a few exceptions.
The best thing about Great Punjab is the ambience and the location. I would strongly recommend taking the roof top restaurant if you want to have a fun time, getting the view of Powai Lake and surroundings. The staff is cordial but the service is a bit slow. But when you are with friends the more time you spend together, the less. Great Punjab is a great Lounge bar in Mumbai to hang out with besties.