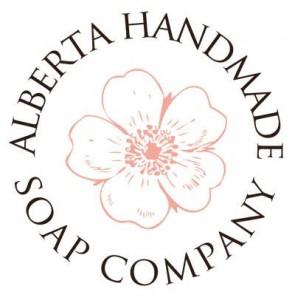 My name is Amy Garrett, and I own Alberta Handmade Soap Co. It's a tiny "just me with the support of my family" company located in rural Alberta so it's been a lot of work getting seen, but I love my work and products, and my customers really make it worthwhile for me!
I am an American from Oregon who married a Canadian from Alberta, which is what started my soap making adventure (and living in Alberta) – I wanted to make handmade soap wedding favours, and it turned into a major part of my life! There was no way I could do it as a hobby, there is too many soaps to make in a week and my house couldn't contain them all, so once we finished the immigration process into Canada and got moved up here, *and* learned all the Canadian legalities, I formed Alberta Handmade Soap Co. and it just keeps growing. It wasn't long after bar soap that I started expanding what I make – it makes me very happy to make bath and body products that my customers love.
My specialty is cold process handmade soap, but I also make lotions and body butters, lip balms, bath bombs, and more, with more products on the horizon. I'm a new customer to Nature's Garden, and the fragrance oils have been so well received in all my products – I am so happy with the quality! I use a few suppliers but can easily say that Nature's Garden has replaced a large portion of my regular scents, and I'm adding so many new ones, they are all so nice; Pink Sugar and Pumpkin Apple Butter sold huge this season, what I thought would last me til spring is just about out of stock from just a month of holiday sales!