There's something about the Renegade Craft Fair that makes you want to buy everything in sight. Maybe it's just because the product is unique and the vendors are so talented.
See what Kira found at the last Renegade!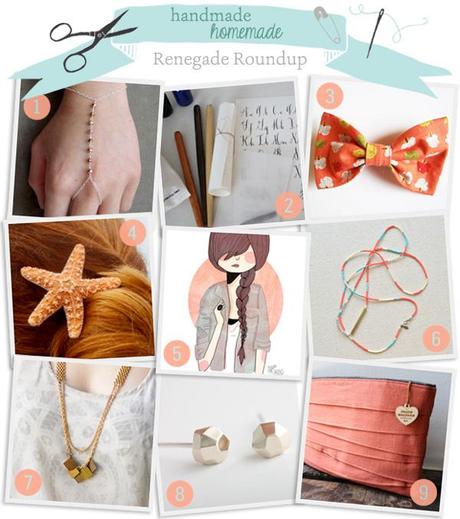 This Saturday I spent the day at Renegade LA – there were so many amazing artisans to check out! Seriously, I wanted to buy everything! Here's a brand new Handmade/Homemade collection: Renegade Roundup edition!
1. Rose pyrite hand jewelry by Dapht
2. Calligraphy starter kit by Linea Carta
3. Orange floral hair bow by Bows And Anchors
4. Starfish hair clip by Octophant Treasures
5. "Some Fashion" illustration print by Nan Lawson
6. Beaded and brass necklace by ISWAS + WILLBE
7. Brass diamond necklace by Noble Town Vintage
8. Faceted bronze "rocks" earrings by Upper Metal Class
9. Coral linen clutch by Yellow Wallpaper Handmade