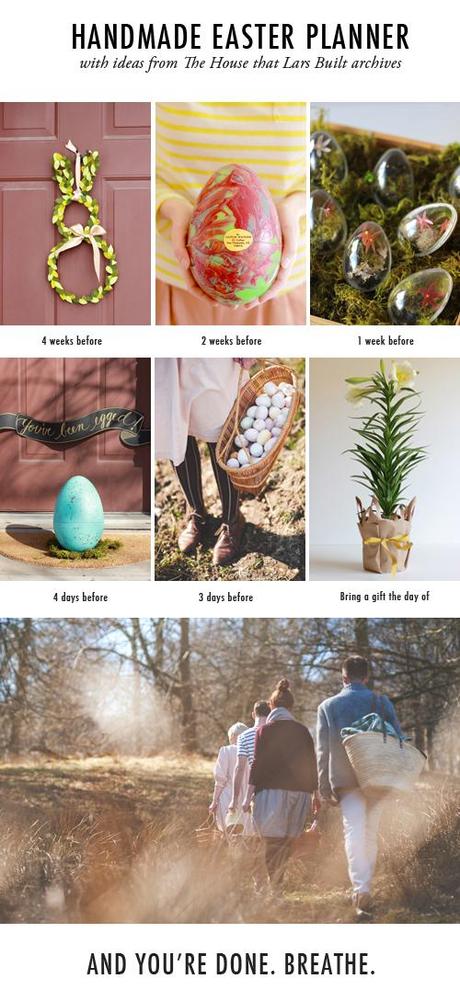 I made a
Valentine's Day planner for last minute overachievers
 because I personally love it when someone tells me how to arrange my schedule. I'm sure you have a better grasp of your calendar, but in case you're in the same boat, might I suggest a few ideas to try for Easter this year and when to do them? Easter falls on April 20th this year so we have about a month, calm down. They're all projects from the Lars archives and I'll be adding more so you can mix and match and customize to your heart's desire.
4 weeks before (THAT'S NOW!): Make a bunny topiary wreath for your door. This is especially important if you don't plan on doing anything else. At least you look festive.
2 weeks before (might I suggest making it a weekend project? April 5th or 6th): Send a care package to a loved one in a huge marbled Easter egg.
1 week before (April 12th or 13th). You need to make eggs, right? Make some terrarium Easter eggs with paper flowers.
4 days before (April 16th). Go ahead and do it. You've always wanted to. This is the egging that won't get you into more trouble like the Biebs. Egg someone with a giant Easter egg at their door. Fill it with lots of goodies.
3 days before (April 17th). Dye eggs with items from nature for the big day and place them in a lovely basket.
The day of. Bring an Easter lily with you as a host gift. Here are three ways to decorate the wrapping. (Make sure to buy it in advance!)
The day of. Instead of a traditional sit down feast, do something different. We had a Danish Easter picnic back in Copenhagen and ate traditional smorrebrod with lots of yummy toppings.
These are just a few to get you going and to help the procrastinator in you. Or maybe that's just me....