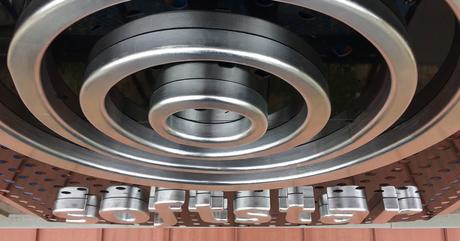 More than two years have passed since we moved into our new shoemaking workshop, but the renovation work is still ongoing. We completed a big milestone last week by installing the official Softstar signs on the front facade. Yes, it took a while for us to get there, but keep in mind that our building didn't even have siding or hot water when we moved in.
The signs were the creative work of local Corvallis, Oregon artist Brad Johnson of Brad Johnson Signs. Brad has been making signs since 1985-the same year Softstar was founded-and is a member of the Letterheads, a group of sign artists dedicated to passing down traditional sign crafting skills. He has made so many signs for Corvallis businesses that he sometimes makes new signs for the same buildings 2-3 times as companies relocate or go out of business and new startups move in-often unbeknownst to the new owners.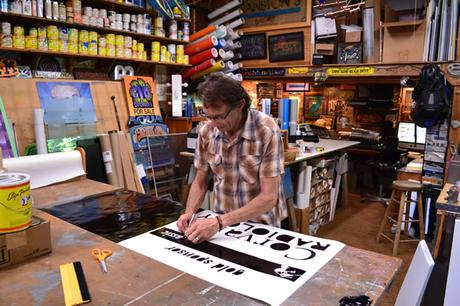 Brad Johnson at work in his sign shop.
Brad makes a wide variety of flat and three-dimensional signs and works with a seemingly endless range of materials. These include glass, wood, plastic, mirrors, vinyl, urethane and a whole bunch of metals and alloys I can't even pronounce. We spent months finalizing the design for the new Softstar signs and Brad then spent almost a year handcrafting the final product.
Brad was challenged with making not only a large square sign for the front of our building, but also a vertical sign to be mounted on a street post next to our parking lot. This post still held a large metal rainbow-themed sign from decades ago, back when our building operated as an indoor fleamarket and was known locally as "the Rainbow Building." Since it is two-sided, this vertical sign needed to be constructed as two separate signs mounted on each side of the pole to appear as one unit. This means three humongous signs had to be made.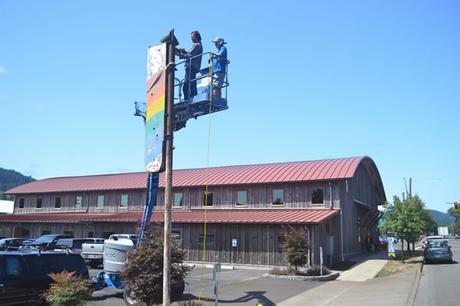 Softstar founder Tim helps Brad remove the old rainbow sign.
Brad was enthusiastic about this assignment and we very much enjoyed watching him work from the original concepts to the finished products. He builds all of his signs in a quaint workshop, and this project filled his space to maximum capacity.
The pop-out lettering and logos on our signs were cut from 2" layers of high density urethane board. The border had 3 layers that were glued together and then manually routed to create round edges. Brad primed the urethane, wet sanded to a smooth polished finish, topcoated with enamel, then applied an oil based size to adhere a layer of ultra thin aluminum leaf, and finally two layers of clear-coat. He then applied over 500 6" aluminum leaves by hand, one at a time, to cover all exposed areas. The finished gilded parts were mounted to frames welded of 2" aluminum square tubing.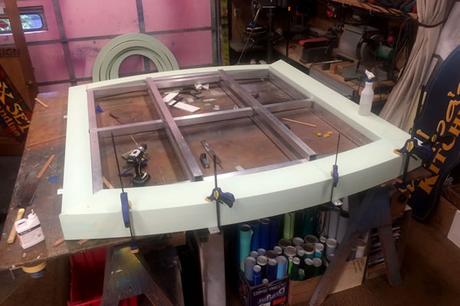 Layers of cut HDU (high density urethane) are glued together and mounted to an aluminum frame.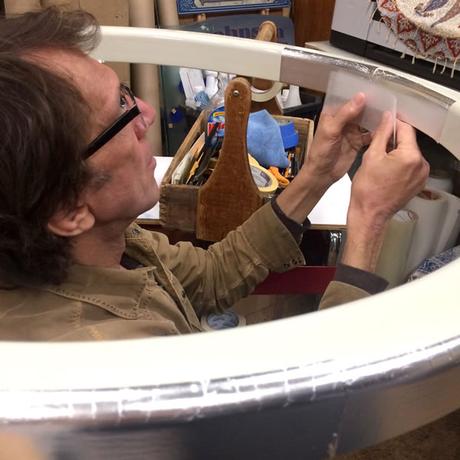 Brad applies aluminum leaf to Softstar logo.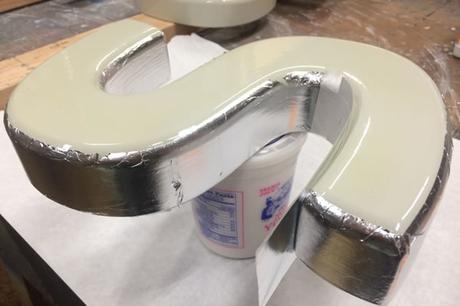 Letter with completed leafing.
A fun feature that Brad added to our signs is a color changing effect. Each sign has a background panel of perforated aluminum material, which is offset a couple inches from another panel with alternating vertical blue and orange stripes. If you stand right in front of the signs then the background looks blue, but walk 45 degrees to either side and it turns orange. Brad came up with this concept almost a decade ago, but never before had an opportunity to implement it. When he suggested it to Softstar owner Tricia Salcido, she loved the idea and told him to run with it.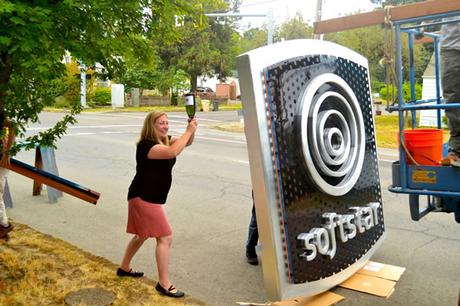 Softstar owner Tricia Salcido christens the new sign (not really).
It was an exciting day for our shoemaking elves when the signs finally arrived to be mounted at the workshop. Heck, it's always an exciting day when foreman Alan pulls up with a crane. The big square sign stood 8 feet tall and weighed approximately 300 pounds, so it was a little nerve-racking watching Brad and Alan carefully raise it into place without damaging either the sign or the building. In the end, installation went off without a hitch and Alan even added a few lights to make sure everyone can appreciate Brad's hard work at night, too.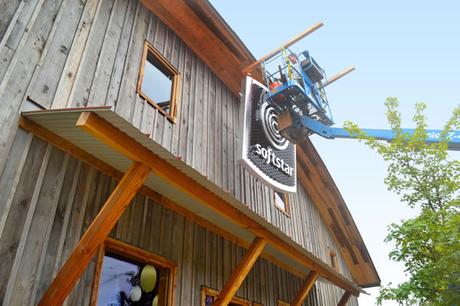 Foreman Alan used a specialized lift to install our new building sign, due to complications of the overhanging roof above and awning below.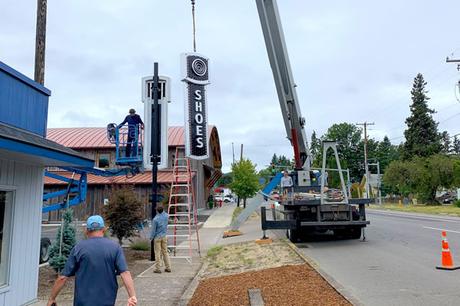 Brad and Alan work together to mount both sides of the post sign.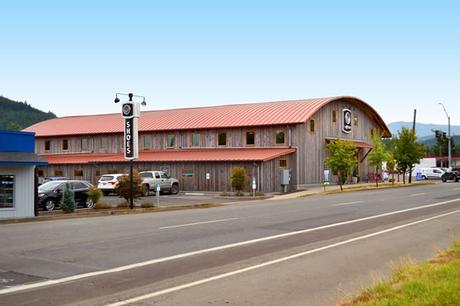 The finished products.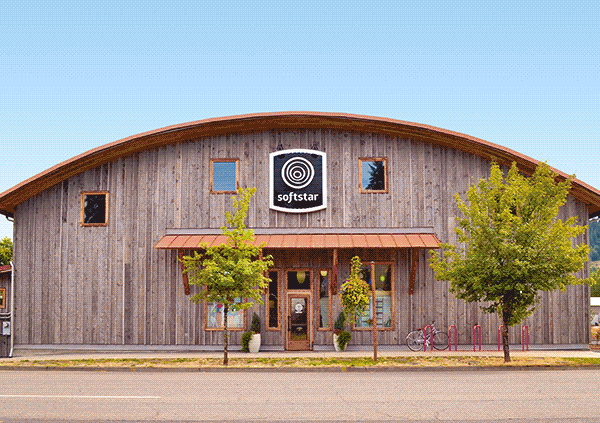 We love our new signs... day and night!
If you're wondering what happened to the old rainbow sign, we plan to keep it on display for posterity. Our plan to move it into our showroom was foiled, however, by the discovery of several birds living inside it. That sign is now resting against a wall near its original location until we can mount it on a smaller post in the courtyard behind our workshop. That way it can be enjoyed by all, birds and humans alike!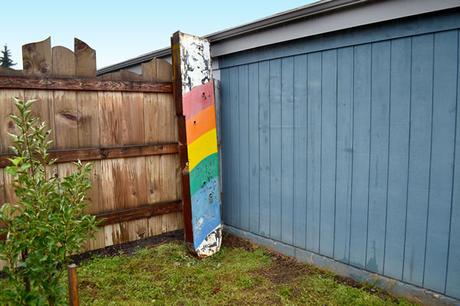 The old rainbow sign, now repurposed as a bird house, will soon to be mounted on a short post for posterity.
So what's the next project for our workshop? We're already working on it: a charging station for electric vehicles!