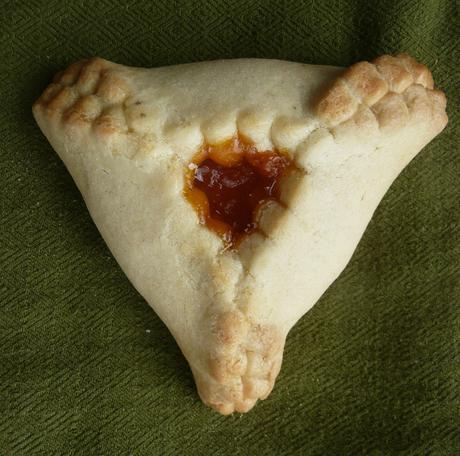 Photo, Susan Katz Miller
Why is this hamentaschen upside-down? Is it a distress signal?
No! Just Purim fun, and feminist chutzpah. I simply rotated one of my old photos 180 degrees, to give you a new perspective.
I took this photo ten years ago, intending to visually signal the fact that a hamentasch (grammatically this is the singular) looks like a vulva, or a vagina, or a fruitful uterus, or some combination thereof. As someone who wrote my undergraduate thesis in the history of science on anatomical depictions of women in the Renaissance, drawing on semiotics and feminism, the symbolism of hamentaschen had always been obvious to me. I posted the photo "right side up" with an essay celebrating the interfaith marriage at the heart of the Purim story, and linking Purim to spring fertility rites predating Judaism.
Then five years ago, I posted a review of Strange Wives, a book about interfaith marriage in the Torah. I described how this book (by a rabbi and a Jewish scholar) documents how "women who married into the tribes of Israel continued to worship their own fertility gods even after marriage, and early Israelite farmers continued to appeal to fertility gods to bless their crops." Their argument (and mine) is that Judaism has always been syncretic, picking up practices and ideas from the religions predating and surrounding it. For me, this is one example of how all religions are interfaith religions.
Purim is technically next week, but many communities hold their Purim carnivals this weekend. Yesterday, Arielle Kaplan posted " Yes, There's a Reason Hamantaschen Look Like Vaginas " over at HeyAlma.com, a website founded by Jewish women. She has written a hilarious and definitive essay on the hamantasch as a fertility symbol, with nods to current politics, Broad City, and Polly Pocket. I highly recommend reading it.
Then, shake off your primary blues, pack up your Purell, and go make noise and celebrate Purim!
Journalist Susan Katz Miller is an interfaith families speaker, consultant, and coach, and author of Being Both: Embracing Two Religions in One Interfaith Family (2015), and The Interfaith Family Journal (2019). Follow her on twitter @susankatzmiller.