New to little Indiana? Subscribe for free to my RSS feed. Thanks for stopping by!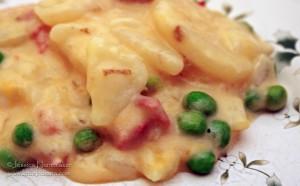 Ham with Scalloped Potatoes Recipe
When you've got more leftover ham than you know what to do with, make sure to turn to this easy scalloped potatoes and ham recipe!
A hearty meal, I love scalloped potatoes with ham. Peas add color while the Cream of Mushroom Soup livens it up a bit–and adds a new level of creamy goodness. Yum!
I found this terrific recipe from R. weems in Mary and Martha's Recipe Cookbook from Trinity United Methodist Church in Rensselaer, Indiana.
Ham and Scalloped Potatoes Recipe
Print Ham and Scalloped Potatoes Recipe
This one is found in one of my many wonderful church cookbooks. It's from Mary and Martha's Recipes Cookbook from Trinity United Methodist Church in Rensselaer, Indiana. Author: R. Weems.
I've just been informed that this works great in the slow cooker--thanks Stacey! Place uncooked potatoes on the bottom, adding in the rest of the ingredients. Cook on high 3-4 hours or low for 6-8 hours.
Ingredients
6 Potatoes, Peeled and Sliced (I used about 8 Small Potatoes)
1 Can Cream of Mushroom Soup
1 Can Peas (I used a mess of Frozen Peas)
8 Oz. Cheddar Cheese (I used what looked "right" to me)
Salt and Pepper to Taste
1 Small Onion, Sauteed.
1 Cup Milk
2 Cups Ham Chunks or 1 lb. Ground Beef
Instructions
Boil Potatoes.
Saute Onion in Butter.
Place in casserole dish adding mushroom soup, milk, peas, cheese, salt, pepper, and ham.
Bake 350* for 30 minutes or until heated through. (I covered mine and it was slightly soupy so I'd try leaving it uncovered and stirring every so often, covering if needed).
Schema/Recipe SEO Data Markup by ZipList Recipe Plugin2.0
http://littleindiana.com/2011/12/ham-and-scalloped-potatoes-recipe/
Photos are the Property of little Indiana. Do Not Use Without Permission.
little Indiana: Where to Stay, Play, and Eat in Small Towns in Indiana. Discovering Indiana's best small towns! Now get little Indiana on your Kindle.
Targeted. Relevant. Affordable! little Indiana advertising.