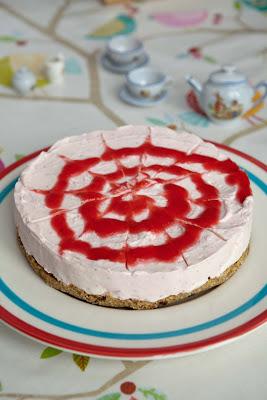 It's always fun to get the kids involved in cooking and baking, so I was delighted to receive some great Halloween inspired recipes from Ella's Kitchen to share with you all. They're all made with healthy ingredients and are easy enough for the whole family to get involved with - perfect for half term treats!
Swirly Whirly Cheesecake
Serves 12; Prep = 10 minutes + chilling This is definitely among Ella's favorite dessert of all time - it's a delicious sweet treat without any added sugar. Enjoy it when you have friends to tea.
What you need:
· 50 g /1 ¾ oz roasted hazelnuts, finely chopped · 100 g/3 ½ oz Scottish oatcakes, broken up · 50 g/1 ¾ oz stoned dates · 50 g/1 ¾ oz unsalted butter, melted · 400 g/ 14 oz cream cheese · 1 teaspoon vanilla extract · 300 g/10 ½ oz strawberries, puréed, plus extra to serve (optional) · 300 ml/ ½ pint double cream
What to do:
· Line the base of a 20 cm/8 inch loose-based cake tin with baking parchment. Put the hazelnuts and oatcakes in a food processor and blitz them for a few seconds until everything is finely chopped and looks like breadcrumbs. Add the dates and blitz again until the mixture is soft. Add the melted butter; mix well and press the mixture into the tin with the back of a spoon. Chill this in the fridge for 15 minutes. · Meanwhile, make the topping. In a bowl mix together the cream cheese, vanilla extract and three-quarters of the puréed strawberries. · Whisk the cream until it is stiff, but still soft. Fold it gently into the cream cheese mixture. Remove the base from the fridge and spoon over the topping. · Drizzle over the remaining strawberry purée in an outward spiral from the centre and then run a skewer through the spiral to get a marbled effect. Chill the cheesecake in the fridge for at least 1 hour and then serve with strawberries on the side (if using).
Marble-ous: Try out your tot's artistic talents by asking him or her to have a go at making the swirly whirly marbling pattern on the top of the cheesecake.
Ella's Shortcut: You can sidestep making the strawberry purée by substituting 2 x 90g/3 ¼ oz pouches of Ella's Kitchen Smoothie Fruits – The Red One.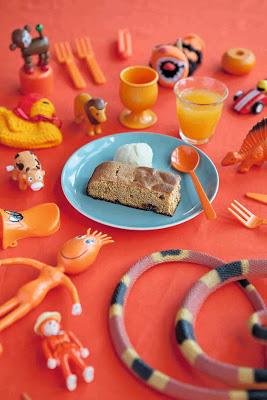 AWESOME GINGER AND ORANGE CAKE
Makes 8 cakes; prep=20 minutes, cook=30-35 minutes This cake is a sweet and scrummy introduction to ginger – have fun helping your little ones discover new tastes for their developing taste buds.
What you need
· 75 g/2½ oz unsalted butter · 150 g/5½ oz golden syrup or black treacle · 225 g/8 oz self-raising flour · 2 teaspoons ground ginger · 1 teaspoon ground cinnamon · 225 g/8 oz coarse cut orange marmalade · 1 egg, beaten · 1 tablespoon freshly squeezed orange juice
What to do
· Preheat the oven to 180ºC/350ºF/Gas Mark. Grease a 20 cm/8 inch square cake tin and line the base with baking parchment. · Melt the butter and syrup in a saucepan over a low heat, stirring well to combine. Remove the mixture from the heat and set aside. · Sift the flour, ginger and cinnamon into a bowl, then slowly pour the syrup mixture into the flour mixture and stir to combine. Add the marmalade, egg, orange juice and 1 tablespoon of hot water and combine to make a soft mixture. Add a further 1–2 tablespoons of hot water if it is too stiff. · Pour the mixture into the cake tin and spread evenly. Bake the cake for 30–35 minutes until golden and firm to the touch. · Allow the cake to cool for 15 minutes in the tin before carefully removing it to a wire rack. Serve it warm with a scoop of vanilla ice cream, or cold with a glass of freshly squeezed orange juice.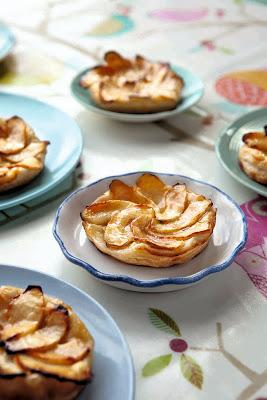 SMILEY SPIRAL APPLE TARTS
Makes 6; Prep=20 minutes, cook=15-20 minutes Who knew apple tarts could taste this good? Little ones will love to get involved using pastry cutters and decorating the tarts with apple slices.
What you need:
· 320 g/11¼ oz ready-made puff pastry · 2 eating apples (Granny Smith or Royal Gala work best) · 1 tablespoon lemon juice · 50 g/1¾ oz unsalted butter, cut into 6 cubes · ½ teaspoon ground cinnamon · 25 g/1 oz soft light brown Sugar
What to do:
· Preheat the oven to 200ºC /400ºF/Gas Mark 6. · Roll out the puff pastry until it is 0.5 cm/¼ in thick. Using a 10 cm/4 inch pastry cutter, cut out 6 circles from the pastry and place them spaced well apart on a baking sheet. · Core the apples, then cut them into very thin slices and put them in a bowl with the lemon juice. Toss the apple slices well to coat them in the juice. Arrange the apple slices on top of the dough circles in a 'flower' pattern. · Place a cube of butter on each tart, then sprinkle the tarts with a little cinnamon (to taste) and the sugar. · Bake the tarts in the oven for 15–20 minutes until golden brown. Serve them warm or cold with vanilla ice cream or crème fraîche.
Can I help?: Roll, cut, fill. Tots of all ages get to play at being baker with these simple apple tarts. Making them is a brilliant activity for a play date. One friend rolls the dough, another cuts the circles and another fills the tart with pieces of apple.
Ella's Kitchen The Cook Book - The Red One is out now (£14.99 Hamlyn. Visit www.EllasKitchen.co.uk for more information.