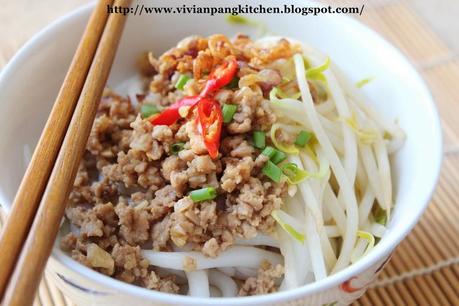 I read this Hakka Lo See Fun in one of my favorite cookbook by Agnes Chang. Since it has been very long time not having lo see fun I decide to cook it and serve my family on weekend. This is very simple and yet satisfy meal especially have it together with hot chili dipping sauce :)
Adapted and slightly from
Delightful Snacks & Dim Sum cookbook by Agnes Chang
Hakka Lo See Fun with Minced Meat (
客家肉碎老鼠粉
)
Ingredients:

(A) Minced meat
3 tablespoons oil
1 tablespoon chopped shallots and garlic
250 minced pork

(B) Seasoning
1 tablespoon fish sauce (replace with soya sauce)
1 tablespoon light soya sauce
1 tablespoon oyster sauce
1 teaspoon sesame oil
¼ teaspoon pepper
1 teaspoon dark soya sauce
4 tablespoon water (use 1 cup water as kids prefer saucy noodles)
(C) Garnishing
500g rice pin noodles (lo see fun)
1 tablespoon fried shallot oil, for mixing lo see fun
200g bean sprouts
2 stalks spring onion, diced
2 tablespoons fried shallots
2 red chilies, sliced, mixed with 2 tablespoons light soya sauce

Methods:
1. Heat the oil in wok on medium heat. Add the shallot and garlic and fry till fragrant. Add the minced pork and allow to simmer for 5 minutes, or until thoroughly cooked. Add in seasoning. Bring to boil and taste. Dish up and set aside.
2. Blanch bean sprout until just cooked. Drain and set aside.
3. Blanch lo see fun until hot. Drain, add in shallot oil and mix to combine.
4. Place the lo see fun, bean sprout onto serving bowl. Top with minced pork, spring onion and fried shallots. Serve hot with sliced red chilies.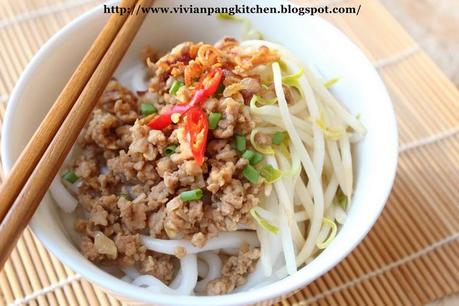 I am submitting this post to Aspiring Bakers #29
:
Heirloom and Local Dialect Recipes 
家传菜
/
籍贯菜
(March 2013 ) 
hosted by 
FHL of Faith Hope Love