HairFlowers.net : After putting together bouquets and arrangements for wedding after wedding I had hints of flowers all around my studio. Looking around at all of the beautiful flowers I had, I transformed them into the first hair flowers I ever made. I started selling my hair flowers in boutiques and auction sites and 10,000+ handmade flowers later, HairFlowers.net was born.  ~ Heather Ross
I own a couple of flower hair accessories, I think every girl should. But my other flower accessories don't compare to how pretty the one I got to review from Hair Flowers.net! the ones I own that I have bought from discount stores, ect. are so cheap made, and blah. They knot my hair, and are a pain in the butt to take out after I'm done wearing them, and sometimes fall apart while wearing them. Cheap-made. I was really impressed with HairFlowers.net.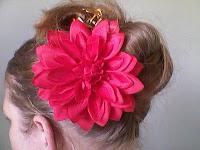 I received the Medium Red Dahlia Hair Flower Clip ($6.99) and I love it! I have wore it a few times and have had many compliments on it. I wore it as a hair accessory to dress up, and I have also wore it as a laid back, hanging out with friends in jeans, and a pretty shirt hair accessory and have had many other women talk about how pretty it is, and ask me where I got it. They also have bought flower accessories and have been disappointed in the ones they bought. In the photo the flower looks HUGE, but it is just a tad bit bigger then the palm of my hands, so don't be afraid of the size, it's not that big.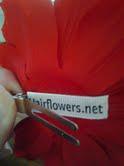 The clip is awesome. I won't ever go back to the rubber band, banana clips, or bobby pins EVER again! I really loved the look of the Red Daliah flower clip but the first sight of the clip kinda scared me, because I first thought this would be another one that would snag, and knot my hair. I was totally wrong! Even with high winds, and constant moving of my hair and taking it in and out to show friends it didn't once get caught in my hair. The flower sits snug, and I forgot it was there until someone started complimenting it. The Red Daliah how become my number one go to flower clip for my hair acessories. The flower acessory Is so well put together, that I had a few women ask me if it is real. I snickered and said no. My other flower acessories have hot glue spots somewhere on the flower pedals, which drive me nuts. I wan't my flowers to look real as possible, but it's hard to shower it off when you can tell it's a fake a mile away. HairFlowers.net has an amazing selection of unique hair acessories that I would love to get my hands on! a few of my favorites are - the amazing orchid selections, I love the peacock style, they are perfect for special occasions, halloween, or even prom. You have to check out the awesome Halloween section. Super cute wallets for the men! and you have to check out the specials! Everything is at amazing prices , you can afford more then one.
♥ You can find HairFlowers.net on Facebook - Here.
♥ You can find HairFlowers.net on Twitter - Here.
♥ You can find HairFlowers.net on Pinterest - Here.
♥ I receive no monetary compensation for this review.  I was provided HairFlowers.net to try and give my honest opinion.