Hair care is something that I am trying hard to be better at. Its not as though I am continuously backcombing my barnet within an inch of its life its more so that it needs a little TLC which it has lacked due to copious amounts of blowdrying, brushing and straightening. If you read my last
hair post
then you will know I have been trying to reduce the amount of heat applied to my tresses, which so far, touch wood has had a positive effect in the overall condition of my hair. So let me introduce you to my most current haircare routine and products. Like my skincare there is a hell of a lot of products used which upon initial inspection you might think is time consuming but I promise its not and the products that do take a tad longer such as masks and treatments I usually incorporate them into a pampering sesh which I love!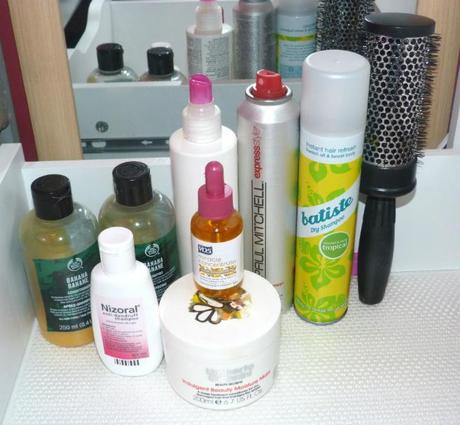 Firstly I start with the hair wash. I know that washing everyday is bad for your hair but sometimes my hair just needs it. I am currently using the Banana shampoo from The Bodyshop which not only smells pure lush but leaves my hair ridiculously soft and silky. Banana isn't everyones cuppa tea but its a scent which I actually crave so its pure heaven for me using this. In order to
try
to wash every other day I have invested in the Batiste dry shampoo which allows me to go an extra day whilst keeping oily roots at bay. The only issue I have with this is that it can leave a powdery residue and leave my hair feeling a little dirty. Before blowdrying or leaving to dry naturally I comb through with an extra wide toothed comb and then spritz over Paul Mitchell Strength treatment. This is a restorative spray designed to repair and strengthen whilst protecting the hair against heat damage. I have been using this along with the
V05 miracle concentrate
which I find used together makes the perfect formulation. 
Once my hair is completely dry I use a liberal amount of
Paul Mitchell Hot off The Press
thermal protection spray. This product is an absolute gem of a find which I highly recommend for heat lovers. Being a sufferer of a dry scalp means that I need to take extra care of it so once a week I give my hair a little detox by using the Nizoral anti-dandruff shampoo. This clears up any dryness and gives my hair a good clean. Its not the most glamourous of products by far and you only get a small amount for the best part of a tenner but it does the trick. After using this I slather on a good golf ball sized amount of Umberto Gianni moisture mask once a week which I leave on for about 15 - 20 minutes  to give my hair a boost. If I am feeling super adventurous then I will leave this on overnight and rinse in the morning with extra cold water for a more intense treatment but this is only reserved for special occasions when I need to give my hair a little extra va va voom. 
At the moment although I hair is tons better condition wise, what it lacks is volume so if you know of any good shampoos for volume then please let me know in the comments. I have been lusting over the Ojon volumising products but is it worth the price? I will leave it in your hands guys :-).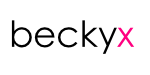 F