With longer longs popping out my head left, right & center it is only fitting that I explore the vast array of hair products up for grabs. After 3 years of pixie cuts and limited products that are useful to a few steps off a buzz cut I have rediscovered the delight in finding a hair product that serves it's very need. Recently I have found products that are working for me and giving me the full, sleek hair I am after. Four products minus shampoo and conditioner might seem excessive to some but each to their own, I guess.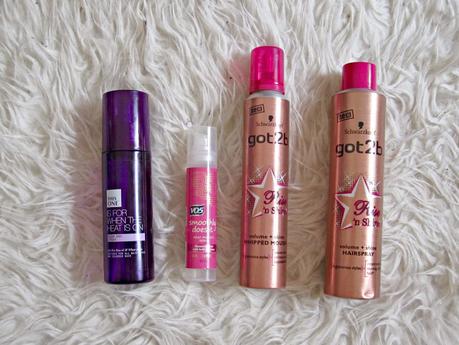 This One Is For When The Heat Is On - Blow Dry Spray 

VO5 Smoothly Does It - Heat Protect Serum

Schwarzkopf Got 2 B. - Rise 'n Shine Volume + Shine Whipped Mousse

Schwarzkopf Got 2 B. - Rise 'n Shine Volume + Shine Hairspray 


Applied in the order they appear, these little treasures protect my hair while smoothing fly aways and giving the roots of my hair volume and a bit of texture.
Heat protection is important especially as I want my hair to grow. I think of heat protection like an oven glove, you wouldn't get your pepporoni pizza out the oven without an oven glove would you? So why put high temperatures on your hair without giving a little protection? This One was bought purely because it was on offer and the cheapest. It's good but I've used better but for now it is doing the job. VO5 are good for a hair oil. Affordable and quality products. This is another heat protection product however it provides a smoothing, shine enhancing factor that I love. Pea size drop of this through the ends followed by a little time spent drying your hair properly and you will have lovely sleek hair (with volume in the roots from the mousse, naturally.) I love the VO5 miracle oil but for whatever reasons decided to gander in the oil world a little, I'll be back with the ol' faithful soon. I always do.
Big hair was a love of mine prior to the chop, who wants super sleek straight hair - not me! It just doesn't work for me. Poker straight hair is just not my cup of tea. The Whipped mousse is one of my favorite products. Before I tried this mousse I had found ones that were good but never really amazing. Aussie has a good offering but they just seem to be getting more and more pricey as a brand and I like a bargain. The mousse and hair spray were 2 for £5 in Superdrug so naturally I needed both... Amazing products that definitely do what they say on the tin.