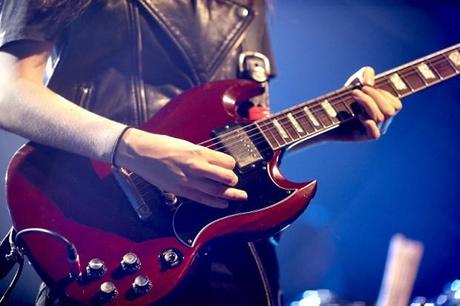 Photos by Jayson Yee
HAIM definitely knows how to deliver a great performance, and their sold out show at Terminal 5 was a testament to that ability. It was a solid set designed to engage the crowd, as those attending continuously chanted lyrics for every song performed. The sisters, Este, Danielle and Alana Haim have been performing this way for quite a while, proving that they've earned the recognition they received with the release of their debut album, Days Are Gone.
Most of the songs that the band played stayed true to the album/studio versions, taking cues from a broad range of music influences, including 80's and early 90's rock, pop and R&B. Beginning the set with a bit of a retro feeling, the trio first performed "Falling", which featured guitar riffs and drum pad effects reminiscent of early 80's Michael Jackson, and "If I Could Change Your Mind". Next on the list were the rock 'n roll driven "Oh Well" (Fleetwood Mac cover) and a beautiful rendition of "Honey & I". Soon after was "My Song 5″, which amplified Este's "bass face" in the best way possible, followed by an intimate, stripped down version of "Running If You Call My Name".
Highlights of the set included "Forever", which ended with confetti blasting off towards the crowd, "The Wire", featuring excellent solo vocals, and a stylish interpretation of "XO" that had Danielle on percussion. Not only can Danielle shred on the guitar, but she can definitely rock a drum set. Undoubtedly, the band captivated the crowd at Terminal 5 with their exceptional performance and charismatic, witty conversation.