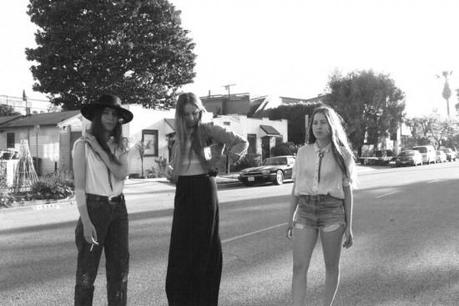 As the crowd at the Cantora SXSW showcase swelled to capacity, the LA band Haim (@haimtheband) took the stage. Having never heard of them, the energy in the building caught me pleasantly off guard — I was uniquely excited to check out a buzz band free from any preconceived notions or press-induced hype. The music would have to do the talking, and Haim spoke loudly and carried a big stick.
The group is led by a trio of sisters who each play multiple instruments on stage and at times sings lead. Este is the oldest and primary bassist. Alana is the youngest and plays rhythm guitar and keyboards. The star of the show, though, is Danielle. She's like a badass hybrid of Chrissie Hynde and Merrill Garbus, commanding the audience's attention with relentless passion and power. Her slight frame is inversely proportional to the attitude that she wields. She also has a penchant for belting out shouts or ad-libs in between verses or after a chorus, as if the musical energy inside her can't be harnessed. I was hooked.
The songs contained elements of breezy folk, 90's r&b, and classic rock, topped off with a healthy dose of the tribal percussion that seems to permeate the entirety of indie rock these days. Their unique sound has been cultivated for years, as the Haim sisters were a part of a traveling family band with their parents called Rockinhaim since early childhood.  Their three song EP is available below for free. While the recordings have more of an 80's feel to them than the live counterparts, the songs shine through, and it's a quality listen. You can catch Haim at Glasslands in Brooklyn on May 5th. I'll be there for sure.