Beef lovers, this recipe is for you!
Gyudon is a Japanese donburi rice bowl with savory dashi sauce, onion, and beef served on a bed of hot steamed rice.
It's got all the umami flavor your meal needs, and best of all, it's quick and easy to make.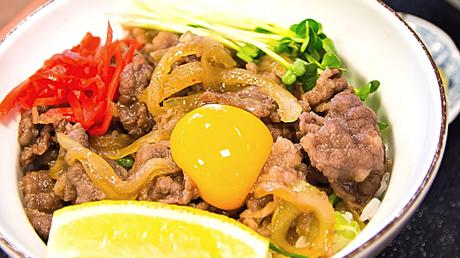 This dish is the beef version of chicken oyakodon and is served hot at restaurants and fast food shops all across Japan. It's been a popular dish for well over 150 years because it's such a tasty comfort food.
As you walk the streets of Tokyo, you're bound to see people eating gyudon from local vendors, especially for lunch.
How to make your own gyudon
For this recipe, I'm using fine cuts of beef and mixing it with a sweet and savory sauce, and adding a poached egg in the middle.
It's definitely a complete and satisfying meal, perfect for lunch or dinner.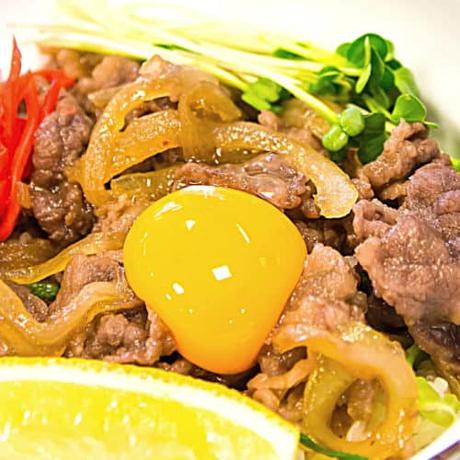 Print
Gyudon recipe
The secret to tasty gyudon lies in the selection of meat. The best beef cuts for this dish are the ribeye or chuck, sliced or shaved into very thin strips. The sauce's flavor comes from a combination of dashi, mirin, soy sauce, and sake. It has hints of sweetness from the mirin, saltiness from the soy sauce, seafood flavor from the kelp, and bonito dashi, which makes it a prime example of Japanese umami.
Course
Main Course
Cuisine
Japanese
Keyword
Beef, Stew
Prep Time
20
minutes
Cook Time
20
minutes
Servings
2
Author
Joost Nusselder
Cost
$6-7
Ingredients
2

cups

of rice

cooked in the rice cooker

2

eggs

poached

1

onion

½

cup

dashi

4

tbsp

ryorishu

cooking sake

2

tbsp

soy sauce

1.5

tbsp

brown sugar

½

lbs

ribeye beef

1

tsp

grated ginger

½

tsp

salt

1

green onion

chopped

pinch of beni-shoga

red pickled ginger (optional)

sprinkle of shichimi togarashi spice
Instructions
Cook the rice in your rice cooker and set aside.
Chop the onion, beef (if not pre-sliced), and green onion.
In a saucepan, add the onion, dashi, brown sugar, and sake and bring to a simmer on medium heat.
Cook for 5 minutes, stirring occasionally.
Add the beef and let it simmer away for 5 minutes until it's brown.
Add in the ginger and salt, and simmer for another couple of minutes.
Put the rice in two bowls, and divide the meat and sauce to cover the rice.
Bring a pot of water to a boil. Crack the egg into a small bowl and then slowly slip it into the water. Turn off the heat, put the lid on, and wait for 4 minutes. Once done, put the poached egg on top of the beef.

Garnish with spring onion, pickled ginger, and shichimi togarashi spice.
Gyudon cooking tips
When you can't find thinly sliced or shaved beef, you can buy a chunk of chuck steak and place it in the freezer. Then, simply slice off pieces that come off like shavings, and it saves the hassle of having to cut paper-thin slices with a knife.
But, you can usually find beef especially sliced for such Japanese recipes at specialty grocery stores.
You can slice the onion into thin slivers or into rings; it doesn't make a difference because the onion will be well cooked through.
You can use drinkable sake, but I recommend cooking sake or Ryorishu because it's less sweet and explicitly brewed for cooking umami recipes.
Short-grain white rice is the best option for this recipe, but jasmine rice also tastes great because it has a slightly floral fragrance and aroma.
However, keep in mind that the beef sauce is very flavorful because of the dashi, soy, mirin, and sake, so the plain white steamed rice absorbs the sauce.
There's no risk of a bland dish!
Also read: Best rice cookers reviewed for white rice, brown, sushi or even quinoa
What is Gyudon?
Gyudon (牛丼) (beef bowl) is a donburi-style rice bowl with thin beef ribeye strips.
Gyu means beef, and don is the bowl it's served in.
The meat is cooked and stewed in a delicious soy, mirin, sake, and onion sauce and served on a hot rice bed.
Learn more about Japanese donburi: 15 Authentic Donburi Bowls reviewed and how to use them
Then, the beef is topped with Onsen Tamago (poached egg), and the whole dish becomes a creamy and meaty bowl of goodness.
Beefy hot pot recipes inspire the dish, but since it's served in don (bowls), it's popular as fast food in restaurants and takeout establishments.
Every Japanese food court serves delicious Gyudon because the beef and onion combo is hearty and comforting.
It's one of the easiest recipes to make; if you can cook the rice, you can make this dish.
All you have to do is combine the ingredients for the sauce, add in the beef strips and onion, poach the egg and serve on top of steamed rice.
Get the best rice to water ratio in a rice cooker for white, Jasmine, Basmati rice
How to serve Gyudon & variations
Side dishes
Gyudon's delicious umami flavors pair well with a bowl of hot miso soup. There's something about the comfort of miso soup that complements the onion and beef stew's richness.
Many diners prefer to start with the miso soup as an appetizer and then have the Gyudon as the main dish.
The beef is served in a don (bowl) and usually topped with beni-shoga, pickled red ginger, which adds a bit of sour taste.
Other popular side dishes for Gyudon include:
pickled vegetables
gobo (burdock root) salad
potato salad
natto (fermented soybeans)
green onions
raw egg
soft-boiled or poached egg
nori (dried seaweed) strips
The egg is the most popular Gyudon topping of all time.
The egg was added and consumed raw in the past, but in many countries, restaurants are not legally allowed to serve raw egg and serve poached eggs instead.
The egg adds a delicious and nutritious dose of protein and healthy cholesterol to an already satisfying dish.
Noodles
Some people also like to make the Gyudon more similar to noodle bowls, so they add shirataki noodles (konjac noodles) to the beef and onion stew.
This makes the Gyudon have an even richer taste.
The combination of noodles and rice is quite filling and a great people pleaser because you get the best of both worlds: rice AND noodles.
Shirataki noodles are made out of konjac herb, so the noodles are very low in calories and carb-free.
Also read: 8 Different Types of Japanese Noodles (With Recipes)
Gyudon: nutritional information
Gyudon is quite a healthy type of donburi. Even though Gyudon is technically a fast-food, it's much healthier than most Western fast-food menu options.
If you're making the dish at home, you can always make it even more nutritious if you make dashi from scratch and use fresh, lean slices of beef.
Yoshinoya, Japan's favorite Gyudon restaurant chain, conducted a study and found that people who ate Gyudon for three months did not experience any negative health effects.
There were no metabolic issues, no weight gain, and no blood sugar increases.
Therefore, you can argue that Gyudon is a good meal option, even for those on a diet.
Beef is a healthy cut of meat because it's high in potassium, iron, zinc, and B vitamins. Also, red meat is an excellent source of omega-three fatty acids, contributing to heart health.
Learn all about Sukiyaki steak | recipe, cutting technique and flavors
Origin of Gyudon
One of the most popular places that serve Gyudon is the Yoshinoya fast-food chain, which has locations all over Japan and some in the United States.
When most people think of Gyudon, they immediately associate it with Yoshinoya's delicious recipe.
But, the history of this beef bowl goes back at least 150 years! Yoshinoya's owner in the late 1880s, Eikichi Matsuda, actually named the dish.
Did you know that eating beef was prohibited in Japan until the Meiji period (1868-1912)? Once the prohibition was lifted, beef became a delicacy, and tons of new recipes emerged.
Gyudon was a fresh take on donburi and was first called Gyunabe, and it resembled more of a hot pot meal, and it was flavored with miso.
The chef of Yokohama's Isekuma restaurant first cooked Gyudon's precursor in the early 1860s.
The recipe was an instant hit, and several years later, they changed the recipe, and they decided to flavor the beef in soy, dashi, and mirin sauce, and it became today's beloved Gyudon.
Yoshinoya took over from Isekuma and became the leading Gyudon maker in Japan.
Initially, Gyudon was considered a cheap meal, so it was popular with workers and single-men looking for a quick meal.
But with time, it became a favorite with the general public and tourists, so these days you can usually find a bowl of this beefy dish for approximately 500 YEN.
Takeaway
Once you try Gyudon, you'll keep making this beefy dish over and over again.
It takes less than 20 minutes to cook the meat and sauce, and you can always just use pre-cooked leftover rice and put everything together.
I like to skip the poached eggs and just dig into this flavorful dish on those busy days, but when I feel like making it fancier, I add some spring onions and pickled red ginger too.
Fancy trying this yummy Japanese food?
For another quick & healthy meal try this delicious 10 minute Bok Choy in Oyster Sauce Stir Fry Recipe