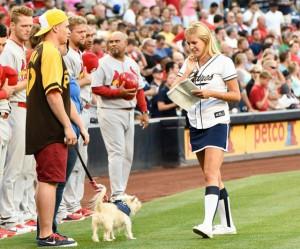 Olympic silver medalist, Gus Kenworthy, literally flipped out tonight trying to raise awareness for pet adoption at the San Diego Padres game. Gus was in San Diego to throw out the first pitch along side Tucker, an adorable pup up for adoption from the San Diego Humane Society. And he flipped out! Not only did he nail the first pitch, but he wowed the crowd with an on-field back flip after a successful throw.
It was all part of Petco's annual Dog Days of Summer event, where Petco invited 500 dogs and their pet parents into the stadium to cheer on the Padres. Not only is it a great night for pets and pet parents, but the event aims to raise awareness for pet adoption and numerous local shelters and rescues are in attendance trying to help find pets in need loving homes.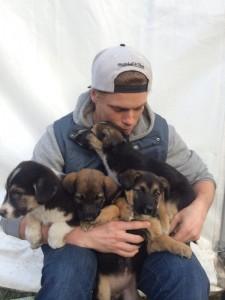 As you may recall, Gus Kenworthy shot to superstardom not only on the slopes, but off, as he made it his mission to save the stray puppies of Sochi. Now Gus is trying to help spread the word about pet adoption here in the United States as well.
Check out the video here of his first pitch and flip!
Tags: adoption, Awareness, Gus Kenworthy, Olympic dogs, Sochi