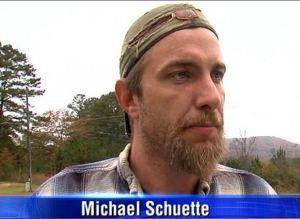 Last Veterans Day, Nov. 11, 2014, the owner of a gun repair shop (Outlaw Gun Repair and Hydrographing) in Anniston, Alabama, made the mistake of ranting against military veterans on his Facebook (FB) page.
In his tirade, Michael Schuette, who had never served in the military, called all veterans cowardly mercenaries, instead of freedom-fighters, who only "fight and kill for profit," terrorizing other countries.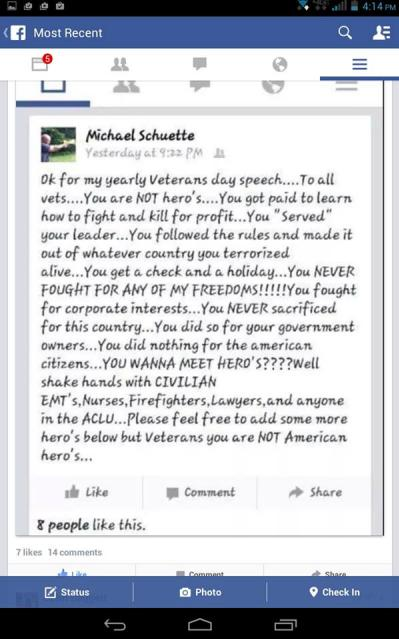 While Americans had fought in some misguided wars, by ranting about all veterans, however, Schuette included those who valiantly had fought in the Revolutionary War, liberating the 13 colonies from the British; the Civil War that freed slaves; the Second World War that liberated Europe from Nazi Germany and Asia from Imperial Japan; and the Korean War that repelled the invasion of communist North Korea and secured the freedom of South Korea.
Reaction to Schuette was swift and brutal.
Within hours after Schuette posted his rant, he received 1400 emails, 200 text messages and hundreds of voicemails from outraged supporters of the military.
Among people who were outraged by Schuette's rant is his best friend, who's in the military. Schuette said, "He's so mad at me right now about this post he won't talk to me."
One FB user wrote, "So, you hate Vets huh. Happy to help spread the word about you and help boycott your business." Another said, "Congrats on ruining your business, genius."
Writing on Nov. 13, 2014 on Schuette's FB page, Misty Henry wrote, "You have the GALL to sell weapons as per the 2nd Amendment-that WE fought for you to have. THEN, you put us down for having given you that right! …It's really too bad that you have to put down others for having done their duty-is it because you never did your duty?"
Another FB user aptly observed, "Next time don't bite the Vets hands that feed your freedom of speech…they bite back."
Some of the messages were life-threatening. One caller said, "Right now, If I were you, I would go underground."
Faced with the blowback, Schuette posted a retraction on Facebook: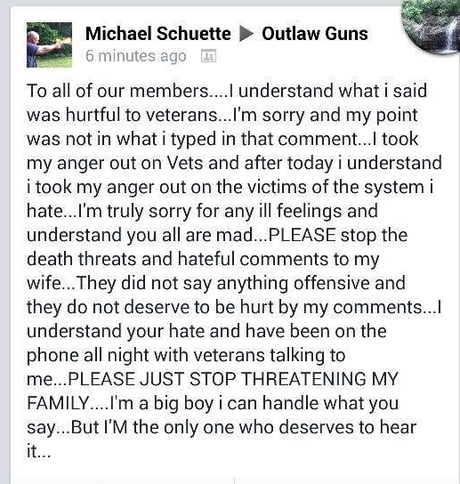 He told ABC33/40: "I've spent the last 12 hours on the phone with veterans all across the nation who have called me, let me know their feelings and told me their stories. I am very humbled. I am very apologetic. I have taken down the post."
Reportedly, things got so bad for Schuette, he decided to temporarily step away from his gun repair business and let his wife take over.
However, it turns out his apology was entirely insincere.
A reader, Anthony, wrote this comment on ABC33/40's site on Dec. 18, 2014:
This is what Schuette had to say on 18 December 2014: "You served special interests and the government…You did nothing for American citizens….Sad you think that being a NAVY servant served me or any american…Shows your ignorance….All the ones from your gang are the same…A bunch of brainwashed **** reciting propaganda that has been spoonfed…BUT thats what followers do…And you my friend will always be that little marines yes man that does what he is told…So put one of those large calibers to your head and rid humanity of your ignorance…Now THAT would do our country a service…
I can't confirm the above quote attributed to Schuette, but if we go by what he wrote on his FB page a day after his rant, Schuette stands by his original tirade:


Sources: ABC33/40; TeaPartyUpdate
~Eowyn