Rather we need tougher penalties for career criminals.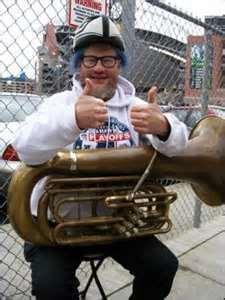 Beloved Seattle "Tuba Man"
Guilty: 'Tuba Man' killer faces 6 years for gun crimes
KOMO News: One of three men convicted as teens in the slaying of the Seattle street performer best known as "Tuba Man" has pleaded guilty to a federal gun charge.
If Obama had a son…
Convicted killer and three-time felon William "Billy" Chambers, was caught in October with a stolen AR-15-style assault rifle by King County deputies investigating a car break-in. Chambers pleaded guilty Thursday to a federal gun charge and will likely be sentenced to six years in prison.
Chambers, 20, was among the three teens convicted in the October 2008 attack on Edward McMichael, a well-known street musician known as the "Tuba Man" who'd long been a fixture at Seattle sporting events. McMichael, 53, died from his injuries after being released from the hospital.
After prosecutors found themselves unable to find witnesses and a juvenile court judge refused try the boys as adults, Chambers, then 15, and the other teens pleaded guilty to manslaughter and were sentenced to short terms in juvenile detention.
Since McMichael's death, Chambers has been convicted of felony theft and attempted felony assault, the latter from a June 2011 incident during which he rammed a woman's car at a Seattle stoplight. Chambers was sentenced to 22 months in prison and was released from Department of Corrections supervision three months before his Oct. 3 arrest that prompted the new federal charges.
Another of McMichael's killers, Ja'Mari Jones, is currently jailed on charges that he gunned down Seattle resident DeShawn Milliken and wounded a second man during a fight at Munchbar, a Bellevue Square establishment shuttered following the Christmas Eve shootings. Jones has pleaded not guilty to the second-degree murder charge filed against him in the case.
The third young man, Kenneth D. Kelly, is currently serving a 2 ½-year term in state prison for gun crimes. Kelly has appealed his November conviction following a jury trial.
The charges against Chambers, now 19, stem from his arrest after King County sheriff's deputies stopped him and two in Burien following a report of a car break-in near Southwest 142nd Street and 12th Avenue Southwest.
Writing the court, a special agent with the Bureau of Alcohol, Tobacco, Firearms and Explosives said a caller told police one of young man had stolen a rifle from the trunk of a parked car. That 19-year-old fled on foot after dropping the rifle in a car carrying the two other young men. Investigators contend the theft was caught on video by a witness to the car prowl.
Deputies stopped the car and arrested Chambers, who was driving the blue Ford Crown Victoria, and another young man. Deputies recovered a Bushmaster XM-15 rifle from the vehicle's trunk, the ATF agent told the court. Chambers initially denied knowing of the gun but later admitted he suspected the other young man had placed a gun in the car.
Chambers was ultimately charged in federal court with unlawful gun possession, a crime that carried a maximum penalty of 10 years in prison. The six-year prison term agreed to by Chambers and prosecutors would be the longest faced by any of McMichael's killers.
A sentencing hearing slated for May 31 before U.S. District Judge Robert Lasnik will give Chambers another opportunity to claim he has changed his ways. Facing an assault charge in 2011, Chambers told a King County judge he'd finally learned his lesson. "I'm sorry for what happened and I really will learn from my mistakes," Chambers said at the time, apologizing for ramming a woman's car in the Central District.
That day, Chambers was behind the wheel of a mid-1990s Crown Victoria when he rammed another car stopped at 23rd Avenue East and East Jackson Street. The woman driving the other car told responding officers Chambers was angry that she earlier told police Chambers stole from her.
King County prosecutors warned at the time that Chambers had no apparent respect for the law or the safety of others, and Superior Court Judge Joan Dubuque took the unusual step of sentencing Chambers to a prison term longer than the one requested by prosecutors.
While the punishment for that 2011 assault was more substantial, the crime in question didn't compare to the deadly beating of a Seattle icon Chambers and two other teens were convicted in three years before.
Before the Oct. 25, 2008, beating, the group of teens had joined other youths at Seattle Center for a gathering related to a homecoming dance. McMichael, the street musician, was near a bus stop in the 500 block of Mercer Street when the accused teen and several others started beating him. One punched him so hard, the musician fell and hit his head on the concrete, police said. They grabbed his wallet, and one pulled a 1979 Sonics NBA World Championship ring, given to McMichael from a friend.
McMichael was taken to Harborview Medical Center and later released to recover at his Vermont Inn apartment. McMichael died there of brain trauma on Nov. 3, 2008; a public memorial at Qwest Field Event Center drew about 1,500 people. For taking part in the beating, Chambers was sentenced to 15 to 36 weeks in juvenile detention.
Chambers remains in federal custody pending sentencing. Jones remains jailed on $5 million bail. He faces 20 to 28 years in prison if convicted as charged in the Dec. 24 slaying.
This Chambers kid is a convicted killer and three-time felon and he's only going to receive six years for his most recent crime? This punk will never obey any gun control laws. The solution is for him to remain in jail for a very long time, if not the rest of his life. Maybe if the courts really came down hard on career criminals, there'd be less gun violence on the streets.
DCG