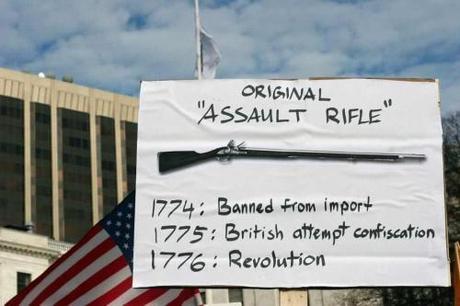 H/t FOTM reader Joan W.
This is a follow-up to Steve's post of Feb. 22, 2013, on gun manufacturers refusing to sell to government agencies.
There is a neat website called The Police Loophole that has a list of companies that have taken the step to publicly announce that they will not sell items to states, counties, cities, and municipalities that restrict their citizens rights to own them. In so doing, these companies are closing the "police loophole".
What is the police loophole?
As explained on the website:
"There are some states, counties, cities, and municipalities in our great nation that fail to allow their citizens to fully exercise their right to keep and bear arms with restrictions such as magazine capacity or types of firearms that are widely available to citizens of other states, counties, cities, and municipalities. However, these government entities do not place these restrictions upon their own employees, such as police officers. It is important to note that we are against gun control; we are not against any particular government agency or individuals."
Here's Police Loophole's list of the "nice" companies:
Company Website Notice Date Notes

Extreme Firepower Inc, LLC www.extremefirepower.com Website Long Standing

Cheaper Than Dirt www.cheaperthandirt.com Facebook Long Standing

MidwayUSA www.midwayusa.com Twitter Long Standing

Old Grouch's Military Surplus www.oldgrouch.com Facebook 2013-01-15

Predator Intelligence www.predatorarmament.com Facebook 2013-02-01

LaRue Tactical www.laruetactical.com Facebook 2013-02-08

Olympic Arms www.olyarms.com Facebook 2013-02-12 Currently applies to New York State only

Templar Custom www.templarcustom.com Facebook 2013-02-13 Currently applies to New York State only

York Arms www.yorkarms.com Website 2013-02 Currently applies to New York State only

Bullwater Enterprises LLC www.aandtfirearms.com Facebook 2013-02-16 dba A & T Firearms

West Fork Armory www.westforkarmory.com Facebook 2013-02-16 Currently applies to New York State only

Smith Enterprise, Inc www.smithenterprise.com Website 2013-02-17 Currently applies to New York State only

Alex Arms www.alexarms.com Website 2013-02-17

OFA Tactical www.ochsnergroup.com Facebook 2013-02-17

Spike's Tactical www.spikestactical.com Facebook 2013-02-18

Quality Arms Idaho www.qualityarmsidaho.com Website 2013-02-19

Liberty Suppressors www.libertycans.net Facebook 2013-02-19 Currently applies to New York State only

Doublestar Corp www.star15.com Facebook 2013-02-19

American Spirit Arms www.americanspiritarms.com YouTube 2013-02-19

Tactical Solutions www.tacticalsol.com Website 2013-02-20 Currently applies to New York State only

Head Down Products, LLC www.headdownproducts.com Facebook 2013-02-20 Currently applies to New York State only

Exile Machine www.exilemachine.net Website 2013-02

J&G Sales, Ltd www.jgsales.com Facebook 2013-02-20

Bravo Company USA www.bravocompanyusa.com Website 2013-02-20

ACE LTD. www.riflestocks.com Website 2013-02-20

Barrett www.barrett.net Website 2013-02-20

Kiss Tactical www.kisstactical.com Facebook 2013-02-20

NEMO Arms, Inc www.nemoarms.com Facebook 2013-02-21 Currently applies to New York State only

Top Gun Supply www.topgunsupply.com Facebook 2013-02-21

Red Jacket Firearms www.redjacketfirearms.com Facebook 2013-02-21

Badger Peak www.badgerpeak.com Facebook 2013-02-22

Controlled Chaos Arms www.controlledchaosarms.com Facebook 2013-02-22

Big Horn Armory www.bighornarmory.com Facebook 2013-02-22

One Source Tactical www.onesourcetactical.com Website 2013-02-22

CMMG www.cmmginc.com Facebook 2013-02-22

SRT Arms www.srtarms.com Website 2013-02-22

Norton Firearms www.nortonfirearms.com Website 2013-02-22

H/t my bud Mark S. McGrew

~Eowyn




Back to Featured Articles on

About the author

Eowyn 804046 shares View profile
View Blog