Celebrating my 50th Blog Post today, feeling really happy!!!
I would love to dedicate this post to the person who has been my inspiration behind this.... Thank you so much :) 
And nothing better than

Gulab Jamuns

to celebrate !!!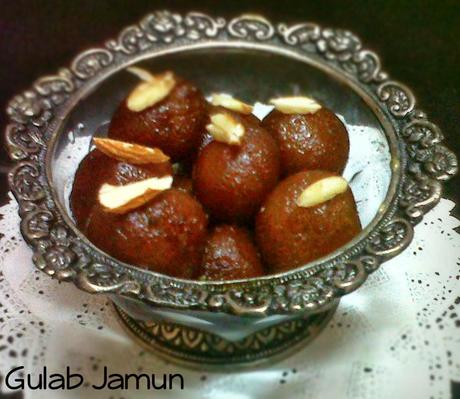 Gulab Jamuns !!! Who doesn't love them ? 
This is a rich and very popular Indian dessert, made especially during Diwali or any other special occasion at home. Dumplings like round balls are prepared using Khoya or Indian cottage cheese (paneer) or you can make them using milk powder and flour. Deep fried golden brown balls are then dunked into cardamom-saffron flavored sugar syrup. The balls get soaked in the sugar syrup so that it becomes soft and juicy and when you'll eat them, they will melt into your mouth; absolutely divine and heavenly. 
Preparing Gulab jamuns are little tricky and especially for beginners like me. You have to get the perfect dough, the perfect round shapes (no cracks) and cooking it at the right temperature of the ghee or oil. This is what my mom keeps telling me and want me to always keep in mind while making them.
Gulab Jamuns needs practice, practice and lots of practice but when you'll have the perfect Gulab jamun and when your family members praises you, the joy is boundless and you can then brag about it too !!! So lets get started. 
Makes : 15-20 pieces
Preparation time : 10-15 minutes
Cooking time : 10-15 minutes
Ingredients :
For the Gulab Jamun balls :
Fresh Khoya or mawa : 250 gm
Indian Cottage Cheese (Paneer) : 50

gm
Ghee : 2 tbsp
All purpose flour (Maida) : 2 tbsp
For the sugar syrup :
Sugar : 500 gm
Water : 500 ml 
Lemon juice : 1 tsp
Saffron strands (soaked in water) : 8-10
Cardamom powder : 1/4 tsp
For filling :



Mishri

: 10-15
Orange food color : 1/2 tsp
For garnish : 
Almonds (chopped in slices)  : as required
Other :
Ghee : For Frying
Method for making the sugar syrup :
1. Boil water and sugar together. After a boil, sim the flame and add lemon juice. It will help in removing the dirt of the sugar. 2. Now add saffron strands (soaked in water) and cardamom powder. 3. Mix them well. Sugar syrup is ready. Keep it aside. 
Method for making the balls :
1.  On a flat surface (I did on kitchen marble platform) take

mawa

, crumble the

khoya

/mawa with the help of your palm. It should be simply soft in texture. Keep crumbling it until you get a soft

mawa

.
2. Now add

paneer

,

maida

and ghee to the mawa/

khoya

.
3. Again with the help of your palm, keep incorporating all the ingredients together. They should make a soft smooth dough. 
4. Make round balls out of them. You can make any size and shape. 
5. Now take a one small piece of

mishri

and orange color, put small small

mishri

in each of your

gulab

jamuns.
6. Heat ghee/oil in a deep frying pan (the ghee should not be too hot), slightly put the

gulab

jamun balls into the ghee, preferably in batches.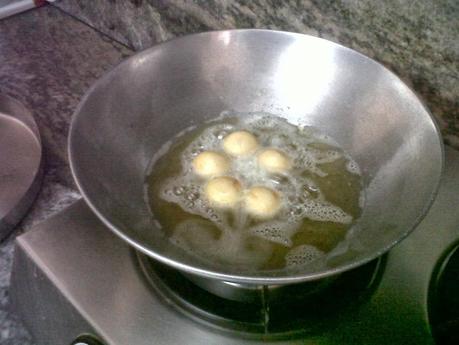 7. With the help of a kitchen spoon, keep turning the

gulab

jamuns

with soft hand so that it gets even

color

.
8. Cook it till

gulab

jamuns get cooked and get a light golden-brownish color.
9. Slide these balls into the flavored sugar syrup. Leave it into the sugar syrup for an hour or so, so that the balls absorbs all the sweetness.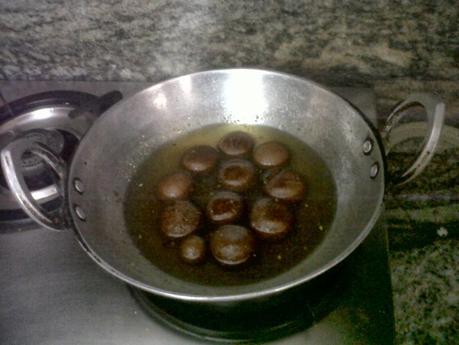 10. Garnish with almonds. Serve hot or cold.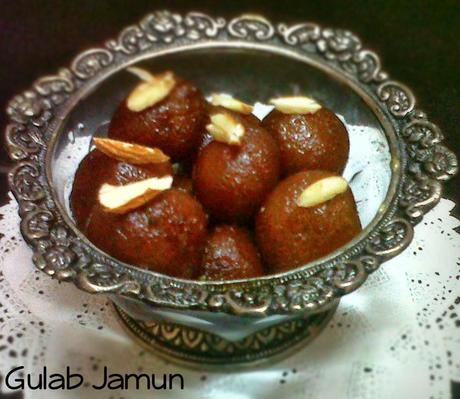 Soft, juicy,

yummilicious

Gulab

Jamuns

are ready to   serve !!!
Handy Notes :
# Never fry the

gulab

jamun balls in hot ghee, the ghee must not be too hot or too cold, it should be in medium hot temperature. 
#You can make any shape or size gulab jamun.
# While making the gulab jamun balls, make sure all the balls are smoothly made (no cracks on the edges), otherwise they will easily crack open while frying.
# For making instant

gulab

jamuns you can use milk powder and

maida

. I am going to post that recipe soon. Stay Tuned !!!