September has arrived, which means only one thing: The world cup is on! Now before you go practicing your Shakira "Waka Waka" dance moves, I should probably clear up one thing: It's the Rugby World Cup. Although Argentina is most known in the sports realm for its soccer team, Argentina also has a top-ranked rugby team that is currently competing in the Rugby World Cup. So what's this whole rugby business about? Read on to find out more..
Quick Facts
Rugby World Cup is played every 4 years
The first Rugby World Cup started very recently (1987), and was co-hosted by Australia and New Zealand
20 teams will take part, including Argentina, which is currently ranked #9. The top 5 teams are Rugby World Cup 2011 host country New Zealand (#1), rival country Australia (#2), South Africa (#3), England (#4), and France (#5).
The nickname for the selección argentina es Los Pumas. This name was given to them by the African press in 1965 after the national team, in a rugby tour of Africa, won a historic game against the South African national team.
The 2011 Rugby World Cup will be going on from September 9th – October 23rd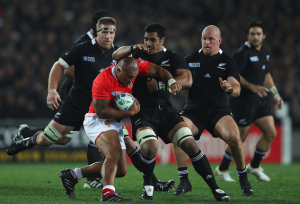 Format of the Tournament
There are 4 "pools" (groups), with 5 teams in each pool. The top 2 performing teams in each pool in the group stage automatically make it past the group round to the knockout stage, which consists of the quarterfinals, semifinals, and final.
Rules of the Game – Or Important Things to Know When Watching Rugby
A die-hard avid soccer fan my whole life, the most exposure I've had to rugby games were the few glimpses I might catch on ESPN before waiting for another program, and let me tell you, despite my knowledge of other sports, rugby is still the sport that eludes me. To avoid chronic rugby-induced disorientation that I have suffered from in the past, here are a few important rules you need to know about rugby before you watch a match:
General Facts
There are 15 players for each team allowed on the field
Standard halves are 40 minutes each
There are 10-22 meter end zones ('in-goal area') that are located behind the H-shaped goalposts on the goal line
Positions include forwards and backs, with players 1-8 as forwards and players 9-15 as backs
To move the ball: any player may carry, pass, or kick the ball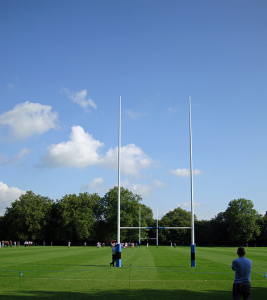 Ways to Score:
Try: Just like in American football, a team can get points by scoring in the endzone. I'm pretty sure they don't call it the endzone in rugby terms but so what? who cares? 5 points (10 points if you just got that reference).
Conversion: After a try, two points are awarded if the team successfully kicks it through the goal (like a field goal in football). 2 points
Penalty Kick: After a major penalty, the team that got fouled has the option to kick for points, and kick it from the point of the foul. 3 points
Drop Kick: A drop kick can be taken at any part on the field at any point of the game. If a drop kick is successfully kicked through the goalpost, the team gets awarded 3 points.
Key Terms
Scrum: A way to restart play after a minor foul. Fun fact: It looks like a big group hug.
Line-Out: When ball goes out of of bounds

,

each team forms a line facing each other and a player on the team who did not kick the ball out throws the ball up in the air between the two teams
Try line: Where the goal line begins
Touchline: The side boundary of the field
Sin bin: This one is my favorite term because it's such a fun phrase to say. If a player commits a major infraction, the ref can also send him to the sin bin and the team has to play short until he's allowed to come back onto the field.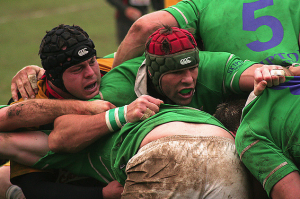 Rugby World Cup 2011 – Updates
Pool A
New Zealand
France
Canada
Tonga
Japan
Current Group Leaders: New Zealand and France.
Pool B
England
Scotland
Argentina
Georgia
Romania
Current Group Leaders: England and Scotland. Argentina is trailing closely behind in third, with 1 win and 1 loss.
Pool C
Ireland
Australia
USA
Russia
Italy
Current Group Leader: Ireland. Australia and the U.S. are neck and neck for the second place spot, each with 1 win and 1 tie.
Pool D
South Africa
Samoa
Wales
Fiji
Namibia
Group Leader: South Africa. Samoa, Wales, and Fiji are all contenders for second place.
The 2011 Rugby World Cup lasts until October 23rd, so now that you know the basics, go out and cheer your favorite team on!
¡Feliz mundial!