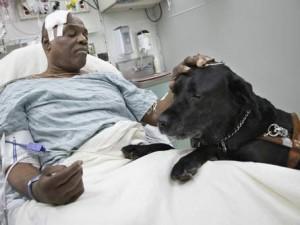 Gallant guide dog Orlando was just doing his duty.
The black Lab bravely leapt onto the tracks at a Manhattan subway platform Tuesday after his blind owner lost consciousness and tumbled in front of an oncoming train.
Cecil Williams, 61, and Orlando both escaped serious injury when the train passed over top of them — a miraculous end to a harrowing ordeal that began when Williams began to feel faint on his way to the dentist.
"He tried to hold me up," an emotional Williams told The Associated Press from his hospital bed, his voice breaking at times.
Witnesses said Orlando began barking frantically and tried to stop Williams from falling from the platform. Matthew Martin told the New York Post that Orlando jumped down and tried to rouse Williams even as a train approached.
"He was kissing him, trying to get him to move," Martin said.
Witnesses called for help and the train's motorman slowed his approach as Williams and Orlando lay in the trench between the rails.
"The dog saved my life," Williams said.
As Williams regained consciousness, he said he heard someone telling him to be still. Emergency workers put him on a stretcher and pulled him from the subway, and made sure Orlando was not badly injured.
"I'm feeling amazed," Williams said. "I feel that God, the powers that be, have something in store for me. They didn't take me away this time. I'm here for a reason."
Williams was taken to a hospital where he is expected to recover, with Orlando at his bedside. Williams, a large bandage on his head, said he is not sure why he lost consciousness, but he is on insulin and other medications.
Orlando, described by Williams as serious but laid-back, was making new friends at the hospital. He will be rewarded with some kind of special treat, Williams said, along with plenty of affection and scratches behind the ears.
"(He) gets me around and saves my life on a daily basis," Williams said.
Cecil Williams wept as he told of dog Orlando's heroics on the New York subway and the successful campaign it prompted to raise the money to let him keep the animal.
The 61-year-old was due to get a new guide dog in January or February and his medical benefits would not cover the cost of caring for a retired dog.
But donations poured in after news of his story spread, meaning Orlando will stay by Mr Williams' side during his retirement.
"Christmas and the spirit of giving it exists here and it's in New York," Mr Williams said.
~Via The Associated Press
Tags: dog hero, Dog Saves Life, dog saves owner from train, dogs saves owner, service dog