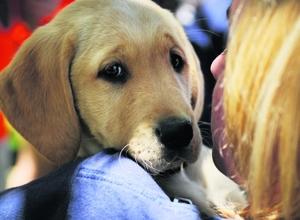 Guide Dogs for the Blind delivered six puppies to Lemoore High FFA students Friday afternoon for a summer of training.
Puppy truck driver Lee Shenk made the trip from Guide Dogs' San Rafael headquarters to deliver six puppies. Lemoore High FFA adviser Marybeth Hearn made the delivery special by arranging for a hand-off during an event at Engvall Elementary School.
Elementary students got to ooh and aah while the Lemoore High students received their new puppies and a bag of dog food each.
The Lemoore FFA chapter knows what it's doing: Its Guide Dog puppy-raising project last year won the National Model of Innovation in Student Development at the National FFA Convention.
Hearn said the puppies are about 9 weeks old. They'll spend the summer with their Lemoore handlers, who will teach the dogs their names, house-break them and teach them good house behavior. On Sept. 1, the Lemoore FFA group takes the puppies to Salt Lake City to deliver them to another group of FFA students for the next step of training as guide dogs.
Guide Dogs for the Blind says its training never ends, but early training follows a familiar pattern: at 15-18 months, dogs begin their formal guide dog training (which takes two to three months). They meet their blind partners usually when they are around 11/2 years old and the two train together for anywhere between two weeks to 28 days.
~ Courtesy of The Fresno Bee
Tags: guide dog training, Guide Dogs, service dogs