I want to thank Nat for allowing me to write this guest review for her lovely blog!
When she asked me to be a guest reviewer here at Reading Romances, I jumped at the chance. But then, I had a problem ~ what to review? I had so many books on my TBR list it was hard to choose, in the end I decided to read a book about those brawny, sexy Highland warriors.  
I knew just the one: Monica McCarty's, The Viper.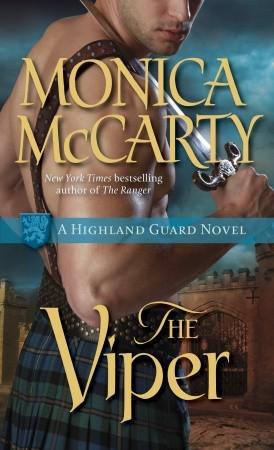 The war for Scotland's sovereignty rages on—as Robert the Bruce is crowned king and the Highland Guard, his elite fighting force of legendary warriors, battle for land . . . and love.
Prized for his snakelike stealth and deadly strikes, Lachlan "Viper" MacRuairi is a warrior to enlist but not to trust. His only loyalty is to his purse, his indifference sealed by bitter betrayal. All that changes when Lachlan is tasked to protect and deliver Bella MacDuff to the king's coronation—and the proud, lushly sensual countess unwittingly challenges him to his greatest battle yet: to love again.
Passionate and devoted, Bella has defied Britain's king and her own husband to place the crown on Bruce's head, and for this she pays a terrible price: Losing her daughter and her freedom to her husband's vengeance. Imprisoned with barbaric cruelty, she vows to reclaim her child, even if it means selling her soul—and her body—to a dark, lethal warrior whose eyes glint like steel, but who makes her skin tingle and her breath race. Together they embark on a rogue mission with sinister twists and turns that threatens not only Bella's gamble to save her daughter—but also her heart.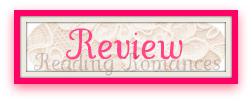 I could not put this one down, I read this in one day
. Monica McCarty did an amazing job telling the tale of Isabella and Lachlan. It is an
emotional story, which grabs your attention right from the start and the
intensity stays at a high through the entire book
.  If you do not enjoy reading strong language or emotionally charged scenes, just a forewarning, you will find them in this book.
Isabella (Bella) MacDuff, is one of the strongest female protagonist, I have read in a long time. Isabella dared to legitimize Bruce's kingship by crowning him at Scone. She was branded a rebel and found guilty of treason. The price for her act was more than she could imagine. Her daughter. Her freedom.  For her punishment, King Edward ordered her to be hung in a cage on the highest tower of Berwick Castle, so that all who passed by could see her. I was so intrigued about this real life event, I did some research and found that the cage was made of lattice wood and iron hinges, completely open to the elements, however she was given a garderobe for privacy. 
I
could not fathom the courage and fortitude needed to survive such an ordeal.  ((shiver))
"Let her be closely confined in an abode of stone and iron made in the shape of a cross, and let her be hung up out of doors in the open air at Berwick, that both in life and after her death, she may be a spectacle and eternal reproach to travellers."
Spoken by King Edward of England in regards to our Isabel MacDuff
Bella was held captive for four years before she was rescued; her pride kept her strong, pride helped her survive.  After being freed, Bella's main goal was to reunite with her daughter and she would do whatever it took, putting herself and those around her in jeopardy.  You could feel Bella's sorrow and anguish when she continually had to make difficult decisions for the sake of her daughter.
We met Lachlan MacRuairi in the first two books of the series; he is part of Bruce's secret band of phantom warriors, the Highland Guard. He was given the name Viper for his venomous disposition. And like a snake, he was slippery when evading capture and had a silent, deadly strike. His ability to get in and out without being seen is the reason he was the one called upon to help Bella.Lachlan is your typical bad boy but underneath the tough exterior is a man with a troubled past. He just needs a strong enough women to break down his defenses. His wife's betrayal taught him a hard lesson in trust that had left the men who followed him dead, himself unjustly disgraced, and his holdings forfeited.
"Take my word for it, marriage is a black plague on the soul; a wife will only make you miserable."
Although he tried to keep as far away from Bella as possible, their paths were always crossing and with each encounter you could feel the chemistry growing more intense. Each of them had to deal with their own obstacles before they could let anyone close to them. Bella knew only coldness for years and Lachlan never had anyone to care for him, never had anyone he could trust. For every step they took to get closer, something happened to make them take two steps back, but in the end they both knew it was worth fighting for. Some of the love scenes were harsh, and some made you swoon, all necessary to depict the turbulent times they were facing.
"I love you, Bella. I will love you not until my dying day, but from the heights of heaven or the depths of hell until my soul ceases to be."
Monica McCarty combines the real events of history with the tenderness of heart-stirring romance.  As with all books in the Highland Guard series, I highly recommend this book. If you are a fan of Highlanders and love romance books that brings passion and history to life, Get This Today!
My Ratings: 


This book was received via Net Galley in exchange for a honest review.
With so many men that make up the Highland Guard, Monica has helped the reader with a
Who's

Who in the Highland Guard
.
While you're there check out the sexy book covers, honestly, what's sexier than a man in a kilt?