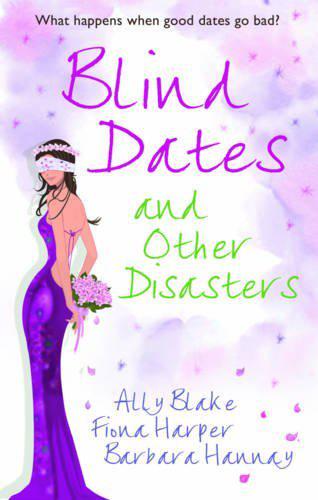 Blind Dates & Other Disasters
by Ally Blake , Fiona Harper & Barbara Hannay
Publisher:  Harlequin UK
Published Date:  02/01/2011
ISBN: 9781408935200
Summary:
Three easy ways to keep your love life clean and simple ..
…don't get your friends to fix you up. Party planner Holly can't find the perfect man – it's time to turn to her friends to help her out. But after a string of horrific dates, will Jake Lincoln be the man for her?
…don't go on a blind date. Serena wishes she could ignore her unconventional upbringing and settle down with her dream man! So she's heading out on a blind date. But her date is a man who lives by one rule: never get married!
…don't try your hand at internet dating. Annie is stuck in the Outback without any men for miles. When she meets Damien on an internet chat group, she immediately heads to the city to meet him. Then Theo steps in to take Damien's place.
My thoughts:The book contains three separate contemporary romance tales. I was hoping they would be intertwined with each other but each was a stand alone tale. From the blurbs, each sounded like they would be good reads, three stories about blind dates. Here's my thoughts on each:

The first story The Wedding Wishby Ally Blake was slow from the start and I found it difficult to connect with the heroine, Holly. She found the perfect man, Jacob, but she did everything to avoid him, I just didn't get it. It is evident that Jacob shared the same feelings but it was this cat and mouse game which went on longer than it should have. I would have liked to see some more courting or romance between the two characters. There were a few cute moments in the story.The second story Blind-Date Marriage was written by Fiona Harper. This story was my least favorite of the three stories in this book. I found it hard to connect with this one. I didn't care too much for some of the characters which made it hard to continue reading. It was more intense that I had thought, I was hoping for a light read and something quirky and cute.
The last story Blind Date Surprise is by Barbara Hanna. There were some things I really liked about this; I thought it was funny, quirky and cute, but it seemed a bit hurried along then I would have liked.
Overall: I loved the idea of romance book spun around the concept of "blind dates", there was so much potential here for some wonderful, humorous romance stories, unfortunately it fell short for me. Which is too bad, this book could have been a lot better. I would have love to see it a three fun tales about blind dating with a humorous matchmaking twists. I think the readers may enjoy at least two out of three of the stories. If you want to read it, go to your library and check it out.


Review courtesy of netGalley