&appId;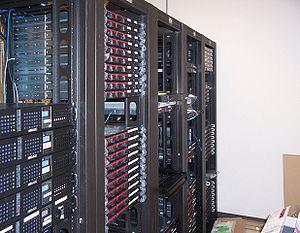 Multiple racks of servers (Photo credit: Wikipedia)
Why are hosting companies so important?

Your hosting should fit your budget
Look out for free gifts
Check your host's availability
Choose your location
Review support and customer service

What Else Do Hosting Companies Offer?

Email accounts
Databases and FTP accounts
Site builders

Final thoughts
The following is a guest post by Claire Broadley. Her bio is at the end of the article.
When a business sets up a brand new website, the site itself  – and its contents – are only part of the equation. In the background, there's a web hosting provider.
The web hosting provider is the company that stores the website's files, scripts and images on a server. It ensures that users can access the website 24/7, and without any errors or performance issues.
Often, hosts will offer an 'uptime guarantee' – a clause in their Terms and Conditions that describes the level of availability customers can expect. Hosting companies provide a variety of different services, from affordable, basic hosting with 99 per cent uptime through to dedicated servers or 100 per cent guaranteed uptime.
Choosing a hosting company, and a hosting service, is therefore something of a balancing act; you need to obtain the right level of service for a price you can afford. At the same time, you'll need the right features and good availability from a hosting company you can depend on.
Although this sounds like a tricky combination of features, it's crucial to select the right host. If you decide to switch hosts down the line, the process of moving your website, files and databases can be painful and slow.
Why are hosting companies so important?
The right hosting company can have a really positive effect on your business. Here are a few reasons why it's vital to select the right host.
Your hosting should fit your budget
From free web hosting through to pricey dedicated server deals, the right web hosting needs to suit your budget while supporting your business effectively.
Every business is different, so your idea of an affordable host might be quite different from someone else's. Various factors will affect the price, including the resources on your hosting plan.
When signing up, check that your host offers adequate disk space and bandwidth. Some affordable shared hosting packages provide customers with unlimited space and bandwidth, which is by far the best option if you're not sure how much capacity you need. 'Unlimited' resources may not be completely unlimited – there may be a catch – but under normal operation, an unlimited shared hosting package is plenty for a small business to get off the ground.
Look out for free gifts
While free gifts should never be the sole reason to choose a hosting company, they can give one provider the edge over another.
Many entrepreneurs benefit from the sign-up bonuses that hosting companies offer. In particular, marketing and advertising credits can give your new venture a boost. These vouchers allow you to try out services like Google Adwords, Facebook ads and Yahoo!/Bing advertising for free.
Don't make free gifts the cornerstone of your purchasing decision – but if you're torn between two hosts, valuable coupons are worth factoring in.
Check your host's availability
As mentioned at the beginning of the article, hosting companies generally offer an uptime guarantee. It's normal for the figure quoted to be around 99.9 per cent uptime; it's rare, although not impossible, to find an affordable host that provides customers with 100 per cent uptime.
This is one area where hosting companies vary quite a bit, and it can be difficult to assess their past performance if they don't publish uptime statistics. To accurately assess your host's uptime history, you may need to check hosting review websites and compare ratings from users.
Choose your location
The location of your hosting company may not correspond to the location of its servers. For a small business, that's important, because it's the location of the server that determines how quickly visitors will be able to access the site.
If a user is located in the same country as the host's servers, they will undoubtedly see the pages load more quickly than they would if the server is in a different country or continent. Depending on the overall speed of the connection, this may not make a lot of difference; it could also be quite noticeable.
If speed is important to you, look for a hosting company that has servers in the country where most of your clients are likely to be located. Some hosts allow customers to choose their server from a variety of data centres around the world; these do tend to be more expensive than standard shared hosting providers.
Review support and customer service
The amount of support a host offers its clients can vary considerably. Some hosts provide 24/7 customer service all year round. Some may only provide support during office hours.
There are also a variety of different ways to contact hosting companies. For example, you may contact the support department via email, live chat, telephone or social media, such as a Facebook or Twitter page.
Regardless of the way support is offered, you should review independent hosting review websites for some background information about the support offered. Aim to evaluate the quality of the host's technical support by checking out independent reviews and ratings. Having a 24/7 support helpline is great, but the amount of time it takes the host to answer the query is just as important.
What Else Do Hosting Companies Offer?
Web hosting companies are responsible for keeping your website online and ensuring your content is always available, but they also offer other services that complement your hosting package.
Email accounts
Hosting companies offer you the choice of having email accounts linked to your business domain name. This allows your staff to send emails from a professional account, helping to give your clients a better first impression.
The number of email accounts – and the capacity of each account – can vary considerably from provider to provider. Ensure your hosting package includes enough mailboxes for everyone in your business, plus a few spare. Many hosts offer unlimited mailboxes, giving you the freedom to set up as many email addresses as you like.
Databases and FTP accounts
As your website grows, you'll need to check how many databases and FTP accounts you are allowed to create within the terms of your hosting package.
Databases hold the content of a website; if you run a CMS or blogging platform such as WordPress or Drupal, the database is effectively the 'brain' of your website. If you want to create more than one site, you'll need to create additional databases.
FTP is short for file transfer protocol. It's the method web developers use to transfer files from their own computer to the web server, and vice versa. One FTP account is fine for a small business website, but if you plan to expand your site, you will probably need to add more.
Site builders
If you don't feel comfortable dealing with the technical aspect of running a website, a site builder could be the ideal solution. With a site builder, you create a website using a simple drag-and-drop interface. There are a variety of site builders on the market, and all are suitable for beginner webmasters.
Most web hosts offer some kind of site builder tool, although the number of pages you can create may be limited. If you want to use a site builder, ensure that all of the core features are included as part of your monthly hosting fee.
Final thoughts
Once you understand the effect hosting has on your business, you'll be in a much better position to ensure you select the right provider – one that balances technical specifications with additional features. Don't forget to look for sign-up bonuses, such as advertising coupons, that will help support your marketing activities and ensure your business is able to grow and mature.
Claire Broadley is a creative content writer working for WhoIsHostingThis.com, an independent hosting review website.

Thank you for sharing!