my FIRST guest 'vacation' post! I have asked a few of my blog friends to help me out in providing some great vacation pictures, stories and topics to keep you entertained while we are away. Once I am back into the swing of work and all things blogland, I will be back with some fun vacation recaps of my own. 
First up... Kelly B, this post is SO cool AND I learned something TOTALLY new about my bloggy friend- enjoy this mini virtual vaca to Malta!
***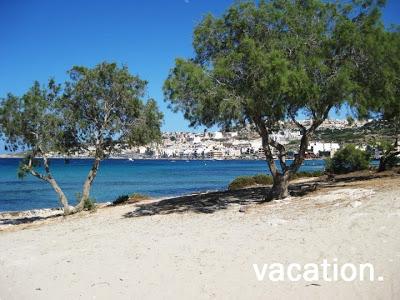 Hi KUWTS* readers! Kelly here. I blog over at Kelly B., J.D.. I'm an
almost
26 year old newly minted lawyer who talks a lot about her cat, adventures in wedding planning (October 5, squee!) and whatever strikes my fancy. Andrea is a fellow MN blogger and I've even had the privilege of meeting her at a few meetups! She wore a cat sweater at our ugly-sweater-secret-santa meetup and, well, pretty much stole my heart after that. 
TODAY I am here to talk about the best vaca I ever went on. It's a bit of a stretch since it was
technically
 a study-abroad, but let's get real. Anyone who has been on study-abroad knows it's a giant vaca anyway. I never got a chance to go on study abroad in undergrad, mostly lame excuses like I didn't have the money and figuring out financial aid seemed like a lot of work (hi, lazy) aannnddd there was always a new guy around and as much as I hate myself for admitting it I couldn't pry my angsty adolescent self away for months at a time. THEN in Fall 2009 the perfect opportunity presented itself to me: law school study abroad. I had the ball rolling by November and by January I was sending in paperwork for a 6 week stay on the teensy island nation of Malta.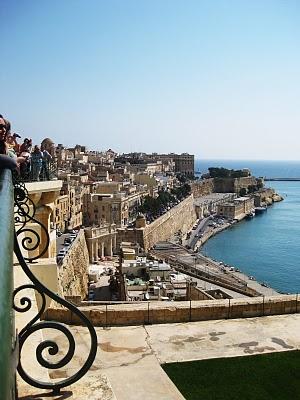 Valletta, Malta 
I'm not sure what to say about this trip other than it was one of the best experiences of my life. Call me a rebel, but I tend to fight against visiting the 'traditional' European locations.. you know, London, Ireland, Italy. Don't get me wrong, I'm Italian and would love to visit someday- but more so the Amalfi Coast and Cinque Terre. So when the chance to spend 6 weeks on an island NOBODY has ever heard of popped up? I was all over it.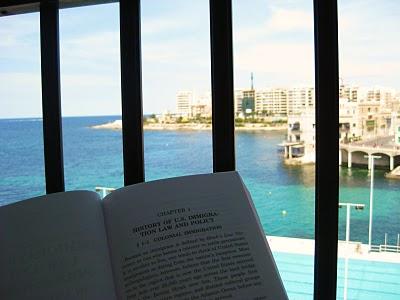 View from my balcony, a little light summer reading. Woof. 
Monday through Friday mornings were spent in the classroom learning about international immigration law, international family law, and mediation. Afternoons were spent exploring the island and its sparse sand beaches (most were limestone). There's something to be said for really getting to live like a local while on vacation. We went to the least touristy beaches possible (this one below involved a 25 minute bus ride to the far side of the island and a mile walk up a hill.. but man... was it worth it)-->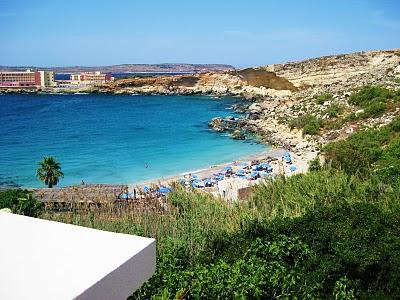 Malta is in the middle of the Mediterranean Sea, Sicily is a 40 minute boat ride to the north, Istanbul to the south, and Greece off to the east. It's population is only 400,000 people! Actually it's comprised of 3 small islands: Malta (the "big" island, tourist central and home of the capital Valletta) Gozo (the medium island - much slower pace of life, more farming, and only about 30,000 people) and Comino (the tiny island- home to only one hotel and a few farmers- main attraction is the blue lagoon.. the most pristine waters you've ever seen).
We got to experience the rich history of the country during the multiple world wars. Malta kind of got shit on, as in - sieged- many times, and was is the only country to ever receive the George Cross for withstanding attacks during WWII.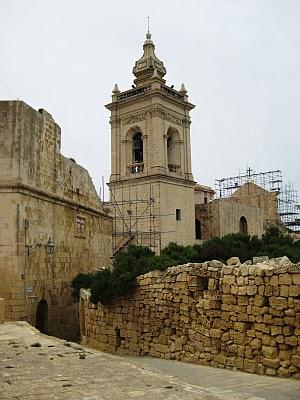 Victoria (I think?)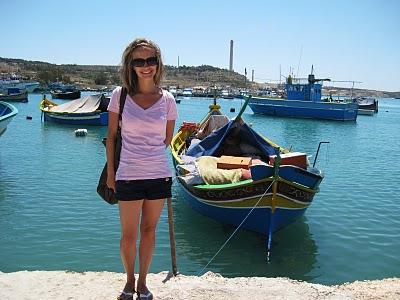 Tiny fishing village of Marsaxlokk and a much blonder, much tanner, much shorter-haired version of myself.
And then something happened that reaaaallllyyyy made this the best vacation ever. This guy I was dating for a mere 5 months (same dude I'm marrying in October ;)) decided that 6 weeks was a weee-bit too long to go without seeing me, so he came to Malta. For a week. We vacationed-from-our-vacation for one night on the island of Gozo in OMG the fanciest hotel I've ever stayed in.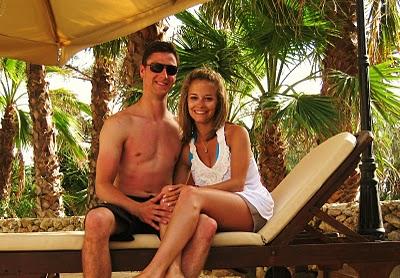 Kempinski Hotel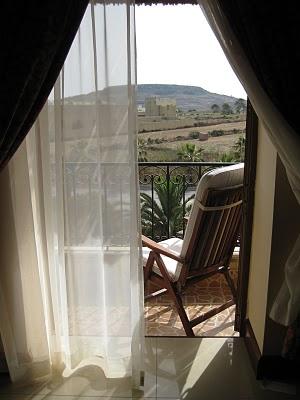 Kempinski Hotel, view from our room
We zoomed around on Malta-busses (want a good laugh? Google "Malta Busses" and behond: the Oscar Meyer Weiner Mobile. Total blast from the 70s, that country. I tell ya.) and ate fantastic dinners on patios overlooking the water. Want a vacation with some predictability? Malta receives something like 330 days of sunshine a year. It rained maayybee 5 days while I was there, and only for a few hours at a time. Perfect.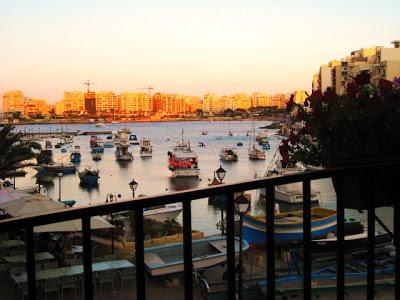 from dinner on Spinola Bay
It remains one of the best experiences of my life, and I'm DYING to go back, with M (and without 40 other law students and the accompanying drama).
Anyway, if you'd like a more detailed look at what I did in Malta.. feel free to stop by my no-longer-updated travel blog. AND if you'd like a more detailed look at the life of a cat-lady-lawyer? Stop by my current blog.
Thanks for having me, Andrea!
*kind of an unfortunate acronym, Andrea...sorry.
Says the girl with "B.J" in her blog title.