my last guest post is featuring a REAL life & good friend of mine, Jayme! she has relived her & her husband Scottie's 2007 Hawaiian honeymoon to share with us today! Hawaii is a place that i love to read about and see pictures because Aaron and I have never been- but have dreams so SOMEDAY get there! so all of Jayme's fun photos and details keep my dreams alive-

must get to hawaii!

  i even did a book report on the state while in 4th grade- so, along with my friend's words and my 4th grade memory i "know" so much about the place! haha 
***
Hello readers of Andrea's amazing blog. I'm here "blogging it up" as a guest poster after Andrea put out a challenge, okay it was an invitation to blog about a favorite vacation, but I took it as a challenge. My name is Jayme, from Not All Those Who Wander Are Lost and I started blogging in 2006 and may take a little credit in getting Andrea to join the blogging world. I actually went to college with her husband Aaron and my husband Scott and Aaron were roommates for a short time. It wasn't until after college that I started hanging out more with Andrea we realized we have a lot in common and wonder why Aaron wasn't having us hang out more often! When the four of us have been together in the past it often consists of Andrea and I getting excited about random things and our husbands shaking their heads and saying "why don't you blog about it." So that's what I'm here to do, blog about my favorite vacation. It was very hard to narrow it down. I've been fortunate enough to have gone on some wonderful family vacations and even studied abroad for a semester in Australia. However our Hawaiian vacation holds a special spot in my heart for a few reasons. First, it was our honeymoon! Secondly, it is the only flying vacation the two of us have took alone in the (going on 10) years we've been together.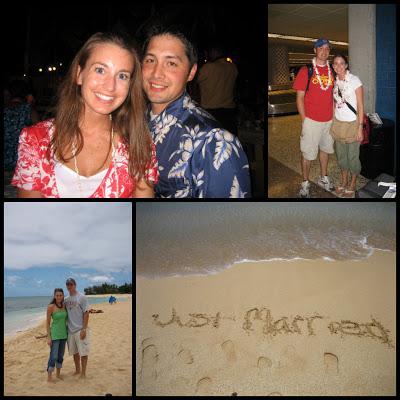 In July 2007 we flew into Honolulu to spend a week touring around the island of Oahu. When we arrived at our hotel we were upgraded to an ocean view room and had champagne in our room because I mentioned it was our honeymoon. Sweet start to the vacay! We made the most of our time and stayed busy every day and even met some fun other couples while participating in various activities. The weather was absolutely beautiful. One day that we really enjoyed consisted of us packing a lunch and taking the bus to Hanauma Bay to rent snorkel gear. We spent the entire day snorkeling and relaxing on the beach. Other activities we enjoyed were a luau, the Dole pineapple plantation, the North Shore, Byodo-In Temple, Pearl Harbor, a sunset dinner cruise on a catamaran, Pali lookout, checked out the University of Hawaii, shopping, a bus tour, and more.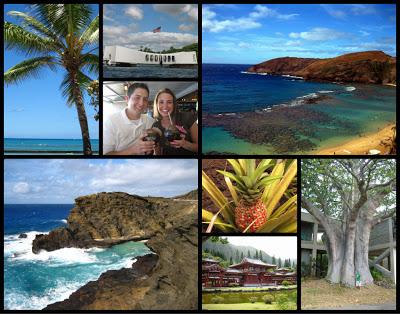 We didn't rent a car and instead got to places on a tour bus or the public bus (which is free and is called The Bus). Our hotel was on the end of Waikiki Beach and we could see Diamond Head. So one day we took The Bus up to the entrance of the Diamond Head State Monument Park. Little did we know the hiking that would be involved on that hot sunny day. First we had to walk from the road to the entrance of the park which was quite a ways up hill and through a tunnel. Then once inside we had to hike up the side of the crater on a zig-zag path and up over 100 very steep stairs to get to the look-out. But once there it was totally worth it and everyone was just as hot and sweaty as us so there was no need to be embarrassed.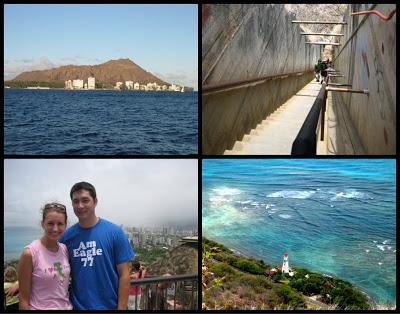 We absolutely loved our week in Hawaii and often talk about how we want to go back again. While on our honeymoon we said maybe for our 5 year anniversary. Well 5 years was this past summer and we didn't get there so now we might have to shoot for our 10 year anniversary. Next time though we are going to do some island hopping and not stay in one spot. If you can I highly recommend you book a trip to Hawaii.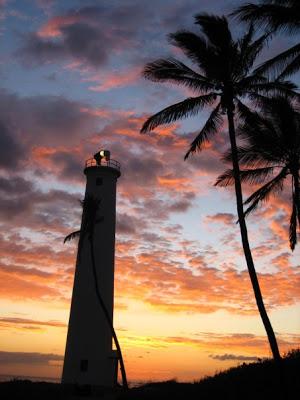 Thanks again to my dear friend Andrea for letting me relive my vacation and share photos with all of you. We do have two family vacations planned this upcoming July so stop by my blog then if you want to hear about Steamboat Spring, CO or Seattle, WA.