Hellooo shimmers,
A guest post today
------------------------------------------------------


How to Wear Flip Flops




There is just something so relaxing about winding down, throwing on a pair of flip flops after a hard day work, and chilling at the local coffee shop. But how can you wear flip flops and still have a cute appearance?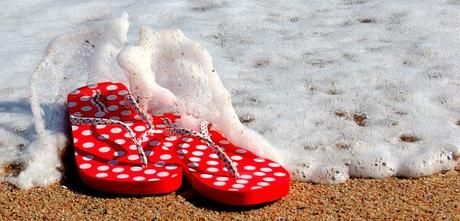 By Bermi Ferrer via Flickr
Look #1: With a Skirt
A lot of people will tell you it is never OK to wear flip flops. Well, I'm going to tell you right now: I'm a huge fan of flip flops and there is no one on this planet who is going to tell me otherwise; especially, when it comes to rocking a pair of adorable flip flops with my favorite casual skirt.
Nothing fancy, of course. You know, just the cute little girly skirt hanging in my closet. The pink one with polka dots that matches oh-so-perfectly with my lovely pink sandals. Yes, it is simple and basic. But it is completely feminine and works perfectly for when I'm running a few errands or just sitting out on my front porch enjoying the breeze and a nice cup of green tea.
Look number one? A pair of cute flip flops for girls with a lovely skirt (jean skirts are OK, but note: this does NOT include maxi skirts, pencil skirts, or anything other than extremely casual skirts). Forever 21 is a great place to shop for adorable girl's flips flops and you'll probably run into a matching skirt during your shopping spree.
Look #2: With Capris
Capris were a major 90's hit, and although they simmered in recent years, they have made an exciting comeback this year. Capris have certainly reached their height of popularity, and if you want to combine the hotness of capris with the comfort of flip flops, you are in luck.
Flip flops work perfectly with any type of capris- jean or any other material- which is exciting because it's actually pretty hard to find a pair of shoes that work with capris. In fact, wearing a pair of jean capris gives you a grand opportunity to sport one of your wildly decorated sandals to offset the 'dullness' of the jean.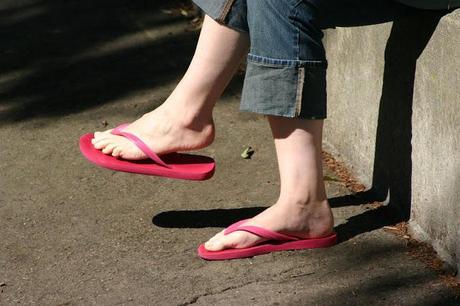 By Genista via Flickr




Look #3: With Jeans

When it comes to looking fashionable while wearing flip flops, there is definitely one thing you need to keep in mind: never wear your flip flops with skinny jeans. That's really one way to get an odd look from the crowd.


However, sporting your favorite pair of flip flops with other jean styles (boot-cut, flared, boyfriend) showcases a really hot trend.  And with the fall weather quickly approaching, there's no better reason than to bust out your favorite flip flops and comfy jeans and get ready to head out on the town. You can choose and buy from a huge variety of lovely flip flops here.


Look to Avoid:

There are a lot of times where flip flops are appropriate (relaxed environments, the beach, your own home, etc), but there are also a great deal of places where flip flops should never be worn. Some of these places include: clubs, five star restaurants, fancy occasions, weddings, funerals, etc. It is also important to note that flip flops should never accompany the following attire: skinny jeans, maxi dresses and skirts, pencil skirts, dresses, or anything upscale.


Author Bio: Zhuang Ping is a writer with a love for all things glitz and glamor. She is a fashionista at heart who loves to spend less and look great, which is why she always checks back for the latest coupon sites to snag some amazing deals. ------------------------------------------------------------------------------------Thank you to Zhuang for this guest post. Laura x