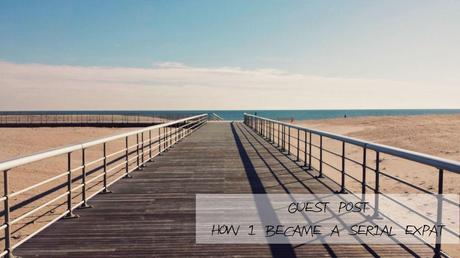 Today, I'm having Jameela from

http://www.diaryofaserialexpat.com/

originally from France, who lived in England, Libya and is currently considering to move to Tunisia (or some other place)  to share here amazing and truly inspiring story of how she became a serial expat.  
Moving abroad has been a dream ever since I was in primary school and I had my first lesson in English. In high school, I had the most wonderful English teacher and my dream became a plan: I was going to study English and go live in a country where I could speak English all the time. It took some time, some effort and the constant support of my family to make my dreams come true.
Preparing my expat move:
I eventually moved the UK in September 2004 but I set the plan in motion long before that, without telling anyone, I slowly put all the elements into place until I announced my decision to my family. In 2003, I decide to go study in a different university which had connection with a university in the UK which offered the MA I was contemplating. The next part of the plan was to figure out a way to get to the UK, enrol on one of their course without having to go through the long and difficult (and not always guaranteed) enrollment process of British universities (UCAS at the time). I therefore applied and was accepted on a student exchange programme which would take me to the UK for one year. I had

no intention of coming back

after a year. ..
My project in the UK: Short Term
I had decided against all advice from my friends and teachers to study Translation (
no jobs, no money according to them but for me the best job in the world
) and I had decided to do an MA in the UK. My idea was that once I completed a year in university as a visiting student, it would be easier for me to apply for the MA, since they would already know me and assessing my level wouldn't be a problem at all (
this point is what makes applying from abroad somewhat tricky, because university degree don't have the same value and proving equivalence can be a problem
). It turned out even better than I had expected when I learnt that one of my teacher was actually on the admission board. I knew I had my ticket there and then.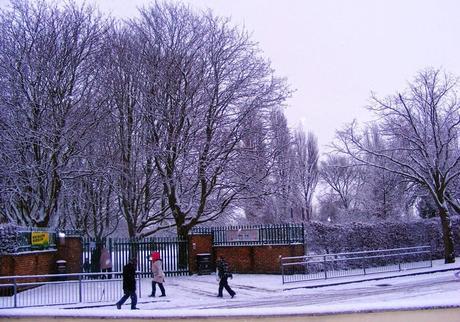 Winter in Birmingham
Studying in the UK:
I have always been an average plus student, not a genius but good enough to always pass with good to very good grades (especially in Translation). I had completed a BA in France but instead of applying straight away for the MA, which I could have done, I had the feeling I needed a year to get used to the British system. Ohh boy I was right! My first time in a British university was like a slap in the face. I was totally unprepared for the intensity and the difficulty of the studies. The MA was even more difficult, with a mountain (think Everest) of research and personal work, I also joined the editing team of the Translation Journal so free time was rare. Yet this was one of the best years of my life. Lessons were like none I had ever sat through, students were highly motivated and skilled, teachers were top of their games and "mind-blowingly" interesting and what's more, they made you feel like you were their equal… WOW.  In the end, I did get an MA and even after that I had no intention of going back to France.
Another dream come true:
I wasn't quite sure what I was going to do once I finished my studies. It did cross my mind to continue onto a PhD but to be honest I simply couldn't afford it and I had already stretched the family finances too far. So I started looking for jobs. I used the internet to get some freelance translation jobs while looking for jobs on the ground to pay the bills. Fast forward a few years and I find myself in Wales in 2006. The first time I had traveled abroad had been to Wales, on a high school trip and I had totally fallen in love with the country and its people. After that I had spent 3 summers in Wales with the support of my family to practice my English and I always knew somehow that I would eventually end up in Wales again. So when an opportunity arose and I was asked to choose where to move onto, I didn't have to think about it "give me a ticket to Cardiff, Thank you".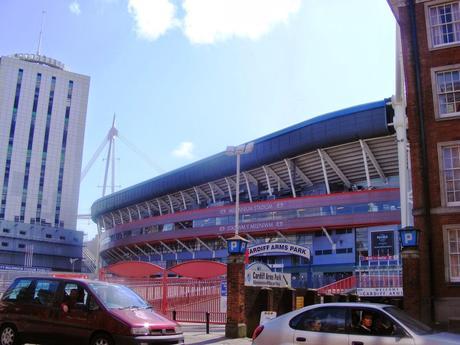 Cardiff Street View
One dream isn't enough:
I lived in Wales for 3 years, I did some voluntary work for some time until I found a full time job teaching in a school. I wasn't always easy (life never is) but my years in Wales are among my best memories. They say "home is where your heart is" and I think in that way, Wales is my home, somewhere in my heart. It's hard for people like me who travel from one place to another, from one country to another, to know where "home" is, but Wales somehow sticks in my head and calls out to my heart. Despite all of this

I left Walesfor mainland England

, where I stayed for 3 more years. I'm lucky enough to have met and gotten married to someone who has the same travel bug as me. We now follow our dreams together, currently in Libya (May 2014), next somewhere else, we are still working on our next destination and possibly in

Tunisia

at some point in the future but with us, you never really know…
Wondering around Tunisian streets
To know more about Jameela and her amazing life journey, please, follow her on

Twitter

and check out her

Facebook page

too!