Today we have a guest post from Steven Athea, the co-founder of Modani. Just in time for spring cleaning! Enjoy:
The clock is ticking as you frantically search to find your everyday items – pile after pile of clutter and disorder distracts you from recalling where you last saw it. With long days and busy schedules, finding ways to save time and stay organized is crucial, not just for efficiency, but for your happiness and sanity as well.
Now, you may be thinking, "Who has time to clear all the clutter? It's a never-ending chore!" Don't worry; there are simple pieces that can effortlessly provide structure in any space. These solutions will have you sighing in relief as your stress levels dissipate.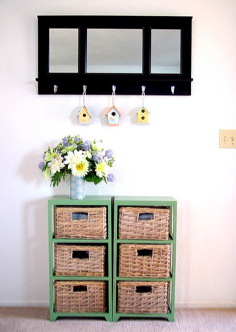 One leading cause of chaos is not having a place to put your things when you first walk in the door. Accessories and keys end up scattered around the house. Eventually, you inevitably find yourself running late and searching far and wide for your shoes, umbrella, and the bills you needed to mail yesterday. Keep your everyday items accessible by placing a storage bench, dresser, or cubbies near the entryway of your home. Don't forget hooks to hang jackets and scarves and your favorite accent, like a photo or figurine, to highlight your own personal style!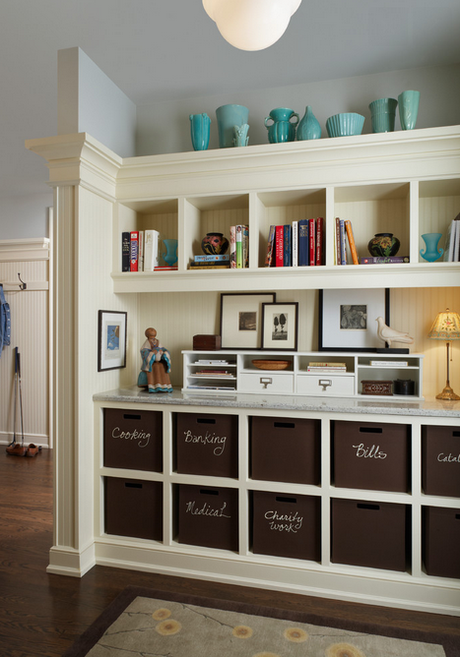 By AMW Design Studio. Photography by © Beth Singer Photographer.
What happened to the counter space? There are papers piling up, leaving no room to actually use it. Eliminate your anxiety by bringing in baskets to categorize items. There are many options, from hot pink fabric bins to wicker baskets, which can match any décor. Use them in the kitchen to separate snacks, organize towels and toiletries in the bathroom, or try them in your kids' room to store toys and school supplies. Place them on shelves above a workspace or in closets and cabinets to stay organized. Remember, sorting and storing items is the key to an organized home.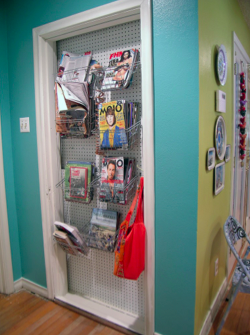 There's an opportunity behind every door – especially when it comes to home organization. Create additional storage space with over-the-door shelving. Store arts and crafts, magazines, and shoes or hang scarves, jewelry, and jackets – the possibilities are endless. This is not only a great way to create additional storage in your closet, but also to keep your kitchen and bathroom organized. Try placing smaller racks inside cabinet doors for spices or cleaning supplies.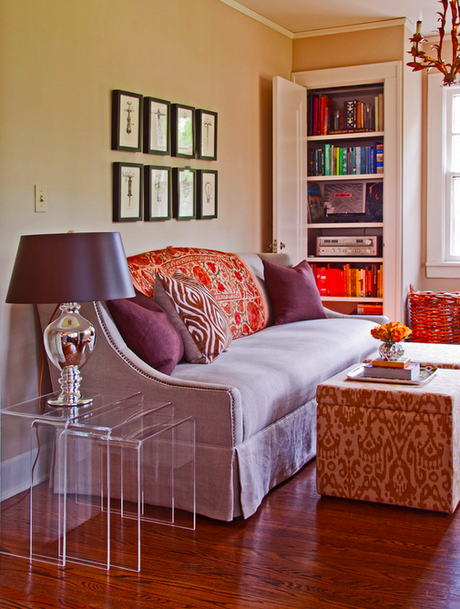 Photo via Coveted Home.
Ottomans are a simple and stylish organization solution. They can open up to keep your items out of sight and out of mind, all while creating a place to put up your feet. Place one in the living room to store your kids' toys and game controllers, or in the bedroom for extra blankets and pillows. This chic accent can bring a burst of color or pattern into any space, or you can have it simply blend in with the furniture. They also provide extra seating space and are easy to move — perfect for the busy household!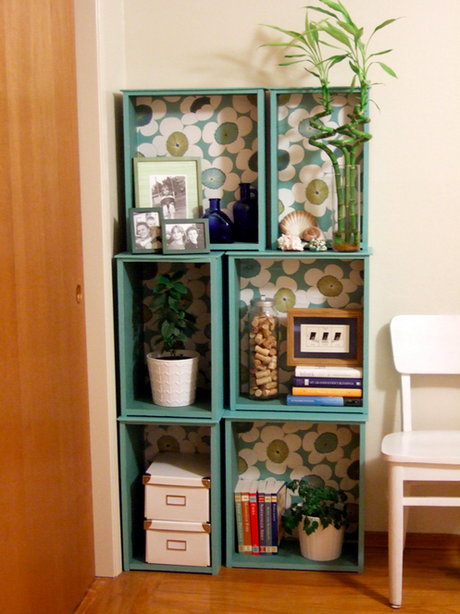 Photo via Crafty Nest.
Looking for an alternative to the traditional bookcase? Arrange wine crates to create an eccentric storage space. This charming display unit is perfect for stashing smaller items, like books, photos, and accessories. This can also serve as a nightstand or side table in any room's corner. With a variety of shapes, colors, and sizes, mix and match to your preference. You can also customize them with a little paint and patterned contact paper. Be sure to reinforce your new unit for sturdiness and safety.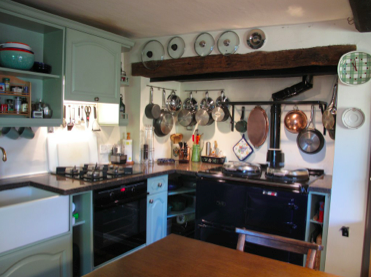 Cooking can be a stressful endeavor, especially if you are busy maneuvering around disorder. We need somewhere to store our favorite gadgets, but we also need the kitchen countertops to actually cook! Clear some cabinet space. Use a hanging pot rack to put your favorite cooking tools above and on display. What to do with those pesky lids? Install towel rods to the inside of cabinets to keep these frenzy-causing necessities under control.
Just by keeping everything in its right place, you'll take a step toward making your life a little more manageable! Save yourself time searching and stressing by incorporating these simple pieces into your home. Keep in mind that creating function in your home doesn't mean you have to sacrifice style. There are many simple solutions that will make your interior shine!
Steven Athea is the co-founder of Modani, a contemporary furniture store with locations across the U.S. Steven has a degree in Design and Architecture from The Architecture School of Antibes in France.
*Photos purchased from Shutter Stock unless otherwise noted.