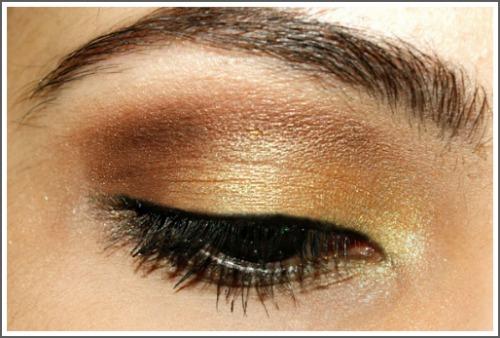 Guest post by Makeup Mew
I love the holiday season, the chilly winter winds and of course all of the time spent with friends and loved ones. When it comes to my makeup for these special occasions, I like to keep my eyes very glammed up with shades of bronze and golds. For this tutorial I wanted to create a very very gold makeup look with shimmery shades all over the lids. When it comes to the lips, you can choose to pair this look with something neutral like a rosy pink lipstick or go for a deep glossy ruby red lip if you really want to get into the holiday spirit.
So let's get this tutorial started!
Step 1:
Start with a primed eyelid and pick up any shimmery yellow gold eyeshadow, something similar to MAC's gold pigment. Using a flat shader brush, apply the eyeshadow all over the lid making sure to pack the color onto the lid.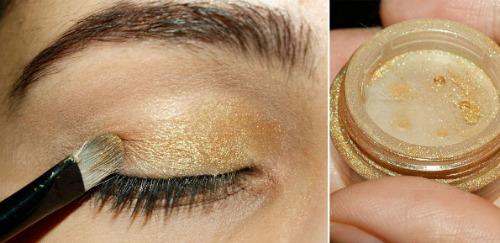 This is what you should have: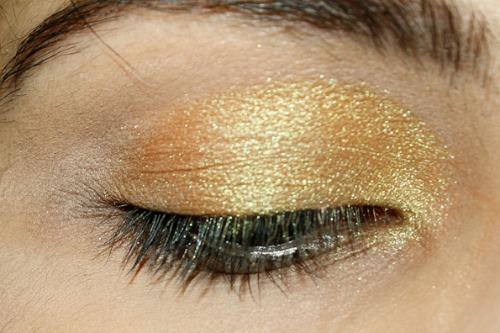 Step 2:
Next we want to warm up the crease, taking a copper shimmery shade (I used the MUA Heaven and Earth palette) with a pointed crease brush apply the color concentrating on the outer corner of the lid. Make sure to blend the color all the way into the eye crease above where the Gold eyeshadow was placed.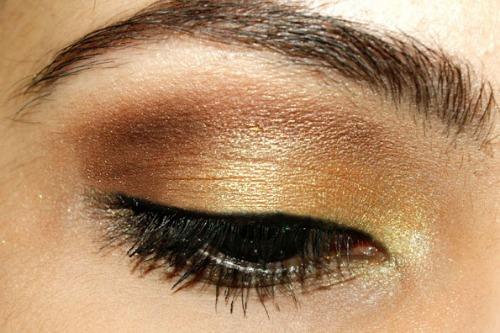 Step 3:
I wanted to add more definition to the outer crease so I took a matte brown eyeshadow on the same pointed crease brush and blended the colors more into the copper and gold. The matte eyeshadow will add a good amount of definition without looking overly shimmery.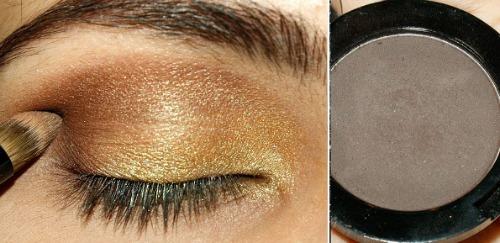 Step 4:
Highlight under the brow bone area with a matte vanilla eyeshadow. I used a Catrice Cosmetics duo in Double Espresso Macchiato Please! Highlighting is a great way to tone down any eyeshadow that might have look too harsh. After this step apply your favorite black eyeliner and mascara to the top and bottom lashline and you are done!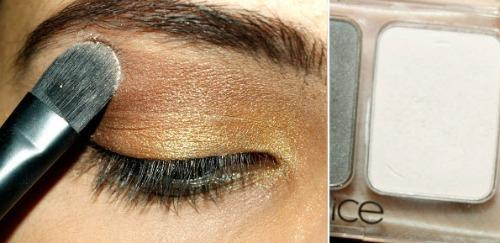 Final Look: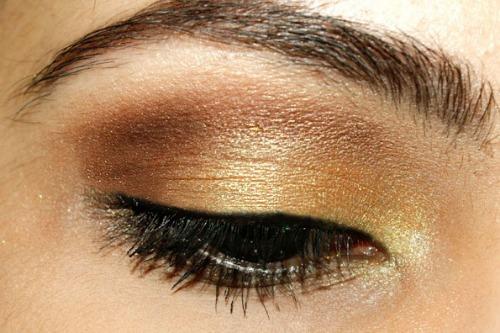 I hope you all enjoyed this look!  Remember to keep the rest of the face very minimal with a light coverage foundation and peachy coral cheeks for a natural and warm makeup look perfect for a cozy holiday makeup look.
– Sidrah

 A little bit about me: I'm a beauty blogger over at MakeupMew.com where you can find a variety of  makeup  tutorials and beauty product reviews. I love experimenting with bright eyeshadow colors and what  better way  to showcase makeup looks then with a tutorial. Check us out for step-by-step tutorials and makeup  reviews or  follow us on Twitter (@MakeupMew)!