Today's guest post is from Chris Long, a Home Depot associate and contributer at homedecorators.com. Enjoy:
In his autobiography, architect Frank Lloyd Wright writes, "We no longer have an outside and an inside as two separate things. Now the outside may come inside, and the inside may and does go outside." While his musings are on the theory of integral architecture, I would like to think this thought applies to the décor of a living area as well.
Beyond making use of natural materials, maintaining houseplants, and hanging landscape art, you can introduce an out-of-the-house (indeed, out-of-the-box) aesthetic by incorporating traditionally outdoor furniture into your inside spaces. Just as an open window in spring allows cool breezes through the home, this fresh use of wicker, teak, and iron can breathe new life into a stuffy room.
Below, I share some of my favorite ways of including such materials in your family room, bedroom, and kitchen designs. But first, a few hints:
Avoid moving an entire matching patio suite inside, as this can look like you had nowhere for the furniture to live out of doors. It's best to methodically add a single piece to your current mix of upholstered and wooden furniture.
By outdoor furniture, I do not mean the resin (eh-hem, plastic) table and chair sets that are often seen in dull beige or dark green. Nor do I mean folding web lawn chairs. While your outdoor-turned-indoor furniture mustn't necessarily be expensive, it does need to be of a high quality to look appropriately in place.
Outdoor fabrics work superbly in family households with children and pets, as the tough, weather-resistant material holds its own against stains, fading, and wear. Plus, manufacturers such as Sunbrella, Duralee, and Seacloth have added plenty of colors and patterns to their line of offerings while helping balance durability with softness and washability.
Wrought iron lends a surprisingly garden-like airiness to a room. Try tucking a vintage dining set into a breakfast nook for a cozy Sunday brunch ambiance, or outfit a backless bench with plush pillows and nestle it at the foot of a bed. For extra storage in the kitchen, bring in a plant étagère; the lower shelves are perfect for stowing large pots, while the shallower upper shelves make perfect perches for cookbooks and china collections. I love that iron pieces can be easily spray-painted for an updated look — try a vibrant color to bring out the intricacies of the furniture's design. Just be sure to have a feather duster on hand, as those nooks and crannies tend to harbor dust.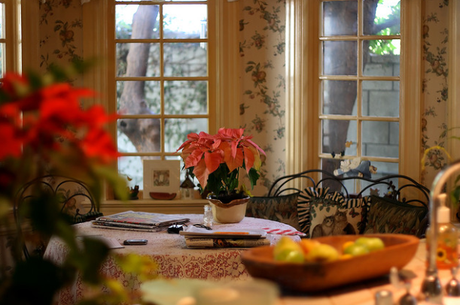 Photo via Flickr.
Wicker is too often associated with grandmothers in flowery moo moos or country kitsch. But the truth is, this woven fiber furniture (which can also be painted easily) has gotten a bad rap. For a sweet cottage look, create a living room conversation area around a boldly colored wicker coffee table topped with glass. Or add a wicker chair with a modern-print cushion to your den's existing armchair and sofa combo for a low-profile extra seat. Want something more sophisticated? Turn to the market's popular array of seagrass dining sets or some of the more architectural wicker pieces. I especially love the mid-century modern styles that are working their way onto the scene, such as the "Orbit" loveseat by Dedon or the rattan pouf from Urban Outfitters.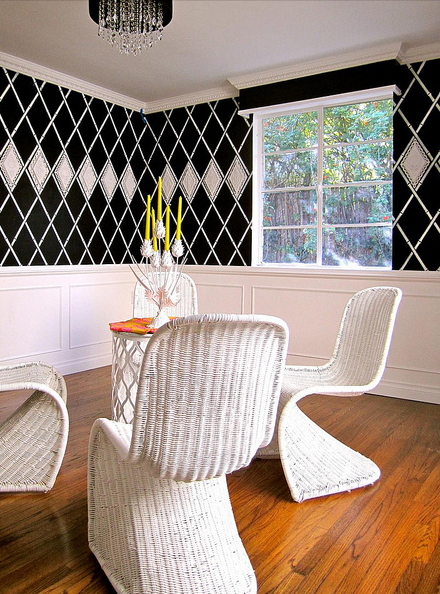 Photo via Flickr.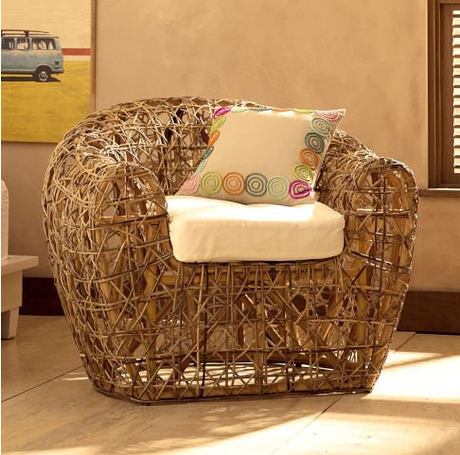 Photo via Flickr.
Teak isn't entirely new to the indoors, but when allowed to stand outside before coming in, it develops a lovely silver patina that blends well with soft shades of blue, yellow, and green for a Scandinavian sensibility. And when using wood that is already faded and weathered, you can safely settle it in the sunlight. Try situating a garden bench just inside your front door or under a large picture window for a sunny spot to sit-down. Another great teak find? Fabric sling-back chairs, which infuse a casual room with a coastal vibe and provide additional seating.
Want to get really wild? For a natural twist on the outdoors-in concept, mount a fabric hammock in a bright reading corner, use a joggling board as a bench at a long kitchen table, or hang a wooden swing from your child's bedroom ceiling (just be sure you secure it to a joist with three- to four-inch eyehooks and a strong rope).
Have you tried bringing your outdoors in? Share your fresh ideas!
Chris Long is a Home Depot store associate in the Chicago area, where he has been helping customers since 2000. Chris also contributes to Home Depot's Homedecorators.com website. His home-décor interests range from home furniture to computer desks.