1. Use a better CTA verb on your buttons
2. Be warm and inviting
3. Stay away from 'free' (for strangers)
4. Be extraordinary, be creative
5. Do more than just call
The following is a guest post by Jesse Aaron. His bio is at the end of the article.
The most important element of a website is a call to action (CTA).  From subscribe buttons to eBook promo pictures; CTAs are what drive visitors to complete goals that ultimately fuel your business.
Simply tossing up a CTA on a website is fairly easy. Optimizing a CTA so that it generates a good amount of returning traffic and/or influences visitor engagement is the real difficulty.
Here are five great ways to do that and entice more people to visit your site in the process.
1. Use a better CTA verb on your buttons
This may seem a bit silly, but conversion rate experts often release case studies signifying that simply changing "Purchase Now" to "Add to Cart" increases click through rates. A common mistake is to label buttons with the tried and true phrases like "buy now" or "click here". Your readers have not only seen those phrases a million times before, but those verbs have lost value.
Instead, do something different and fresh. Better explain the action itself to your audience so there are no mysteries about what happens when they click the button.
For example, instead of "subscribe now," you could use a phrase like "get exclusive updates".
Or you can get really creative, like the famous comedian Louis C.K. who used the following CTA verb for his tour tickets: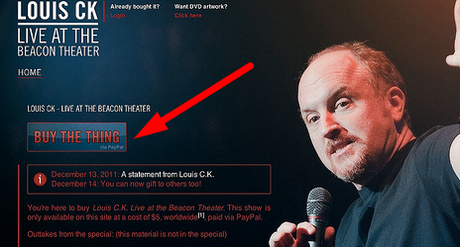 He can get away with a CTA like "Buy The Thing" because it meshes well with his sense of humor. Think about what your conversational tone is and try out a CTA that reflects it.
2. Be warm and inviting
You want your audience to participate on your site. After all, that's exactly why you go to the trouble of producing engaging content. Instead of demanding that your readers provide their input, be warm and inviting about it. At the end of each post, invite your readers to ask questions or help expand the content by posting a comment.
On your front page, include a call to action that politely invites them to join the community. So many marketers make the mistake of believing it's acceptable to demand a response or decision from your audience.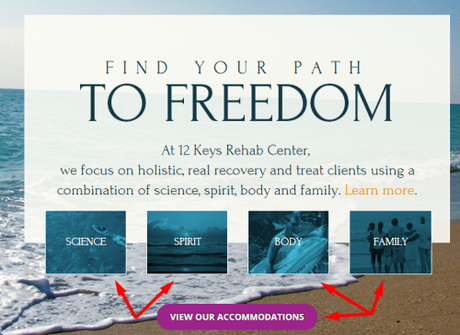 One of the best examples I could dig up is the beautiful landing page of 12 Keys Rehab, which has 5 main CTAs that mesh into the peaceful theme of most recovery centers. These CTAs are not intrusive or overly promotional; in fact, they're quite the opposite. They even give off a little mystery; what does "Spirit" or "Science" lead to?
The most important thing to remember is that your visitors are providing you a service by paying your site a visit. Show your appreciation by providing an engaging call to action that is polite, instead of downright forceful.
3. Stay away from 'free' (for strangers)
Let's be honest here, everyone loves free stuff. The problem is most people are smart enough to understand there is no such thing as free. Generally, "free" really means you're getting a trial of some product and you'll have to pay at some point. Without delving too far down the rabbit hole, I'll simply say that you ought to stay away from using the word "free" in your CTA unless you are truly offering something for free, no strings attached.
Giving away free goods or information will certainly help your click-through rate—just don't refer to it by spamming the word "free" in your call to actions; be subtle about it and stress the benefits.
Tell your customers or readers what they will be getting. Be explicit and make sure they understand what the "free something" entails. Obviously, you're not going to put the fine-print in your call to action but you can still be open about it.
Using something like "sign-up to receive our monthly newsletter" instead of "sign-up for free for your free newsletter" is a smart choice, but it can be better. One of the best subscription CTAs I've seen is: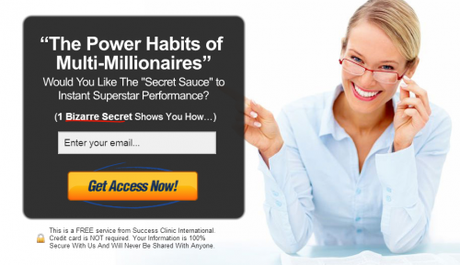 Notice how "FREE" only appears in the fine-print underneath the CTA, which seems to enforce the benefit being stressed and the value of signing up.
Another great example for businesses is "register for a trial bundle," when dealing with trail products. It's both transparent and straightforward.
4. Be extraordinary, be creative
There's more to the web than just print and buttons. Use images, video and even audio to increase your click-through rate in creative ways. Don't be afraid to try something different. In fact, I would argue that difference will generate the best results because people will be truly interested.
Think outside the box when it comes to your call to action. Use more than just the contrite phrases and methods. For example, Vine is remarkably popular these days. You could create a short Vine to show off elements of your site that go along with an engaging CTA.
5. Do more than just call
One thing that a lot of admins fail to do is use a CTA properly. Don't just call out to your readers or visitors and leave it at that. Do something with your call to action! Start something! Engage your community!
What on earth could I possibly mean by that? It's simple really. If you want your readers to click  through, you need to keep them active and alert. Offer them something at the other end of that interaction, don't just take from them. Are they following a CTA to a useful Q&A community? Are they clicking through to visit a very helpful blog post? Are you going to provide them with something rewarding for their time?
Don't take that to mean you need to spend lots of money to give something back to your audience. It could simply be useful content on the other side of that click. There are alternate ways to use this strategy, too. The main point here is that those who do click the CTA will not leave empty-handed.
Jesse Aaron is a professional social media marketing blogger with a passion for homebrewing, coding, and Reddit! Follow Jesse on Google+