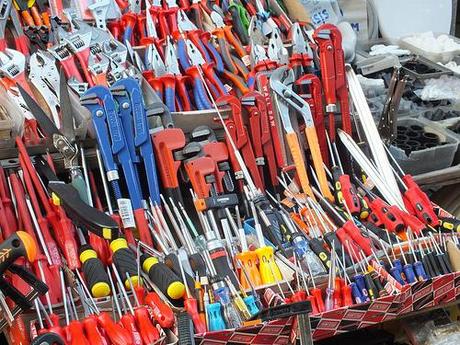 Photo credit: Pi István Tóth (Flickr)
1. Evernote
2. Zemanta
3. Fiber-optic Internet
4. Google Analytics
5. BlogJet
The following is a guest post by Elizabeth Phillips. Her bio is at the end of the article.
While the life of a blogger may seem glam to the average reader, the truth is that blogging makes a busy life that much busier. There's this perception that all we do each day is sit at a corner in Starbucks, sip our fancy lattes and knock out a post or two. But some of us have jobs, kids, a family and (warning: this may be shocking) a life away from our computers.
For those few bloggers who do get to sip coffee all day, I envy you. For the rest of us, here are five tools that can help you save time with your blogging (and social media management, posting, analyses and everything else blogging entails).
1. Evernote
Create a cloud account with Evernote and never lose anything again. Whether it's an image, text or an entire blog post, save it to your account and you can access all your files from any Internet device. With Evernote, you can work on your blog whenever you have a free second.
So if you want to upload a picture from your phone while you're at your kid's soccer game, jot down the topics you brainstormed waiting in line at the grocery store or type up a future post in the carpool line on your tablet – Evernote will save it for you. Then, you'll have all your blogging materials in one spot, waiting for you at home.
2. Zemanta
Sometimes, research can take up more time than the writing itself. Zemanta has solved this problem. This content discovery tool pulls up relevant information – images, articles, videos, etc. – as your type up your blog post.
Zemanta might bring you to an article that you've already posted, one from a reliable website or from an advertiser that you can link to in your piece. Not only will it provide relevant content for your writing, it will also bring you inspiration for future topics for your audience.
3. Fiber-optic Internet
Nobody has time for slow Internet, especially bloggers. You need to research information, upload images and manage a handful of social media accounts. More Internet users are now turning to the fast speeds of fiber-optic Internet from the two big contenders – Verizon FiOS and AT&T.
This Internet can give eligible residents up to 500 Mbps – that's enough speed for you to blog while you stream a new album and download your favorite show without any slowdown.
4. Google Analytics
If your blog is a WordPress or Tumblr site, you can get some basic stats on your page – the number of unique visits, where visitors are coming from, the growth of your audience, etc. These data are important, but you can get so much more with Google Analytics.
Take three minutes of your time to sign up. You'll learn so much about your visitors that you can ultimately turn into profit, a growing audience or whatever your goal may be. With Google Analytics, you can get unique stats, like where your most engaged visitors are located, discover if you need a mobile website, and compare your best and worst performing content.
5. BlogJet
BlogJet claims to be "the most advanced Windows blog editor and manager", and it's easy to see why. So what, you're not familiar with HTML coding? BlogJet offers a WYSIWYG (what you see is what you get) editor that will keep the format of Microsoft Word and other word processors.
The tool can insert images straight from Flickr and videos from YouTube into your posts. There are 20 other unique tools that can be used with the most popular blogging sites, like integration with feed readers, post management and searching, and a live word counter.
Elizabeth Phillips is a freelance writer who enjoys writing on a variety of technology and blogging-related topics. She can be found typing away on her laptop in Philadelphia, PA. Elizabeth welcomes your feedback at [email protected].