Our newest guest blogger is a newly converted vegan mom with three children under three years old. Her blog is aptly named: Three Under Three. Here she is in her own words, " My name is Joanne Dabbs and I created a blog about family, vegan food and fashion. I am a mom to three young children and I recently made the switch to a vegan lifestyle." Follow Joanne on her blog, Facebook and Twitter. Please welcome Joanne!
How much do you love me?
I'm willing to bet you love me just a little bit more now.When people ask me what I miss most since turning vegan, I tend to automatically say cheese. Whilst it's true that I do occasionally miss cheese (but not enough to eat it) I realised the other day that what I
actually
miss most is cookies.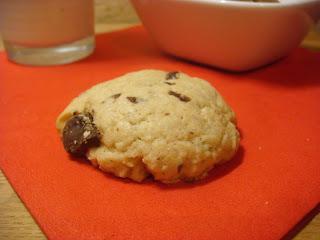 Moist, chewy, delicious cookies with huge chocolate chunks!Well, the craving finally got the best of me! I had to give in and make a batch of chocolate chunk cookies (why bother with chocolate chips when you can have chunks?!)Recipe (makes approx. 30 cookies)2 cups plain flour2 teaspoons baking powder1/2 teaspoon salt1 cup vegan dark chocolate, cut into chunks1 cup vanilla sugar (you could also use caster sugar)1/2 cup coconut or vegetable oil (I used coconut oil)1 teaspoon vanilla1/4 cup water1/4 cup milk of choice (I used soy milk) Instructions 1. Mix together flour, baking powder and salt, Stir in chocolate chunks. 2. Mix sugar and oil well (if you are using coconut oil you may need to melt it slightly. 3. Add the vanilla, water, and milk and mix well.4. Add the wet ingredients to the dry and mix just until combined. 5. Roll the mixture into small balls and flatten slightly on an ungreased baking tray.6. Bake for 5 minutes and then rotate the sheet 180 degrees. Bake for another 5 minutes.7. Check them every couple of minutes until the cookies are a little softer then you want them to be. 8. Remove from the oven and let the cookies cool for a couple of minutes on the baking tray before moving to a cooling rack to continue cooling.9. Try not to eat the whole batch before they've had chance to cool!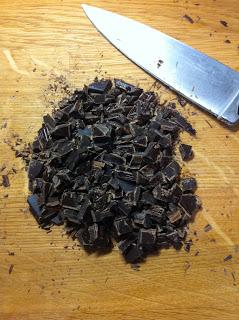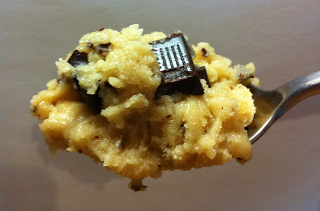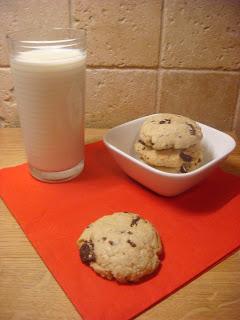 Enjoy!
*Please excuse the fact that there are only 4 cookies in the pictures. I forgot to tell Matt that the cookies in the cupboard were waiting to be photographed. Oops!