More new bloggers! Exciting to see what vegan bloggers are doing and enjoying. Our newest contributor is Alexis from Sugar Coated Vegan. Here is Alexis in her own words, "My name is Alexis and I run the vegan food blog (sugar coated vegan)! I blog about  vegan desserts along with the occasional savory recipe! I'm a self proclaimed vegan foodie from NYC with dreams to open a vegan bakery one day in the near future!" Please follow Sugar Coated Vegan on:  Twitter, Facebook, Instagram, Pinterest and of course the blog! Welcome Alexis!
A quick summary about the post — it's a review of vegan probiotics from Goodbelly!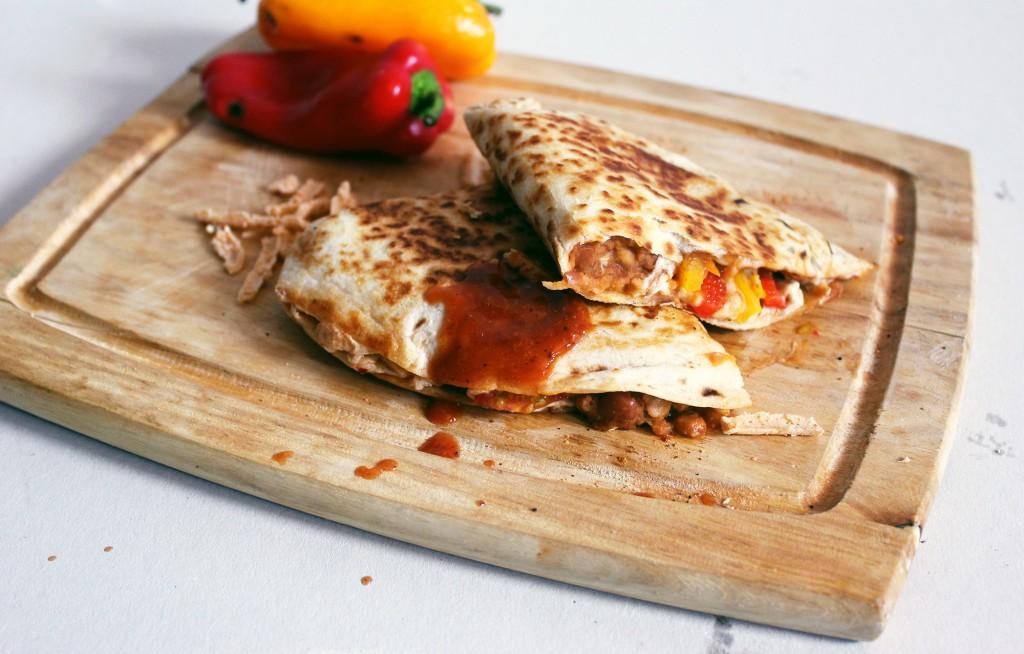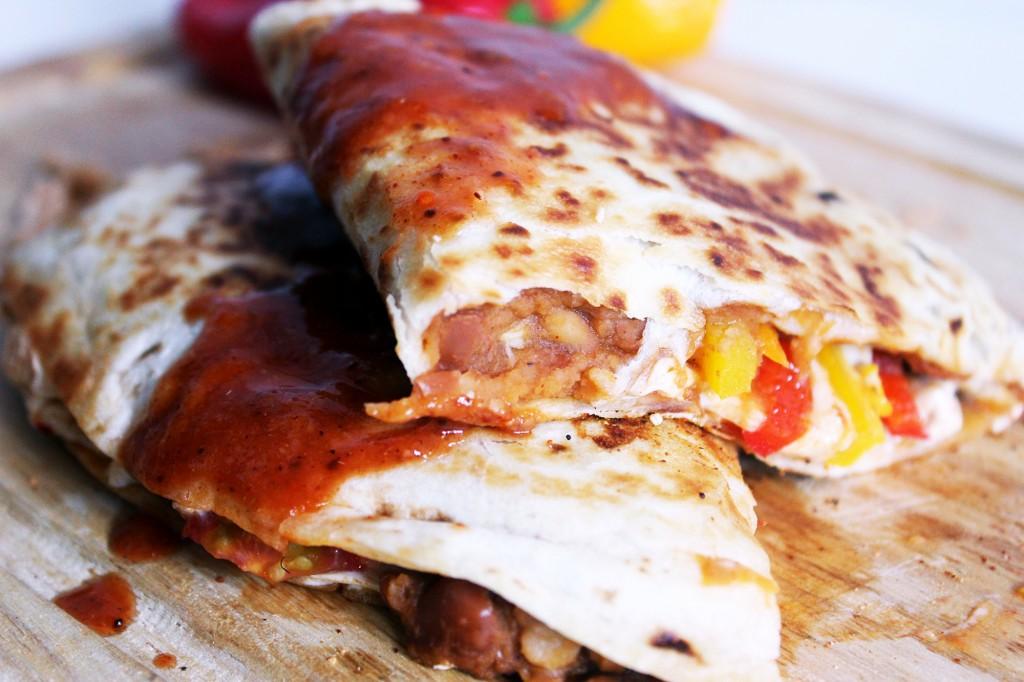 The pepper jack cheese from Daiya sounded perfect for this yummy vegan quesadilla with pinto beans! It's stuffed with the beans, peppers and tomatoes for a fresh twist and topped with a quick and simple salsa! There are SO MANY variations you can do with this like a mixed bean filling or stuffing it with different kinds of veggies and topping it with some fresh guacamole and vegan sour cream! I find that quesadilla or on a more broad note Mexican and Spanish foods are one of those things that you really miss when you go vegan. I swear everyone thinks it is so hard to replicate them but it really isn't now that there are tons of vegan cheeses out there as well as easy nut based cheeses that actually melt.
These are SO QUICK and EASY to make!
I pulled these together within a few minutes and the only real waiting part is for the cheese to melt! Isn't that the best part though?! It does take a bit for it to melt because it isn't a traditional cheese but that problem is modified with cooking them on low for an extra amount of time so the tortilla doesn't burn! Definitely try using a bunch of different color variety of peppers because the extra color looks so pretty in this! As you can see from the pictures I stuffed these a little too much because they're not as thin as regular quesadilla but hey, the more the merrier! Feel free to use a whole wheat or gluten free wrap as well for an even healthier version!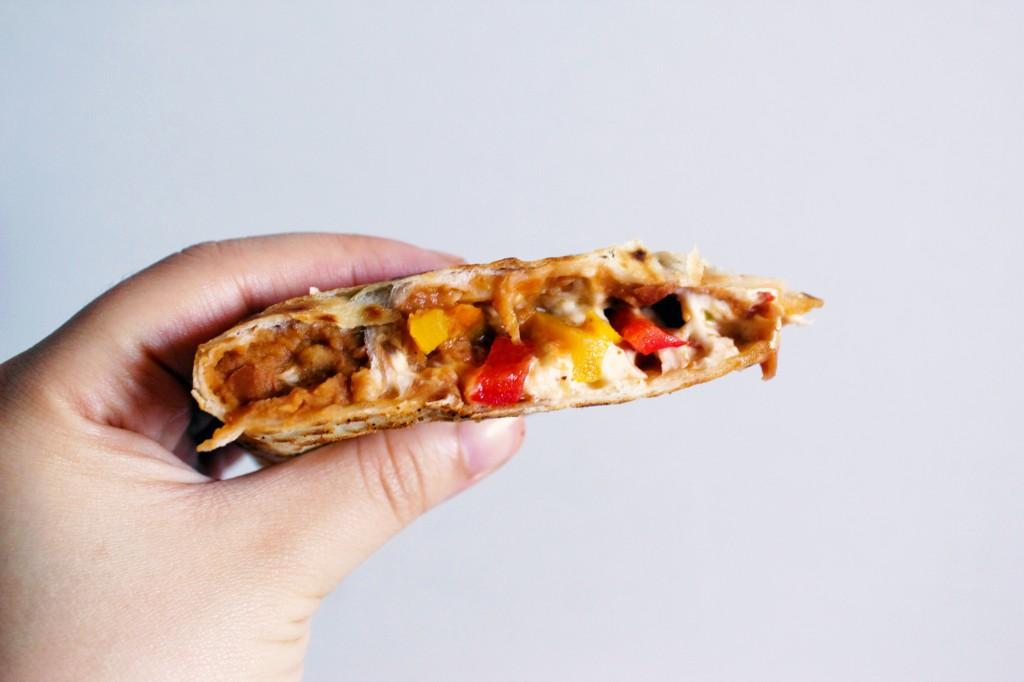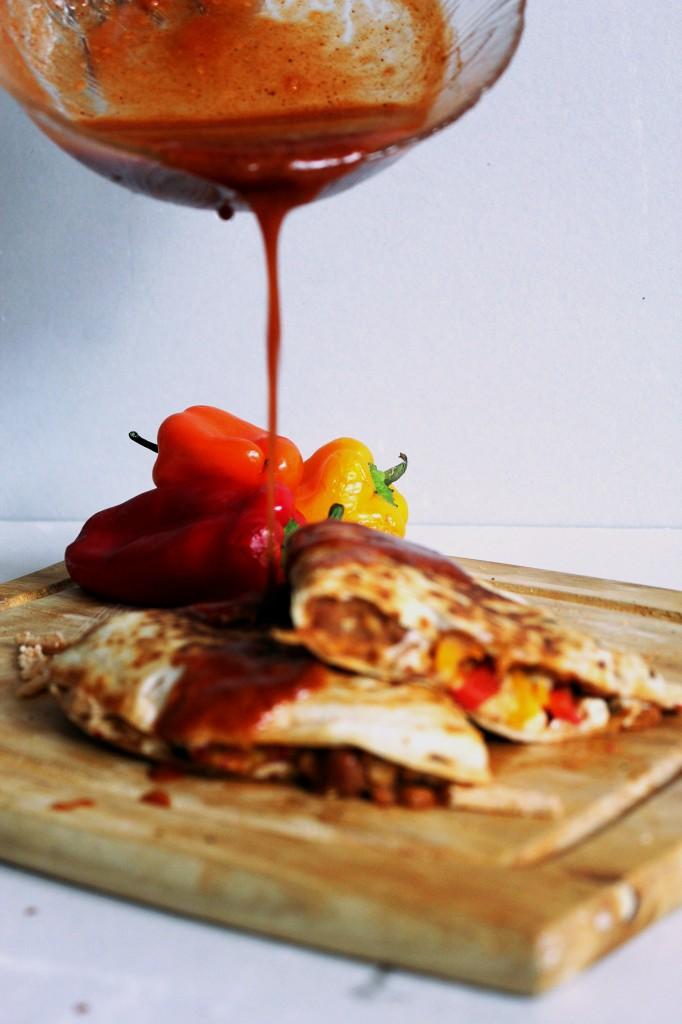 Now, the salsa I made with this is not an authentic "omg I am in love" kind of salsa but a very simple one you can make when you don't have anything else on hand. I actually used the "salsa" as a seasoning for the beans because I hate when you have smashed beans and they're too dry so I like to add a little liquid while they're cooking. You can definitely try adding whatever seasonings you like to it to spice it up a bit!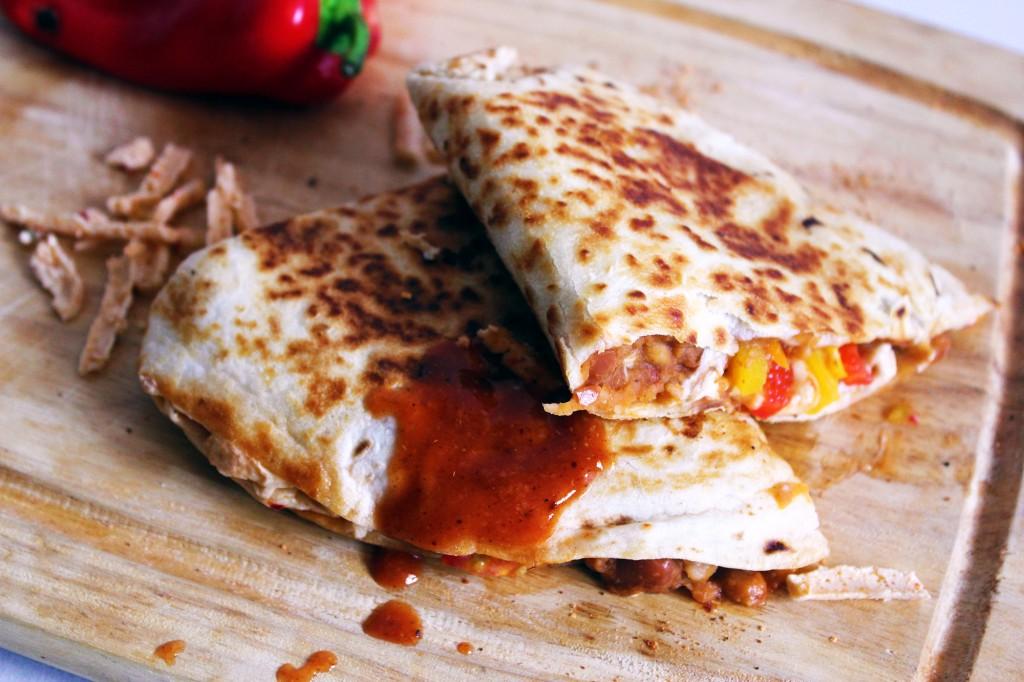 Vegan Pinto Bean & Pepper Jack Quesadilla
2 Flour tortillas

1 can pinto beans (you can do any bean you want for this!)

1 cup

Daiya

Pepper Jack Cheese

3 small sweet bell peppers, sliced thinly

3 garlic cloves, chopped

½ a small onion, chopped

½ cup chopped cherry tomatoes, chopped
Salsa
1/3 cup water

2-3 tablespoons tomato paste or ketchup

2 tablespoons your favorite taco seasoning (add more seasoning if you wish!)

1 teaspoon coriander
Directions
Open and rinse your beans and set aside.
In a small bowl, whisk together all of the salsa ingredients and set aside for later.
Sautee the garlic cloves and onion in a small pan or pot for two to three minutes or until the onion is translucent. Add the beans and ¼ to ½ of the salsa and cook on a medium low flame until the beans are heated through and the salsa has created a thick sauce. Turn the heat off and smash the beans until they form a uniform paste. Make sure to try the beans to test if they're seasoned enough for you.
Let the bean mixture cool slightly and then set up all of your other ingredients so they're ready for you to stuff the tortilla with.
Spray a pan with a bit of oil over a medium flame and when it's heated completely add in the tortilla so it can start to crisp up on the outside. After a minute or two, add your fillings to ONE SIDE of the tortilla and your cheese to the other. Make sure to add a bit around the edges of the other side as well and let it cook for 30 seconds to a minute. Carefully, take the cheese side of tortilla and fold it over to cover the fillings side and press firmly but gently until it sticks to the fillings side. Flip over the quesadilla to the cheese side and cook on a LOW flame until the cheese melts. If you find your tortilla starts darkening a bit too fast, flip it over on the other side and vice versa until melted completely.
You can also make this with two separate tortillas, where you would place your fillings all of one including the cheese and then press the other tortilla right on top! Cook until the cheese has melted and you're good to go! It might sound complicated but it's a fairly simple process once you get the hang of it!
Serve with guacamole, sour cream, MORE CHEESE, salsa and anything else you like!
Enjoy!
Find more yummy recipes like this at Sugar Coated Vegan!