The holiday season is coming up and what better way to celebrate than with stuffing. Who doesn't admit to going back for seconds? Meet our newest blogger, Nicole Leigh, author of Nicole Eats! Here she is in her own words, "My name is Nicole Leigh, I'm twenty-six years old, I live with my three wonderful cats, and work for the sake of paying bills. I eat more than any normal person should and I photograph everything. I'm a foodie, cat lover, panda girl, photographer, geek, nerd and coffee enthusiast." Follow Nicole on her: Blog and Twitter. Please welcome Nicole!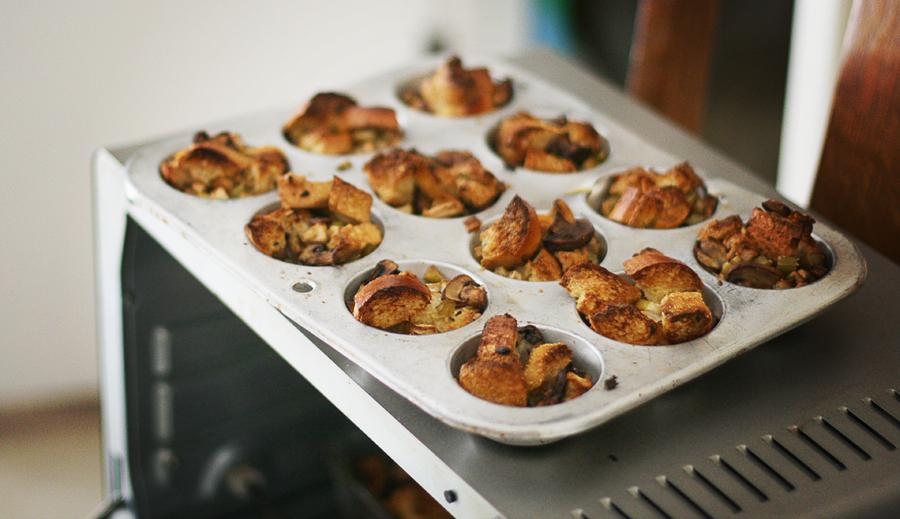 Holiday stuffing. Dressing. Whatever you want to call it. It's one of my favorite parts of Thanksgiving (well, other than the mashed potatoes of course!). This Thanksgiving, being my second meatless, meant I was in for a whole new treat: homemade stuffing.
Last year I just didn't have the time to prepare as I had gone vegetarian less than a week before the feasting day, but this time would be different. Now, I've never made stuffing before, other than StoveTop Turkey stuff, which clearly would not sit on my table this year. Instead I did some research and decided to do an Apple, Sage and Mushroom Sourdough stuffing.
I used a Whole Foods recipe (with sausage) to start, but modified it to get rid of the meat products. Ultimately I loved how it turned out and so did my family. I did a batch of stuffing "muffins" and then a pan, though there was a bit of an accident (see below, haha). I think I might keep making this to have as a side dish, even outside the Thanksgiving season. It's earthy, savory and super, super simple. Let me know if you try it, I always love to hear about people's experiences!
Apple, Sage and Mushroom Sourdough Stuffing
What you'll need:
- 1 loaf sourdough bread, cubed (approximately 8-9 cups)
- 8-12 oz of sliced baby 'bella mushrooms
- 1/2-3/4 large onion, diced
- 3 celery stalks, sliced
- 2 granny smith apples, diced
- 1 1/2 c veggie stock
- 1/2 c almond milk
- 1/3 c chopped sage
- 1 tbsp vegan butter, + more for buttering baking dish
- salt and pepper to taste
What to do:
1. Preheat oven to 300°F. Spread bread cubes out on two baking sheets and bake until dried but not browned, about 15 minutes. Transfer to a large bowl.
2. Meanwhile, in a large skillet, heat oil over medium-high heat. Add apples, celery, onion and butter and cook, stirring occasionally, until apple and vegetables are softened, 8 to 10 minutes more. Add to the bread. Stir in broth, almond milk, sage, salt and pepper.
3. Bake in a buttered casserole dish (or muffin tins!) until lightly browned and crisp on top, 50 to 60 minutes.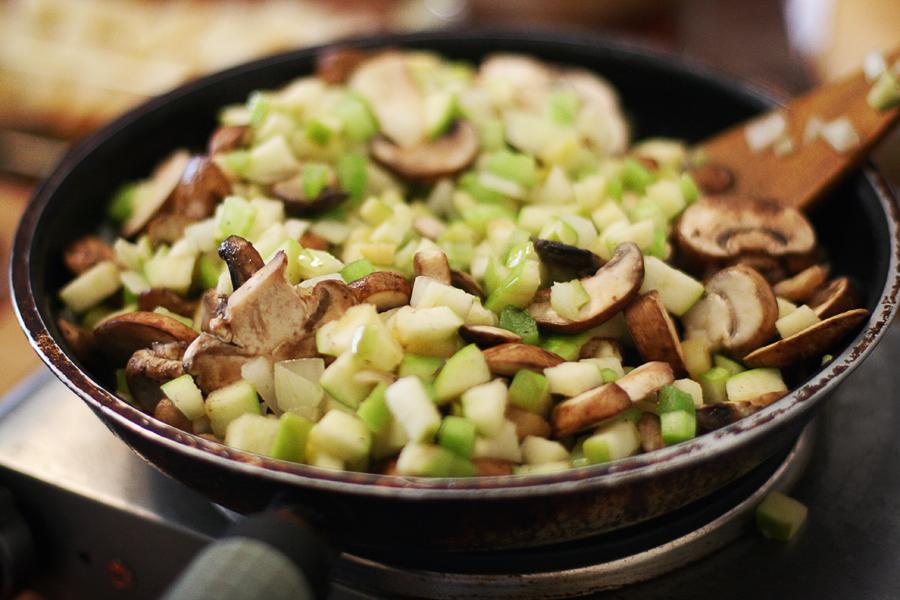 Okay, so apparently if you use a small toaster oven, like me, and you put glassware too close to the heating elements you will crack your dish and burn your food. Please keep that in mind. (Jason laughed at me a good bit, saying, "I thought I should say something when you did that, but I figured you knew what you were doing." I just sighed heavily and reminded him I never really know what I'm doing.)
Anyway, point is, things get messed up, no matter how much time you spend in a kitchen you have accidents, but in the end learning, growing and sharing is the important part.