Please meet Cat McDonald, she is the author of Mojo Central and "a freelance writer, Web editor, blogger, and former gypsy seeking clarity, community, and organic produce. She eats her lunch for breakfast." Follow Cat on her blog and Twitter. Welcome Cat!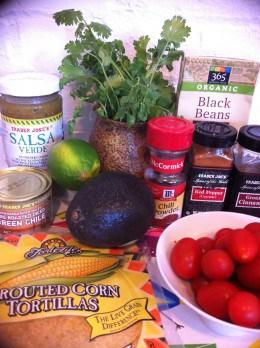 The first time I had chilaquiles, I was staying with friends at their family's house in the Yucatan, near Progresso. The house was a white stucco with curving walls and red terra cotta tiled floors. We could walk in a straight (okay, meandering) line from the back porch to the pool to the beach, and wade right into the warm water of the Gulf of Mexico.
Every morning, the house rooster would wake us up and we'd make our way to the dining room. We'd have a feast that always included fresh fruit–my favorite was the perfectly ripe papaya sprinkled with lime juice, fresh juice–liquados made to order, and chilaquiles. The menu varied somewhat, but once I discovered chilaquiles, I had to have them every day.
In the old days, I had some luck recreating these uhr-chilaquiles. Now I'm giving it another go for the vegans. I think these come pretty close.
Ingredients
8 corn tortillas

1 cup tomatillo salsa*

1 cup black beans, crushed a bit with a potato masher

1/2 cup chopped tomatoes
1/4 medium red onion, sliced thin
1 pinch cayenne pepper
1/4 tsp. each: cumin, salt, cinnamon, nutmeg
1/2 tsp. epazote (or oregano)
1 tsp. cocoa powder
optional: 1/4 cup shredded Daiya cheez
2T chopped cilantro
fresh limes
Toppings
avocado slices
shredded iceberg lettuce
roasted pumpkin seeds (pepitas)
cashew creme
Method
Bake the tortilla pieces at 350F for about 12 minutes, until crisp but not browned. You can also dry-roast them on in a cast-iron skillet. Cool, then cut or tear into wedges.
In a bowl, mix together the salsa and the chips. Pour them into the bottom of a cast-iron baking pan.
Sprinkle the cheeze on top, if using.
In the empty bowl, mix the beans, tomatoes, onion, and spices. Pour the bean mix on top of the chips.
Bake at 375 for 15-20 minutes.
Serve hot with your choice of toppings.
* For the salsa, I used Trader Joe's salsa verde. But if you're from New Mexico, just grab about 1 cup of homemade green chile gravy from your freezer.