Always great to have a returning blogger. Today we welcome back Keely, author of Gormandize with A-dizzle & K-bobo and her recipe of Samoan Pineapple Turnovers (Paifala)! Do search for Keely on VBU! as her previous post are worth checking out! Connect with her on: Facebook, Twitter, Pinterest and of course her blog Gormandize with A-dizzle & K-bobo. Welcome back Keely!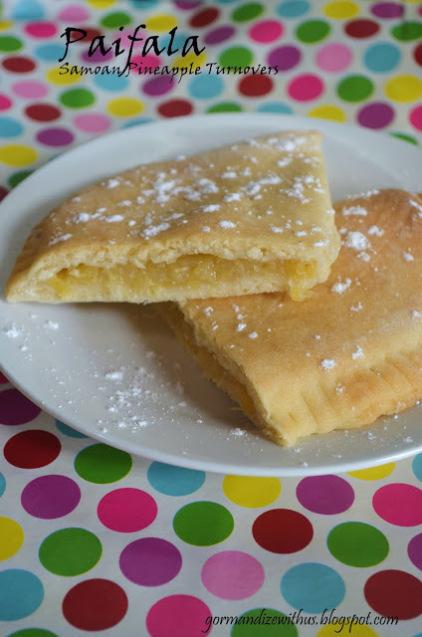 You may have noticed things being a bit quiet around here lately, I took an unplanned two weeks off the blog at the start of the month. I've had a lot on my mind the last couple of weeks, I've been doing some heavy duty thinking and planning so I didn't quite have room for planning blog posts and typing up recipes. I've been looking for some extra work so that I can earn a bit more money, planning a big holiday overseas, discussing lots of things with my partner – such as whether or not we want to move away from where we are to another area, we've also both been trying to decide whether or not to do further study. It's all just a big jumble of thinking going on in my head at the moment!
In amongst all of this you may have thought I have forgotten to have a feature country this month, well don't fear! I haven't, I have had this all planned for a while but it had a bit of a set back. Firstly, I had to move my traditional start-of-the-month dinner party back into the second week of the month (this is the dinner party in which I make lots of experimental dishes from the featured country and force them upon my trusting friends), so I was a week behind. Then I was a bit slack with the photos at that dinner party so I had to spend some time re-photographing some of the dishes. But they're coming along and I'm happy to finally bring you one of them!
Firstly – let's talk Samoa.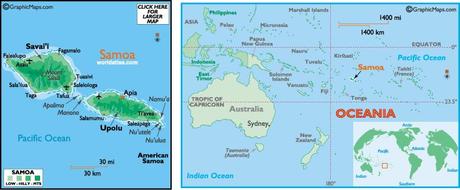 Some of you who don't live in Australia might not know where Samoa is, well you can probably be forgiven because it's pretty tiny. This map comes from worldatlas.com. As you can see, Samoa is one of our neighbours (I live in Australia just in case you didn't know). So there are quite a few Samoans living in Australia; they're generally stereotyped as big scary guys who are good at rugby (mostly because they're so big). But just because there are plenty of Samoans living in Australia, it doesn't mean I have ever encountered any of their food! A quick google search revealed absolutely no Samoan restaurants in Sydney.
I was wary about taking on Samoa, because I've been burned by micronesian/pacific island countries before. I once tried to have a dinner party of foods from Palau. You know what the only  recipe I found on the internet was? This delicious looking fruit bat soup. Mmmmm…
So I did a quick google search on Samoan dishes before I accepted the request from a reader to feature Samoa. Luckily I found a bit more than I did for Palau, and it looked a lot more palatable! I still didn't find a lot so there may be fewer recipes than for some of my other months. I was basically relying on what information I could find on the internet – so if you have a Samoan recipe to share please email it to me at [email protected]
So, enough chat! Before we get into the food, lets take a brief swim on this spectacular Samoan beach.
Image from http://www.tourist-destinations.com
Now we have worked up an appetite let me introduce my first Samoa month recipe – Paifala. I'm posting this one up first because one of my dinner guests texted me soon after to ask me for the recipe because she loved them so much, so I figured I'd better get it online quickly for her. These are a simple looking pastry turnover filled with pineapple custard, but the key is in the lovingly handmade pastry (don't worry, not as hard as it sounds!)This recipe, which I found on Samoafood.com was already almost vegan so I didn't really need to change it much. I decided to try and keep it authentic and traditional, so I simply followed the recipe with a couple of substitutions and some minor changes. If I wasn't trying to make it traditional I would have used wholemeal flour – as I think it would be even tastier, and maybe added some mild spices to the pastry. But as is they are a delicious sweet treat.The recipe says that it makes five, so I made a double batch because I was expecting 8 people for dinner. In the end though they turned out to be really big turnovers, so we only had half of one each at the dinner party and had
lots
of them leftover! So I'm giving you the original quantities to make 5 big paifala. You can double the recipe at your own discretion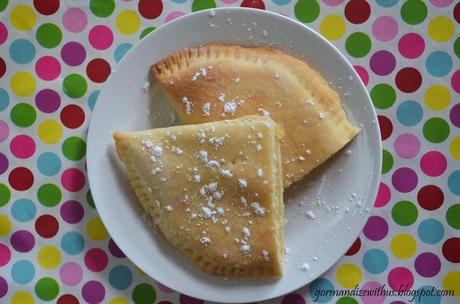 Paifala – Samoan Pineapple Turnovers
Adapted from Samoafood.com
Ingredients
1 x 440g can of crushed pineapple in juice (not syrup!)3/4 cup sugar1/2 cup rice or almond milk1/3 cup cornstarch1/2 cup of the juice from the can of pineapple3 cups plain white flour (I recommend trying wholemeal instead, but probably less authentic)2 tsp baking powder1/3 cup vegan margarine1 cup coconut milk (or 3/4 cup coconut cream plus 1/4 cup water)
To Make
1. Make the filling! Drain out 1/2 cup of juice from the can and set aside. Combine the pineapple (with remaining juice), sugar and milk in a saucepan and place over a medium heat. Bring to a simmer, uncovered. Stir the cornstarch into the juice you have set aside until dissolved.2. Add the cornstarch juice to the saucepan and stir continuously over a low heat for a couple of minutes, until you see the mixture thicken. Remove from heat and set aside to cool.3. Make the pastry! First – preheat your oven to 180 degrees. Then, place the flour, baking powder and margarine in a bowl. Rub with your fingers until the mixture looks a bit like coarse bread crumbs. Then add the coconut milk and mix together to form a dough.4. Turn out the dough into a floured surface. You don't need to knead it, but just press it together a bit so that it forms a smooth connected ball.5. Cut the dough into 5 equal pieces (or you could probably make 6 if you wanted, they'll just be slightly smaller). Roll each piece out into a 20cm circle.6. Put about one fifth of the cooled pineapple filling over half of the pastry circle, leaving about 2-3 cm around the border so you can seal it properly.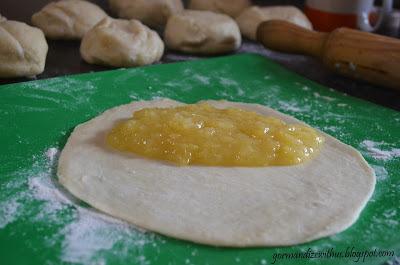 7. Lightly brush the edge with water and fold the pastry over. Press the edge together with your fingers or with a fork. You can make whatever pattern you like with the edge (fork marks, folded over, thumb print waves), just make sure it's sealed well so that the custard doesn't spill out while it's baking.8. Poke some holes in the top with a fork or knife, this is a bit tricky because the dough it quite soft – but persevere otherwise your turnovers will puff up big time in the oven.9. Repeat with the remaining pastry and filling and then bake the turnovers in the oven for 35-40 minutes, or until just turning golden on top. Remove and cool before serving. If you like, you can dust them with icing sugar while they cool.Makes 5 big paifala.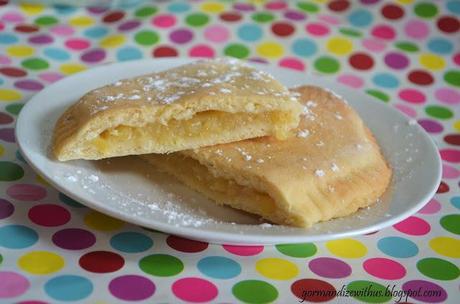 Keep your eye out this month for more tasty Samoan treats!
Also don't forget you can follow me on facebook if you want to get my posts all up in your newsfeed – just jump onto the page here and hit "Like".
Coming Soon:
How I lost 5kg in 9 days and gained so much more energy – my 9 day detox plan!