Always amazing when you see a recipe that is traditionally not raw transformed! Welcome our newest VBU! contributor Friska, author of Fresh by Friska and her recipe for Raw cream of mushroom soup! How fantastic. Her she is in her own words. " I write a raw vegan recipe blog with an emphasis on easy, adaptable recipes not requiring a dehydrator." Follow Fresh by Friska on: Facebook and Twitter. Welcome Friska!
It's Sunday night – cold, miserable and wet. The kind of weather where only soup will do. The kind of weather befitting lazing on the sofa watching endless episodes of Modern Family, not slaving over a stove in the kitchen.
This recipe is based on a traditional mushroom recipe; all you need to do is press a button!
Why mushrooms? Mushrooms are often labelled 'meat for vegetarians' due to their similar texture.
Yet another nutritional powerhouse, they are not only low in salt, fat and calories, they also contain:
Vitamins B1 – thiamin (27% of RDI), B2 – riboflavin, B5 – panthothenic acid, B9 – folate, Vitamin H – biotin and Vitamin D;
Minerals potassium (portabellos contain more than bananas), calcium, iron, zinc, magnesium, selenium, and the
Naturally occurring antioxidant ergothioneine.
This recipe is easily adapted to individual tastes by using different herbs and spices.
Raw Cream of Mushroom Soup
1/2 small diced onion
2 cloves garlic, minced
3 portobello mushrooms + 1 more mushroom to be sliced as a garnish
3 tbs tamari / soy sauce
sea salt and black pepper
1-2 cups non-dairy milk or cream (add less liquid if you prefer a thick soup)
Optional: parsley
Blend all ingredients in a blender except one portobello mushroom that is sliced and acts as a decorative garnish.
Taste and adjust seasonings to your liking. If you want, gently warm up on stove on the lowest setting.
Arrange mushroom slices on top and sprinkle with parsley, salt and pepper.
Does anyone have any tried and true winter raw soup recipes to share?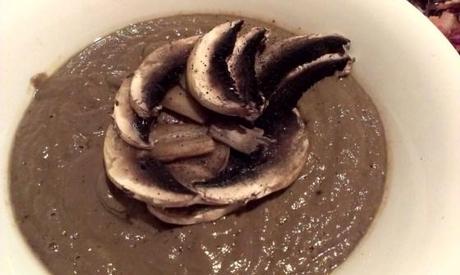 raw mushroom soup