Here's a recipe that will knock the eye teeth out of any guest. Prepare yourself for Angela from Canned Time's recipe for Orange-Pear Cheesecake with Biscoff Drizzle. Yes, it's refined sugar free too, amazing. Angela has many links to connect with you – so please do check them out: Blog, Facebook, Pintrest, and Twitter.  Please welcome Angela!
I think that I could eat Cat food if it has Biscoff drizzled on top of it….so….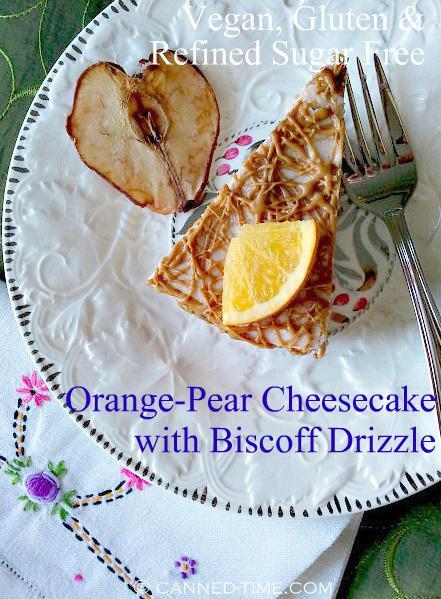 Okay everyone…this one is a keeper!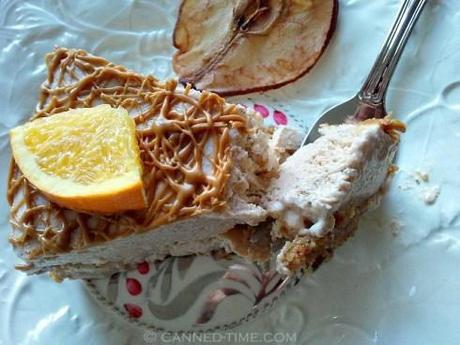 I received some fancy pears for Christmas and I have tons of oranges left over from Holiday munching still and so I decided to blend them all up together with some Tofutti and see what would happen.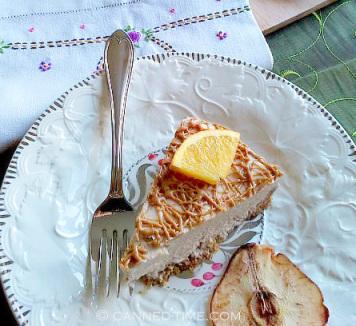 What happened was a little orange gingery cream sicle like cheese / ice cream cake. Full of flavor(s) and fun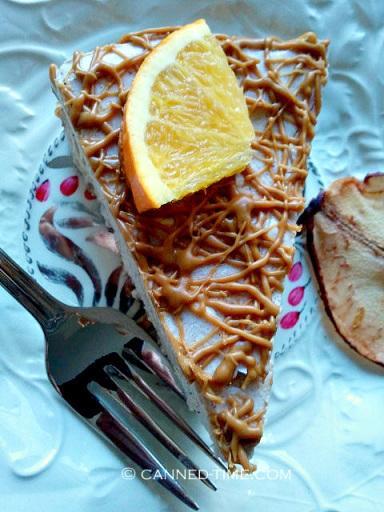 Orange – Pear Cheesecake with Biscoff Drizzle – Vegan, Gluten Free, Refined Sugar Free & Raw Options
For the Crust: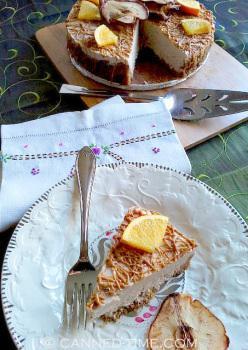 Soak 2 cups of Cashews overnight, drain and rinse.
Combine the Cashews with 1 Cup of Raisins (dates for a Raw version) with 1 tsp. of Vanilla

extract and 2 Tbs. of Maple Syup. Blend until it forms a smooth wet dough. Press the mixture
onto the bottom of a medium size spring form pan to about 1/3 inch thick. Place in the freezer.
For the Filling:
2 ripe Pears, peeled and cored, sliced
Juice of 2 medium size Oranges, include the pulp.
1 (8 oz.) package of Vegan Cream Cheese
1 (12 oz.) package of Firm Silken Tofu (drained)
2 oz. of NuNatural's brand MoreFiber Stevia Baking Blend (optional, cake will be slightly sweeter with this)
3 Tbs. of Maple Syrup
1 Tbs. Cinnamon
1/2 tsp. of Ground Cloves
Pinch of Sea Salt
Drizzle:
About 1/2 Cup of Biscoff Spread (or Trader Joe's Cookie Butter) softened in the microwave for under 30 seconds (note: this topping is not sugar free)
Combine the filling ingredients into a food processor and blend until very smooth. Pour the filling onto the frozen crust and smooth out the top. Cover with foil and chill or freeze until the top surface is hard. Remove the sides of the spring form pan. Drizzle warmed Biscoff spread over top of cake and refreeze or serve immediately.
Optional additions to the filling: 1 tsp. of fresh ginger, 2-5 crushed Biscoff Cookies, 1 tsp. Orange Zest or Liquid Orange flavored Stevia.
Also, I kept my version 'raw' but it would bake up nicely if desired. 350 for 45 minutes in a water bath. Keep the cake chilled though even if baked.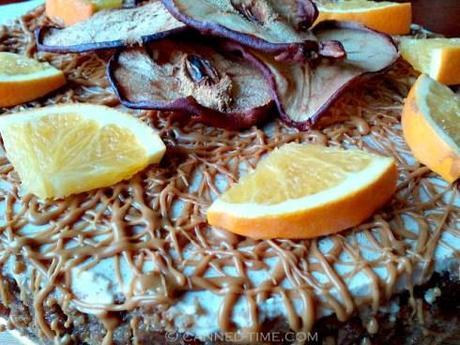 And the Biscoff drizzle? Well if you don't like anything else about the cake, you're sure to at least scrape that off with your spoon and you'll be happy still.
Somehow I think you like the rest of the creamy fruity taste as well, but I'm just sayin'….Biscoff and fruit and creamy cheesecake? Heaven!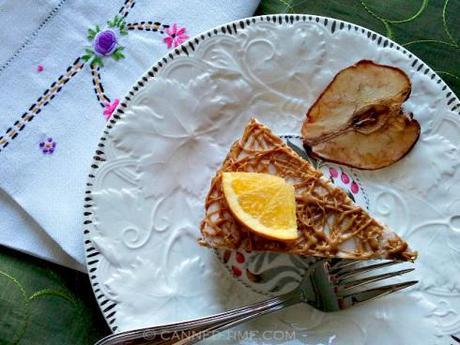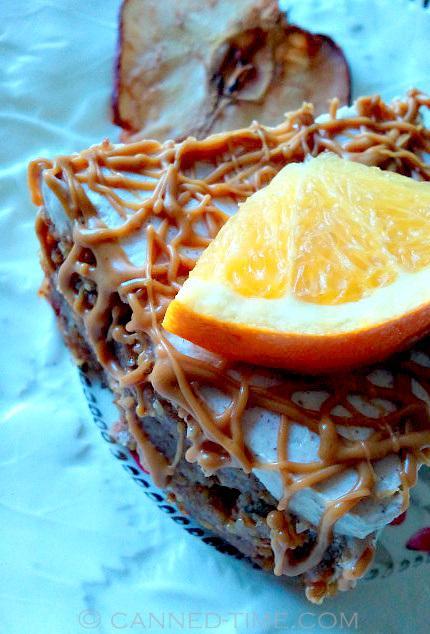 And remember: One man's bruise is another man's flavor………..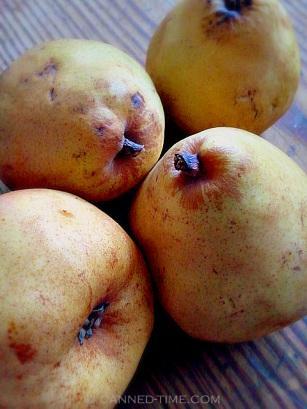 Enjoy!