Hello everyone! I wrote a post on Air Eater to remind people about Virtual Vegan Potluck. I hope you all share this post and let EVERYONE know their recipes are welcome. We really are excited to get the word out so this year can be the biggest yet! Thank you!
- Lidia
Are you all MoFo'd out yet? I adore what people have been making, just lovely, creative and informative. Vegan MoFo is seriously amazing, such a wonderful bonding experience for everyone and love all around. Such a nice tie in to Virtual Vegan Potluck! YES! It's back and it's going to be amazing!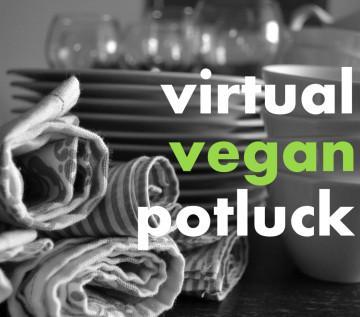 This year we are going to be strict with dates. I cannot explain the stress of having to update 100+ blog URL's and having to tell other bloggers some people have dropped out and to re-route their link to reflect the change. Yes, it's a bit of a pain, especially on a Saturday morning. No one needs that mess. The experience should be painless, coordinated and easy.
Help us help you! If you're participating this year Annie will set up due dates that MUST be adhered to, if not, you're not in. As much as we want everyone to participate there is said headache I mentioned above. We all have things that happen, such is life and we do understand, that's why we're trying to do this early to avoid issues.
So, that said, I hope you have a category picked out: appetizer,  beverages, bread, salad, sides, soup, main dish, dessert.
Do check out May's Potluck here and HOW IT WORKS here. Please do not be alarmed if you have never participated, Annie has made very clear instructions on how to do everything. We will have mentors this year fielding questions and we really hope to bring you the very best experience you can have. Our hope is to bring vegan recipes together and show people that yes – you CAN have a delicious vegan meal without compromising taste. Please spread the word, get people talking, and sign up!
Happy VVP'ing!