The holiday season is coming up and Esther from A, B, C, Vegan has a lovely Cranberry Bread Salad recipe for you. Esther took three years to transition to a full vegan lifestyle and understands the challenges new vegans encounter when they first start down this amazing path. She is now a Vegan Lifestyle Coach and plant-based nutritionist, offering personalized coaching for individuals looking to go vegan or merely incorporate some meatless meals and learn about eating healthier. She also offers menu consultation services, helping restaurants add meatless items to their menus to make more restaurants accessible for everyone.
Esther works and blogs at A,B,C,Vegan, where she helps new vegans, experienced vegans, and the merely curious explore this wonderful new world, giving inspiration, motivation, and community for a vegan lifestyle. She teaches the hows (recipes), the whys (health and compassion for animals), the whats (ingredients), and anything else readers want to see.
Esther is a graduate of the Main Street Vegan Academy, self-taught chef, soon to be graduate of the eCornell certification program in plant-based nutrition, and has her Master's degree in teaching.
Follow her Blog, Facebook and Twitter. Welcome back Esther!
I so badly wanted to add some extra green to my Thanksgiving table, so I devised this salad. And promptly forgot to actually make it for Thanksgiving! But I had the ingredients, so I ended up making it for lunch that weekend… and the next day, and the next day, and the next day…. Yeah, it's that good. I've been devouring it for over a week now and still not tired of it. It finally occurred to me what it reminds me of, and why I love it so much. My Grandpa used to make this cranberry bread for Thanksgiving, and this is basically that – in salad form. (It's like the opposite of my green smoothies turned kale doughnuts.) Cranberries, walnuts, orange, all mixed together… it's like the holidays in a bowl! Add this to your holiday table (works just as well for Christmas as Thanksgiving

), and see if it doesn't bring a little extra smile to your face.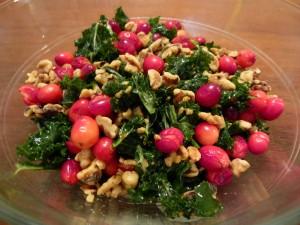 Cranberry bread in a bowl!
Cranberry Bread Salad
serves one
1/3 C chopped walnuts
1/2 C fresh cranberries
7-8 leaves of kale
3/4 T olive oil
1/4 C orange juice
1/2 t sea salt
1. Arrange walnuts and cranberries on a baking sheet or foil and toast for 3-4 minutes in toaster oven. Watch carefully to make sure the nuts don't burn – when the cranberries start popping, remove sheet from oven!
2. While nuts and cranberries are toasting, rip kale leaves into bite-size pieces. Discard stems.
3. Add olive oil, orange juice, and sea salt to kale leaves. Massage for at least a minute. Yes, this means put your hands into the bowl (wash them first!) and get them dirty! Rub the leaves together to massage in the oil and break down the fibers. Kale will become darker and bright green as you work.
4. Add toasted nuts and cranberries to kale leaves.
Enjoy!!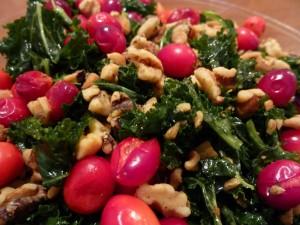 Close-up! Man, I still just want to eat this again and again and again….