I find that a good way to ensure I follow up on plans to guerrilla garden is to make a public commitment, so here goes.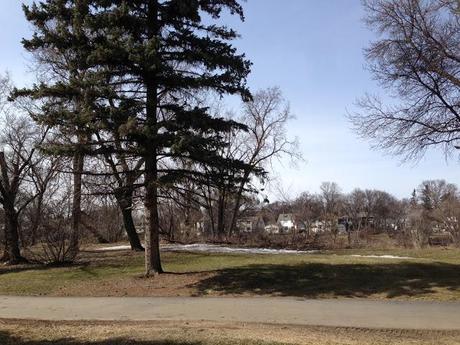 I am going to plant some Allium Molly under this tree, in the brown patch where they should not get cut down by city lawn mowers.  This path is right along the river and yesterday there were plenty of cyclists and joggers using it and the numbers will only increase with the warm weather.
They deserve to some spring blooming plants, do they not?
I am choosing Allium Molly for two reasons:1) I can buy them from the Vesey's fundraising catalogue in support of the Winnipeg Bulb Project, a not-for-profit I have recently started whose goal is to get people in urban areas connected to their natural environment. (Why not support it by "liking" our Facebook page?)
2) They can be planted this spring for blooms this same season. They will not be as robust as they will be in future years but I am feeling impatient. I want to make my neighbourhood more beautiful now, so they will do fine.