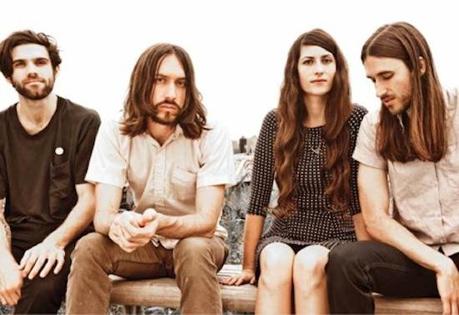 Do It Again – Guards // Buy
Imagine if a 1960's pop group were locked in a dingy basement with a smoke machine and nothing but candles for lighting — the haunting atmosphere would provide a striking contrast to the sunny melodies. Now, take this image and pour a heaping bucket of reverb on top, and you'll get a strong idea of what the band Guards (@guardsmusic) is all about.
Frontman Richie James Follin has already had a busy, young career. He performs in the accomplished garage rock band The Willowz and is also a key contributor to his sister Madeline's immensely popular project, Cults. In fact, a number of Guards' songs were originally written by Follin as material for Cults. While he was originally a touring member with Madeline and crew, he's since stepped aside to focus on his personal project.
Guards deftly toes the line between vintage and modern. The sing-along choruses and pop song structure have a distinct retro vibe, but the reverb-drenched vocals and ambient use of the omnichord transport the music into the future.
Though you can download the band's EP  for free on their Bandcamp page, the best way to experience these songs is in a live setting. Last week, Guards headlined the late show at Mercury Lounge and played a tight, stellar set. Standout cuts included the R&B ode "Crystal Truth", the anthemic "I See It Coming", and the psychedelic rocker "Sail It Slow". Drummer Loren Humphrey was particularly impressive, while Kaylie Church, the group's omnichord player, looked stunning in a white dress as she swayed on a stool near the front of the stage. Follin even shouted out that Church's grandparents were in the crowd, which seemed to endear the band even more to the audience. The energetic crowd was both hushed to a silence and brought to a roar during the closing number, the garage rock throwback "Resolution of One".