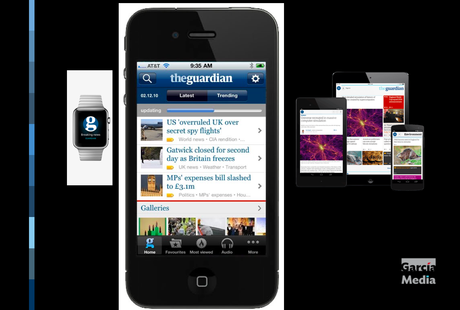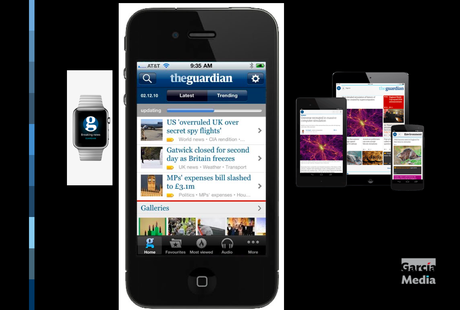 It's that time of the year when I begin to compile recommended readings for my spring semester class at Columbia University's School of Journalism, Multiplatform Design & Storytelling.  Here is one piece that offers information of great interest to anyone working in a newsroom today, but also an on going experimental lab that should provide us with interesting insights in the months to come.
The Guardian has created a Guardian Mobile Innovation Lab to experiment with news on phones. The leads of the project are Sasha Koren and Sarah Schmalbach.  
Two points mentioned by Koren and Schmalbach resonate with me as I take my course to more emphasis on mobile, which is where all the action is:
1. This laboratory inside the newsroom will expand product development to concentrate on stories that work well on mobile devices and small screens.
Says Koren: 
From my perspective. when newsrooms are thinking about digital, they are increasingly thinking about mobile. But we are still in a place, where when newsrooms think about digital, they mean desktops and web. There's been a lot of experimentation and innovation around that view size, and this is a completely different environment.

2. Small screens and intimacy.
Says Schmalbach:
 I think the two things that make mobile different or a reason why we need to do experimentation a little quicker is that first, small screens are part of the remit here — because small screens are a bigger challenge to be able to convey information and give context is really hard when you've got three and a half inches.
Also, I think there is a certain intimacy associated with a mobile device that is different than a desktop device of even a shared tablet device. 
Why these experiments are valuable
For my graduate students in the Columbia course, where we will spend the first four weeks dealing with designing for small screens and mobile in general, and for anyone working in a newsroom today, the questions I would pose to the Guardian Mobile Innovation Lab will be:
How can we tell better stories on mobile devices?
What is the evolution of a story from the moment it breaks and as it evolves during the course of a day?
What are some storytelling strategies that are more suited for small screens? Bullets? Short narratives? Visual storytelling?
How can the designers work with the editors to create visual packaging that lures users to read beyond the one link they encounter in social media and beyond?
Finally, the element of frequency and timing: what is the best time of day to "plant" a story on a mobile device?  Are lifestyle stories better suited for later in the day as opposed to newsier items?
We all look forward to the work of the Guardian Mobile Innovation Lab.  Without a doubt, the findings of their experiments can be most helpful to an industry that is evolving from the tired digital first strategies and is ready to concentrate on mobile at all times plan of action.
TheMarioBlog post # 2053
Please enable JavaScript to view the
comments powered by Disqus.
comments powered by

Disqus