The GTAG6 Air-Guard® cable seal is "the cool choice" for sealing cable openings in the raised access floor and eliminating data room by pass air.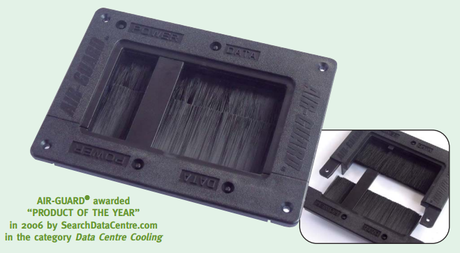 Sealing Around Cable Openings offers the following benefits:
• Reduced air loss and increased under-floor static pressure.
• Improved cooling efficiencies and extended cooling equipment life.
• Dramatically reduced plant running costs. Over 50% of conditioned air does not get to the air intake of data room equipment due to unsealed openings.
• Facilitates Cold/Hot Aisle best practice.
• Eliminates by pass air.
The GTAG6 Air-Guard® Features:
• 2 compartment color coded cable way (data/power segregation).
• Air-Guard®'s unique overlapping better seal brush system.
• Brush and frame are made in flame retardant material. V0 rated.
• 2 piece slide open/close frame for easy access.
The GTAG6 Dimensions:
• Overall dimension – 225mm x 170mm.
• Center panel cut out – 185mm x 127mm.
• Edge of panel cut out – 185mm x 145mm.
55.378051
-3.435973
Advertisements