Was in a very tight schedule today, for me anyways. Lots of trains and tubes and buses to catch! I applied for the Foundation (acting pathway) course at Guilford school of acting not long after receiving my audition result email from Drama Centre. Oh! Speaking of which, I'm on the waiting list! Hurrah! I really admire the school and the students it produces so I'm quite proud– even if I don't get onto the course. But anyway, back to GSA. So I got an early train to KX this morning and then hopped across London like a proper commuter to get my connection to Guilford from Waterloo. Everything was f i n e. until.... I lost my ticket!!! Or so I thought; after ten minutes of frantic searching and almost buying another ticket I found it in my pocket. In my defence, I knew that ticket was there but I thought it was only valid from Newcastle to KX... Ok no excuse, I know. I made a pho par!
I got to Guilford a bit early so I wandered out of the station and had a meander through Friary shopping center (just across the bridge) and mozied on up the high street– which is very nice by the way! I happened upon a little side street with a few independent cafe's and figured I may as well spend my extra time drinking coffee! 
Bill's slightly industrial-esq interior grabbed my attention so I went in and took up a pew (after banging my head on the low light) right next to the window and read a few blogs (Joy the Baker, The Londoner).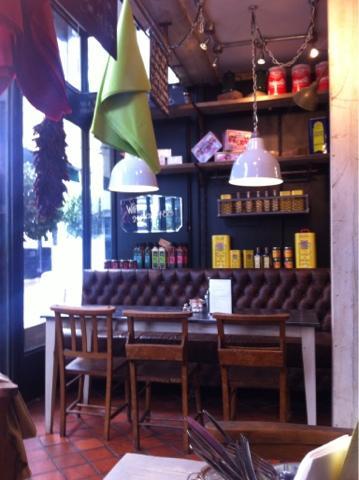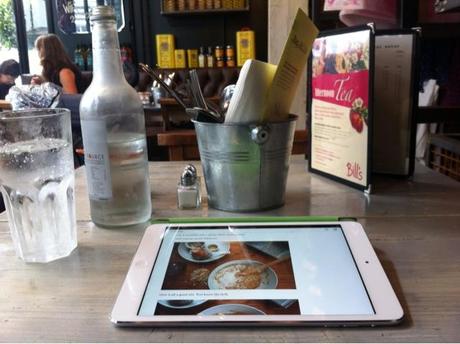 Super friendly waitress, nice coffee, lovely atmosphere and the clientele was good too. I didn't have anything to eat but whatever the two ladies next to me ordered looked great!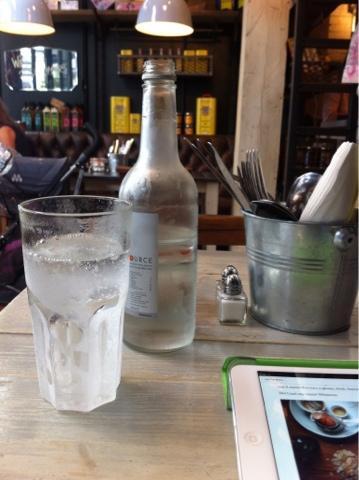 All coffee'd up and ready to roll I set off to the bus station and got the 17 to the uni campus (GSA is part of the university of Surrey). The lady in front of me on the bus very kindly gave me directions as to which stop to get off at and where to head after that– she'd heard me on the phone talking about Newcastle (& or maybe she recognised my accent, weak though it may sometimes be) and it turned out she was from Durham! Small world and all that jazz. 
GSA was really interesting. It very much had a university feel to it, especially with it being on the main Stag Hill campus in Surrey, but that was by no means a bad thing! It was actually really nice to be in amongst it all with all of the other disciplines and areas– quite a change from all of the other places I've been! The actual drama school building even has a Starbucks. I mean, really? Is there any need? Don't I already spend enough money on coffee as it is? Apparently not. 
A group of about 8 of us were taken to the top floor for a quick warm up session with two current Fda students (Samuel and Oliver) and some Musical Theatre pathway students joined in too. Just the usual Zip Zap Boing and stuff like that. Then Andrea and Anna (two teachers on the course) took over the rest of the session. Anna led us through a fairly physical exercise focusing on the energy in your body and moving that to different areas; we would concentrate on a finger and whisper our monologues to it, transferring the energy from the speech directly into the tip of the finger. This went on to allowing that body part to lead us around the room, before coming to a stop and having to find someone else's finger to concentrate on to say our monologues again. 
We did a little bit of work on the seven levels of tension, walking round and balancing the space whilst speaking our lines. So for instance one scenario would be that we were in our favorite place and the next might be that someone was following us. My favorite part was when we had to imagine that behind the white wall was a waterfall about to collapse over us all, therefore our only objective was to keep the wall from falling down. Performing a solo piece in an ensemble-like situation can be daunting, but this was just so moving. We all struggled together, all had the same instructions from Anna and all saw our monologues in a completely new light. That's the best part about workshopping a speech; you begin to say it like you never have before and discover so much more about it. Breaking away from the wall at our own pace/speed to perform for the final time was so climatic! I felt so in tune with what I was saying and everything just fell into place. 
The next bit was a little difficult. Standing with our eyes closed we were each tapped on the shoulder when it was our turn to perform (our speeches). That's all well and good, but I was nearly last and was standing– with my eyes shut– for over 45 minutes. Numb feet, twitchy eyes and a dizzy head were just a few of the side effects. In all honesty though, I actually really enjoyed that part of the session. It never occurred to me that just hearing a monolog could be so much more interesting than seeing it. 
After we had all nearly passed out, the MT's were allowed to leave and us Actors were to stay and perform another monolog. I went first, deciding to do my Love's Labour's Lost speech after doing The Honest Whore for the rest of the session. So I introduced my piece, took a deep breath.... And started with the first line from The Honest Whore. REALLY AMY?!? They didn't mind, I started over and finished my piece knowing it was ok but could have been better. 
We all watched each others then had a chat afterwards with Andrea, Anna, Samuel and Oliver about auditioning, drama schools, GSA and tips for the future. All in all a very imaginative session and some very useful advice. 
Got the bus back into Guilford with one of the other girls who was auditioning (she was Danish and lived in London– really lovely!) and we had a right good natter. Always like to chat after an audition. We Facebooked each other, said our goodbyes, offered company and local tours if we were ever in each others home towns and I got on the next train back to Waterloo. Another hop across London (like an experienced commuter this time) and I was eating sushi in KX waiting for my train to arrive. It didn't. Well, not on time anyway– it was 20 minutes late. Just an excuse to by a coffee to bide the time! A chai latte always goes down a treat at the end of the day.