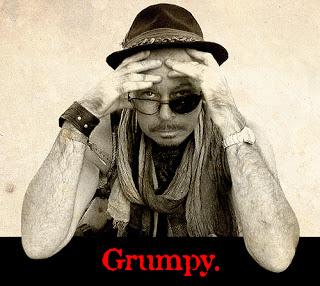 The Dreaded One has been out of work for a couple o f weeks now. Not good times. She worked (her arse off) for a totally petty bitch of a human. She went from being a casual chef to taking on the role of head chef, doing six days a week with sandwich hands instead of a single assistant chef. The owner of this particular catering company has absolutely no redeeming features. She cannot cook. She meddles unnecessarily. She fucks up constantly. Her office staff routinely add time onto their daily shifts yet the owner distrusts the chefs because... I don't know. Probably because she's an idiot.
Anyway, things came to a head. Part of the reason The DreadedOne wanted to get another chef in was because she knew she would not be around forever and the owner had no back up. The Dreaded One said she would be leaving in the not so distant future and the owner spat the dummy and said she had to give at least two weeks' notice. The Dreaded One said she was not giving notice yet, but yes of course she would give two weeks notice when the time came.
Then on Good Friday, the owner tells The Dreaded One that she has another chef and there was no more work for her. No notice at all. What a fucking cow.
So The Dreaded One is out of work. No biggie, really, because she always lands on her feet. She sends her resume out and FIVE MINUTES later a catering company calls to say what freaky timing - we're just about to advertise for a sous chef. They chat. They line up an interview.
I'll add here that other things have happened that have not been so good, so this is a real bright spot. Weboth know that The Dreaded One will bag it.
Then the HR person from the catering company calls to say that The Dreaded One has to bring her papers in to prove she is a qualified chef.
The Dreaded One is not a qualified chef. She has been chefing for maybe 20 years. She has been sous chef under Matt Moran's head chef at The Sydney Opera House. She has run her own catering company.
But she does not have papers verifying that she can in fact chef.
This was explained to the HR person but there was no budging. I know that if The Dreaded One was just given a trial shift she would be in. She knows the deal inside out. She is passionate and skilled, reliable and hard working. She has it all over some of the qualified chefs we've encountered... ass clowns, some of them.
It's this kind of thing that stopped me from applying for writing jobs so long ago. Invariably you get some HR jerk you have to go through first, and if you are not a qualified journalist or don't have appropriate tertiary qualifications, you're dead in the water.
It doesn't matter that I've been a magazine editor, or that I've been published in Quadrant and Southerly as well as countless other mags. It doesn't matter that I've been shortlised in competition and have even taken out a first prize in a national comp, have had a humor column for years... all this paper is meaningless because I don't have an official piece of paper confirming tha fact that I can write.
What a blinkered, myopic, hinderance of a concept Human Resources is. Get the fuck out of the way and let real people get in touch with the people who will recognize real skills and real talent.
It hasn't been fun seeing The Dreaded One treated so poorly. But she is soldiering on. There is one sure fire way to ensure you don't work for dickheads or have anything to do with Human Resources drones.